Rossetti completed Veronica Veronese in 1872. Alexa Wilding, one of his frequently used models, appears in a green gown borrowed from Jane Morris.  
Jane herself was painted in a similar green costume in Rossetti's paintings Proserpine, Astarte Syriaca, The Day-Dream.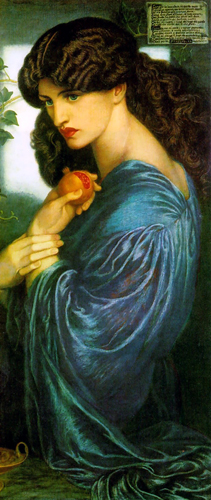 The fan hanging from her gown in Veronica Veronese is the same one seen in Monna Vanna.
Veronica Veronese includes a passage on the frame, written either by Rossetti or Swinburne  and attributed to The Letters of Girolamo Ridolfi.
Suddenly leaning forward, the Lady Veronica rapidly wrote the first notes on the virgin page.  Then she took the bow of the violin to make her dream reality; but before commencing to play the instrument hanging from her hand, she remained quiet for a few moments, listening to the inspiring bird, while her left hand strayed over the marriage of the voices of nature and the soul -- the dawn of a mystic creation."
Veronica Veronese is not merely a painting of a lovely woman, it is an allegory for the creation of art. The song of the bird is pure and organic and inspires her composition.
 In 1877, Walter Pater would famously say that "all art constantly aspires towards the condition of music." Although this was said several years after Rossetti completed Veronica Veronese, it fits.  
Rossetti's painting attempts to capture creativity in progress.  Even though the Lady Veronica looks curiously languid for one who is in the midst of inspiration, the beginnings of art are largely internal. It is her soul and her mind that are inspired.
It's also partly inspired by the sixteenth century work Iconologia by Cesare Ripa, where Art is personified as a woman.  
Earlier in his career, Rossetti wrote Hand and Soul which showed the Soul as a beautiful woman.  It seems that beauty itself inspired in Rossetti an almost religious fervor – almost all of his works are images of beautiful women, but perhaps it is deeper than physical appreciation.
 Rossetti's work seems to be a pursuit of something that he expressed artistically through the feminine form. Perhaps it was an appreciation of the Muse, or perhaps it was the notion that the ultimate way to represent Art, the Soul, and other ideals was through the beauty of woman.