When Psyche is distraught over the loss of her love Eros, she attempts suicide in a river. She survives and the god Pan offers her comfort and advice.
Burne-Jones painted this version of Pan and Psyche after his lover, Maria Zambaco, attempted to throw herself in Regent's Canal in an ugly and embarrassing scene.
 It was the breaking point of an illicit relationship that was painful for all involved. Burne-Jones had intense feelings for Maria but could not bring himself to abandon his children or his wife Georgie. Maria had grown increasingly desperate and, upon the realization that he would not leave his family, presented Ned with a sufficient amount of laudanum to kill them both. In response to his shocked refusal, she ran to the river and he was forced to wrestle her to the ground.
Even though over a hundred years have passed, I feel uncomfortable blogging about something so personal and painful. Yet, it is interesting to see how Burne-Jones depicted Maria after their affair ended.
He casts her as Phyllis in Phyllis and Demophoon. Phyllis committed suicide by hanging when her lover Demophoon left her.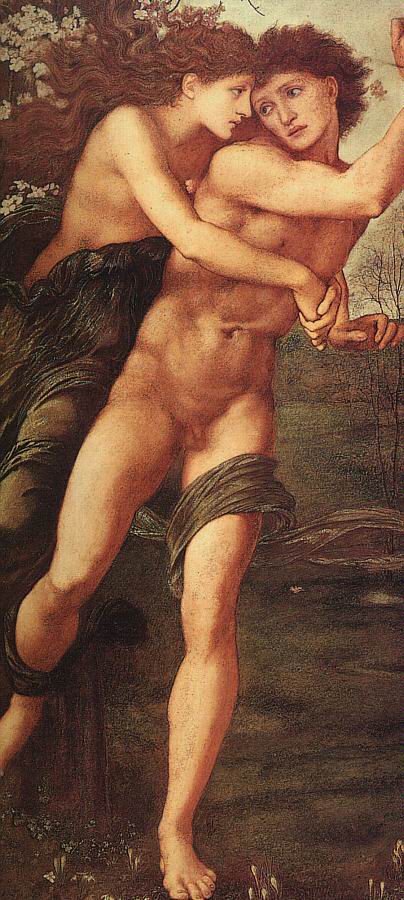 Perhaps even more telling is his choice to portray her as Nimue as she entraps Merlin in The Beguiling of Merlin. Through his work, Burne-Jones tells us an autobiographical tale of his own beguiling and his entrapment because of their affair. Perhaps The Beguiling of Merlin was a way of marking the end of the drama. He was disillusioned, even writing that she was "A woman at her best, self-denying and devoted, is pathetic and lovely beyond words; but once she gets the upper hand and flaunts, she's the devil."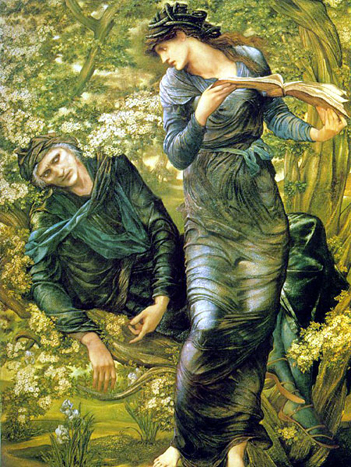 Of course, you can also see Maria in happier works, before the bitterness set in.  My favorites are the Pygmalion series.