'The Magic Circle' and 'The Crystal Ball'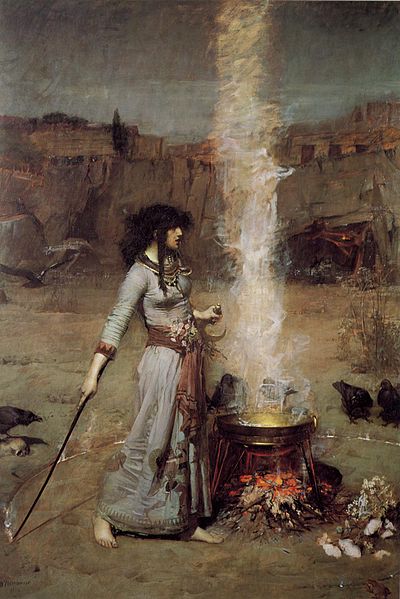 In The Magic Circle, a lone sorceress casts her spell while surrounded by ravens in a desolate landscape. No lush greenery here, Waterhouse has placed her in a barren spot that lends an atmosphere of something wild and primitive. Practicing her magic, the sorceress is firmly in control. You may not be able to see it, but there's a snake around her neck. One of the ravens sits perched upon a skull, adding a sense of fatality. Considering the barren landscape makes me wonder what her story is. After all, she has vibrant flowers tucked at her waist and white poppies lay next to her cauldron, ready for use. Surely, she didn't pick the flowers here. They were gathered elsewhere. Not for beauty, but as tools to aid her spell.
In contrast, the sorceress in The Crystal Ball is far removed from her primitive sister. Clad in lush crimson, she is shown scrying into her crystal. Instead of the performing her rites in the open, she practices her arts in seclusion. The sense of danger and fatality still remains as we notice the skull atop the table. Perhaps this means that in both cases, these women are no mere dabblers but powerful magicians to be respected and feared.