Valentine Rescuing Sylvia from Proteus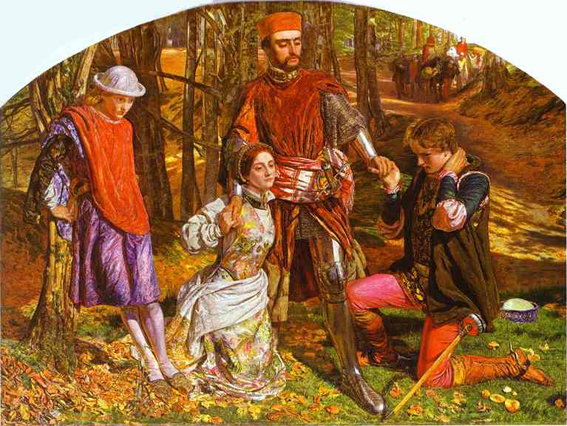 Based on Shakespeare's Two Gentleman of Verona, this was one of William Holman Hunt's most successful paintings. Lizzie Siddal, one of my favorite Pre-Raphaelite models, modeled for Sylvia. We can not see her features in this image, though.  Hunt repainted them after criticism from John Ruskin.
Hunt painted this piece outdoors in the Surrey countryside in order to capture the natural light. And since he embraced the Pre-Raphaelite principle of truth to nature, I would love to know if Elizabeth Siddal actually wore that stunning embroidered gown we see her wearing in this painting. I'm inclined to believe that she did, knowing that Rossetti regularly collected jewelry and fabric for his models to wear and Millais had Lizzie wear an antique embroidered gown when she modeled for Ophelia.