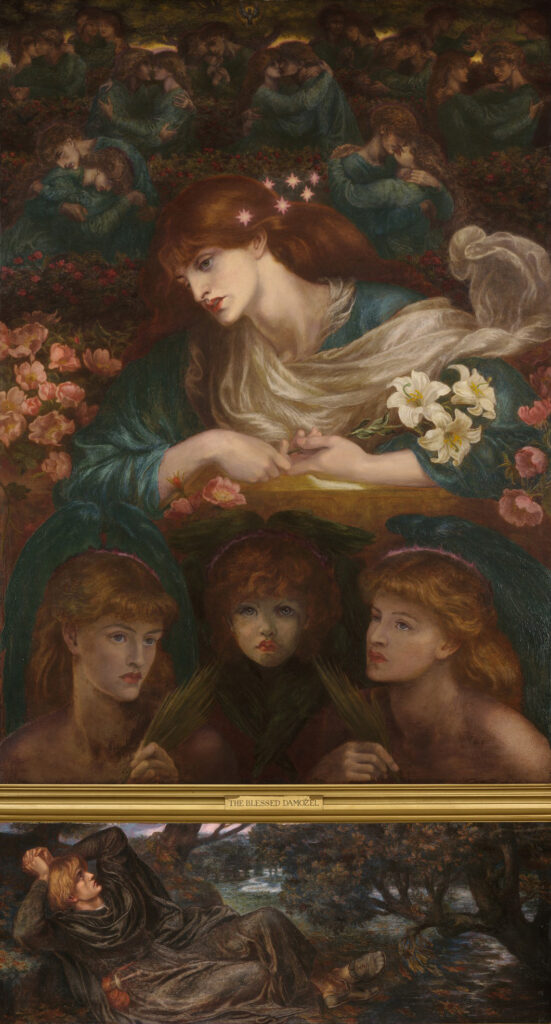 The Poem: Drawing inspiration from Edgar Allan Poe's The Raven, Dante Gabriel Rossetti's The Blessed Damozel explores the theme of lovers separated by death.
Like Poe's Lenore, the damozel (an archaic form of damsel) has died and Rossetti introduces her to us as she looks down upon her lover from heaven. Rossetti later told Hall Caine 'I saw that Poe had done the utmost it is possible to do with the grief of the lover on earth, and so I determined to reverse the conditions and give utterance to the yearning of the loved one in heaven.' You can read the full text of the poem here.
The Blessed Damozel has shades of Dante's Vita Nuova, except where Dante Alighieri's sainted Beatrice was a courtly love, Rossetti's damozel desires both a romantic and a physical union with her lover. She still represents an idealized love, but she is not remote and unattainable like Beatrice. She seems flesh and blood, even leaning against the golden bar of heaven so long that '…her bosom must have made/The bar she lean'd on warm".
First written in 1847, The Blessed Damozel was published in 1850 in the Pre-Raphaelite journal The Germ.
The Painting: The model seen in The Blessed Damozel is often mistakenly identified as Elizabeth Siddal. It's an understandable mistake–the subject matter of a departed lover in heaven watching the man she left behind on earth lends itself well to the Rossetti/Siddal story. Elizabeth Siddal is also occasionally assumed to have inspired Rossetti to write The Blessed Damozel poem when in fact it was first written prior to meeting her.
Instead of Siddal inspiring The Blessed Damozel, perhaps it was the other way around: the idealized love of his poem (and described by Dante and Poe) inspired his interest in her.
He cast her as Beatrice to his Dante, elevating her to the position of muse. Her face became an integral part of his work.
As he tutored her in art, she became someone to mold as he helped her to develop her talent. Theirs was undeniably a complicated relationship. The sense of melancholy that surrounds the story of her addiction, stillborn child and the overdose that caused her death ensures that we will forever see her as Beatrice and Ophelia. Thus, the mingling of Lizzie/Beatrice/Ophelia fuels the perception that she embodied The Blessed Damozel.
Just who would he cast as The Blessed Damozel?
By the time Rossetti painted it, he had moved far beyond his days of using Siddal's features in his work. His last tribute to her, Beata Beatrix, marked the end of her reign as muse.
Nor was Fanny Cornforth his muse du jour. Their relationship had mellowed into a deep friendship and, although she was was a permanent fixture of his household, she was not going to be his choice to portray the damozel.
His passion for Jane Morris was unwavering; she would have made an excellent damozel. When we think of this time in his life, it is often his repeated depictions of Jane that come to mind.
Yet, as Kirsty Stonell Walker points out, we seem to overlook the fact that his paintings and drawings of Alexa Wilding outnumber those of Jane.
That's right. The Blessed Damozel is the beautiful Alexa Wilding, discovered by Rossetti on a crowded street at a time when his work needed a new face. Painfully little has been written about Alexa (originally named Alice). We know her primarily as the face of Venus Verticordia and Veronica Veronese. Or the face that replaced Fanny Cornforth's in Lady Lilith.
Kirsty Stonell Walker has filled the negative space that surrounds Alexa Wilding with a brilliantly crafted tale in her new novel A Curl of Copper and Pearl. We meet Alexa, as Rossetti did, on the streets. Through her eyes, we see Rossetti in his tumultuous later years. We also get a first-hand and scintillating look at Fanny Cornforth, George Boyce, Jane Morris, et al. It's a compelling page-turner and you will love it.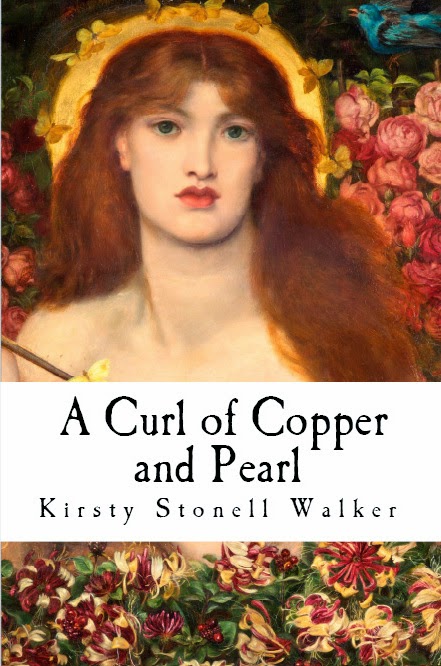 Available from Amazon.com

or Amazon.co.uk
Related Links:
A Curl of Copper and Pearl: An Extract for Wombat Friday
The Spiritual Depths of the Feminine Soul in Rossetti's "Blessed Damozel'
Parallel Imagery in "The Blessed Damozel"