Inspired by artist Dante Gabriel Rossetti's passion for wombats, every Friday is Wombat Friday at Pre-Raphaelite Sisterhood. "The Wombat is a Joy, a Triumph, a Delight, a Madness!" – Dante Gabriel Rossetti
This has been an exciting week for T-Dub because as I was preparing this blog post, he watched Vertigo for the first time. I touched on the use of color in A Pre-Raphaelite Look at Hitchcock's Vertigo and it's still on my mind today.
Hitch's use of green in association with the character of Madeleine is one of my favorite details, since it is a color I love intensely. And no one used green like the Pre-Raphaelites.
Dante Gabriel Rossetti is the artist that usually springs to mind when I think of green. His works teem with it.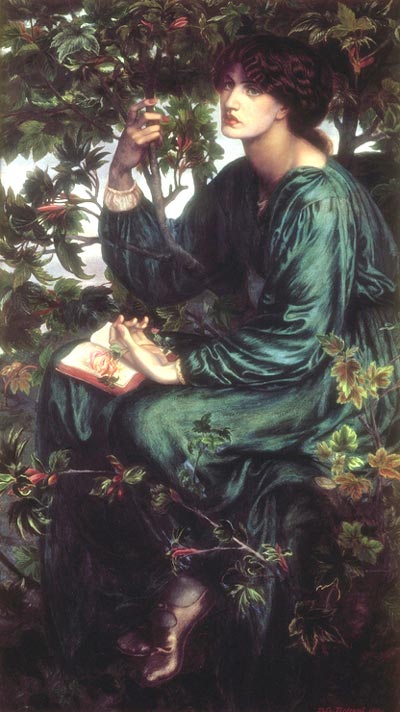 While green appears frequently in his paintings that feature Jane Morris, he also used it with model Alexa Wilding – a stunning contrast for her red-gold hair.
He mentioned green in this letter to F. R. Leland, where he discusses Veronica Veronese:
"The girl is in a sort of passionate reverie, and is drawing her hand listlessly along the strings of a violin which hangs against the wall, while she holds the bow with the other hands, as if arrested by the thought of the moment, when she was about to play. In color, I shall make the picture a study of varied greens."
La Ghirlandata (below) is one of my favorite Rossetti paintings.
Rossetti used green in a lush and sensuous way that makes me want to dive in and swim in it; h wasn't the only Pre-Raphaelite to wield that hue well, though.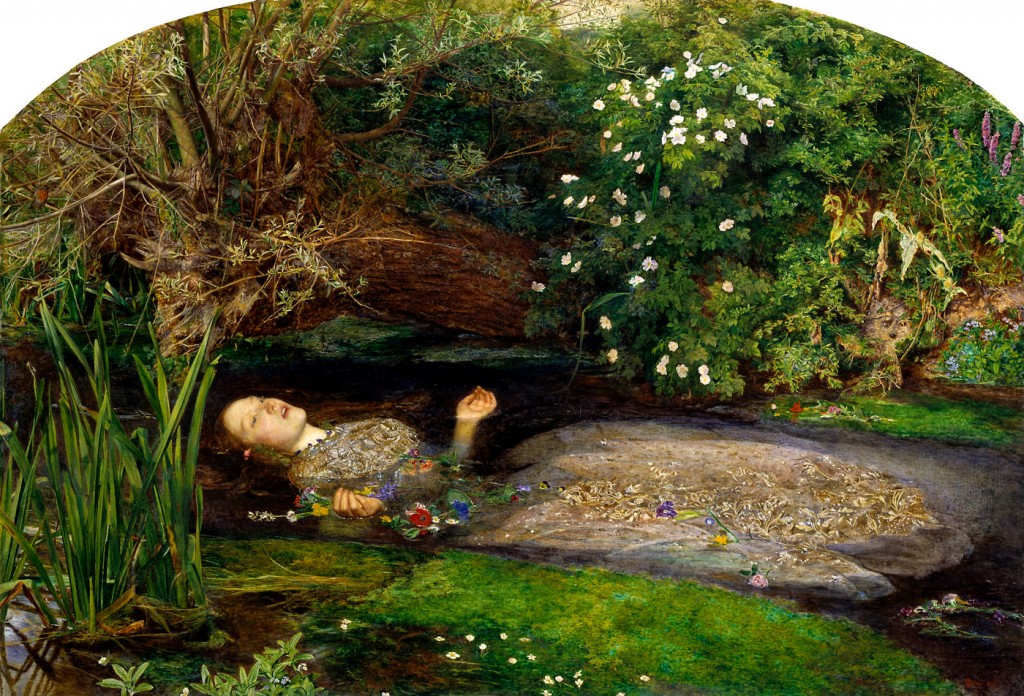 The green in Ophelia is all about nature, growth, and life. It is an example of opposites, because Ophelia is dying or has already died.
"Drown'd, drown'd," said the Queen.  To which Ophelia's brother Laertes replies, "Too much of water hast thou, poor Ophelia, and therefore I forbid my tears."  
It is no secret that this particular painting of Ophelia is my favorite.  Partly because Elizabeth Siddal posed for it, but also because it is such a good example of the Pre-Raphaelite maxim "Truth to nature".  Millais depicts each twig, each flower with fidelity.  There is verdant growth and life everywhere.  Water is life.  In the middle of it floats the dying Ophelia.  Perhaps Ophelia is the perfect example of a "green girl" if we use the word green in the sense of someone new and inexperienced.  Ophelia, sheltered and inexperienced at life, was ill prepared to cope with the madness of the adults around her.  Even the flowers that she picked are shown as they float away from her hand.  They are dying as well, severed from their roots.
The flowers in this painting fascinate me. Millais used the ones mentioned in Shakespeare's text, but he also added some of his own.
Look at the flowers close to her hand. One is a poppy.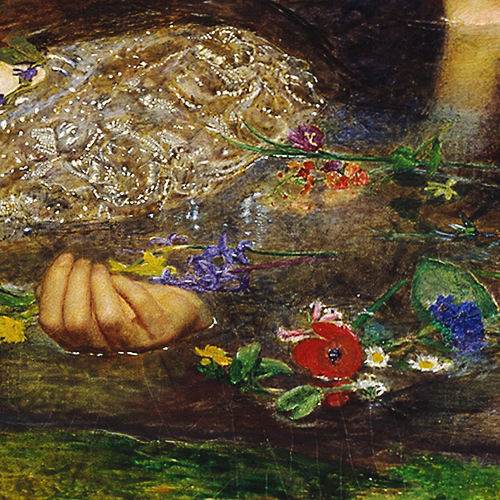 In Ophelia, a poppy floats away from Lizzie's hand.
In Beata Beatrix, painted by her husband after her death,  the dove brings a poppy to place in Siddal's open hands. Poppies are a symbolic flower that have been used to represent both sleep and death. They appear frequently in mythology but modern eyes will probably recognize them from The Wizard of Oz when Dorothy and the gang fall asleep in a field of them.
In Beata Beatrix, the use of the poppy is painfully personal. Elizabeth Siddal died of an overdose of laudanum, an opium derivative (opium is made from poppy seeds). Her green robe contrasts beautifully with her  hair and the dove that Rossetti chose to depict as red.
Another of my favorite greens is Ferdinand Lured by Ariel by Sir John Everett Millais , which depicts a scene from The Tempest.
Ariel is a fairy who leads Ferdinand to Prospero.  
Ferdinand hears Ariel's song, not quite sure where exactly the music is coming from:  "Where should this music be? i' the air or the earth?".  
Ariel leads him, tugging his hair, but he does not see Ariel.  It is another example of Millais works using contrasts.  Ophelia is a contrast of life and death, Ferdinand' Lured by Ariel has painstakingly depicted background of nature, showing us a contrast of natural and supernatural.
If I included every example of Pre-Raphaelite green that excites me, I'd probaby be here from now until next #WombatFriday, so I'll stop with Millais' depiction of Ferdinand and Ariel.
I will say that revisiting Vertigo and writing that blog post has been one of the highlights of my week. I desperately love writing about Pre-Raphaelite influences I find in pop culture. Once again, my love for the Pre-Raphaelites plunges me into a spiraling rabbit-hole of fascination that I never want to leave.