Inspired by artist Dante Gabriel Rossetti's passion for wombats, every Friday is Wombat Friday at Pre-Raphaelite Sisterhood. "The Wombat is a Joy, a Triumph, a Delight, a Madness!" – Dante Gabriel Rossetti
Thaddeus Fern Diogenes Wombat, known to his closest friends as T-Dub, is a worthy assistant here at Pre-Raphaelite Sisterhood.  He has an active imagination and loses his heart easily, like most earnest wombats who love epic dramas and mythology. This week he has fallen in love with Jane Morris as Pandora.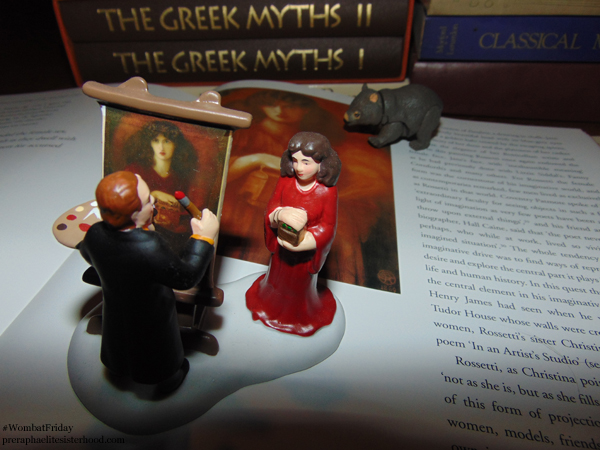 Pandora (For a Picture), Dante Gabriel Rossetti
What of the end, Pandora? Was it thine,
The deed that set these fiery pinions free?
Ah! wherefore did the Olympian consistory
In its own likeness make thee half divine?
Was it that Juno's brow might stand a sign
For ever? and the mien of Pallas be
A deadly thing? and that all men might see
In Venus' eyes the gaze of Proserpine?
What of the end? These beat their wings at will,
The ill-born things, the good things turned to ill,—
Powers of the impassioned hours prohibited.
Aye, clench the casket now! Whither they go
Thou mayst not dare to think: nor canst thou know
If Hope still pent there be alive or dead.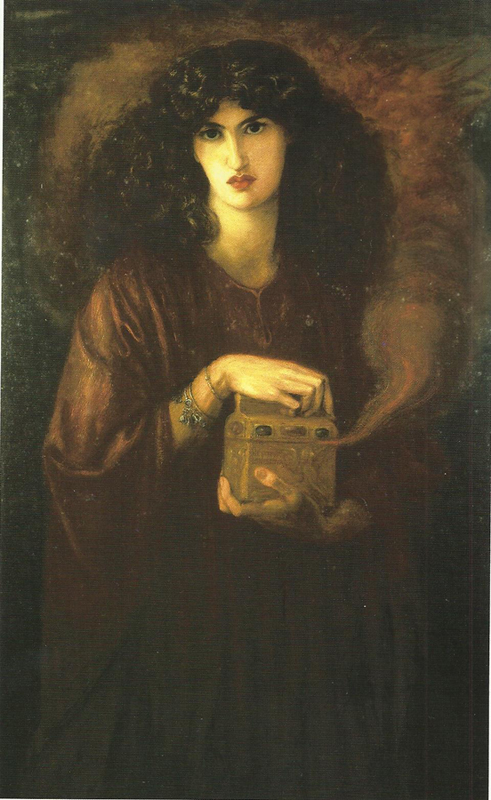 Apparently T-Dub sees the same unique beauty in Jane's face that Rossetti did.
Author Henry James had seen Rossetti's paintings of Jane Morris during a visit to Dante Gabriel Rossetti's studios.  Upon seeing Jane in person, he had this to write:
"A figure cut out of a missal – out of one of Rossetti's or Hunt's pictures – to say this gives but a faint idea of her, because when such an image puts on flesh and blood, it is an apparition of fearful and wonderful intensity.  It's hard to say [whether] she's  a grand synthesis of all the pre-Raphaelite pictures ever made – or they a "keen analysis" of her –  whether she's an original or a copy.  In either case she is a wonder.  Imagine a tall lean woman in a long dress of some dead purple stuff, guiltless of hoops (or of anything else, I should say) with a mass of crisp black hair heaped into  great wavy projections on each of her temples, a thin pale face, a pair of strange, sad, deep, dark Swinburnish eyes, with great thick black oblique brows, joined in the middle and tucking themselves under her hair, a mouth like "Oriana" in our illustrated Tennyson, a long neck, without any collar, and in lieu thereof some dozen strings of outlandish beads – in fine Complete.  On the wall was a large nearly full-length portrait of her by Rossetti, so strange and unreal that if you hadn't seen her, you'd pronounce it a distempered vision, but in fact an extremely good likeness."