Inspired by artist Dante Gabriel Rossetti's passion for wombats, every Friday is Wombat Friday at Pre-Raphaelite Sisterhood. "The Wombat is a Joy, a Triumph, a Delight, a Madness!" ~ Dante Gabriel Rossetti
The Pre-Raphaelite Society is celebrating 6k members in their Facebook group.  I'm proud to be a member of both the Facebook group and the Society and would love for you to join us. Membership details of the Pre-Raphaelite Society can be found here. 
This week, I reviewed Ophelia's Muse, a new book about the romance of Elizabeth Siddal and Dante Gabriel Rossetti by Rita Cameron.
I also posted a drawing of Charles Dickens shortly after death by Sir John Everett Millais.
This week marked the anniversary of Dante Alighieri's death 694 years ago. On the Pre-Raphaelite Sisterhood Facebook page, I shared Dante inspired posts from the archives: Shades of Dante, about Dante Gabriel Rossetti's works inspired by the great Italian poet, and The Unrequited Love of Dante and Beatrice. 
Kirsty Stonell Walker wrote a personal and powerful post on the power of women to transform themselves: Desperation to Transformation. 
Read Kirsty's review of Red: A Natural History of the Redhead.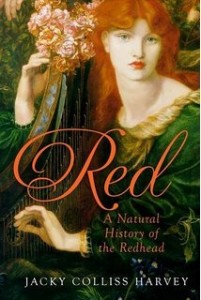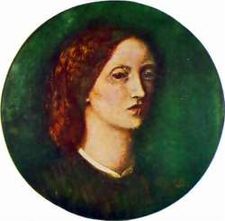 It was very exciting to see The Guardian feature Elizabeth Siddal's poem Dead Love as the poem of the week.  It's a well written piece about Siddal and it also provided a couple of links to my site LizzieSiddal.com, which I appreciate very much.
Jazzabelle's diary shares a trip to Kelmscott Manor and William Morris inspired fashion.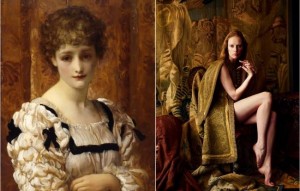 From Leighton House Museum:  London Fashion Week kicks off tomorrow and to mark the occasion we have teamed up with Editor-in-Chief of The Protagonist Magazine, internationally acclaimed British fashion photographer, Ram Shergill, who has picked 5 of his favourite paintings by Leighton and married them to some of his finest works.Follow us on Facebook & Twitter during ?#?LFW? (Friday 18 – Tuesday 22 September) for daily posts by Ram showcasing Leighton's pictures as you have never imagined before.