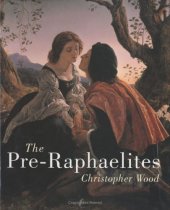 One of the first books I ever purchased about Pre-Raphaelite art was The Pre-Raphaelites. My Pre-Raphaelite library is constantly growing, but this beautiful book remains my favorite. It is quite large in size, but that's a wonderful thing as it allows the book to be literally filled to the brim with large, vivid pictures of the art I adore.
From the book-flap:
The Pre-Raphaelites is an authoritatively written and superbly illustrated survey of what has become the most recognizable and admired movement in British art. Christopher Wood presents the whole story of Pre-Raphaelitism, and examines the work of over 40 artists including Dante Gabriel Rosetti, William Holman Hunt, John Everett Millais, Arthur Hughes, Edward Burne-Jones, John William Waterhouse, and Ford Madox Brown with over 100 colour plates and numerous black and white illustrations.
Do you have a book to recommend? What is your favorite Pre-Raphaelite book?