Bothered by Art Censorship? #MeToo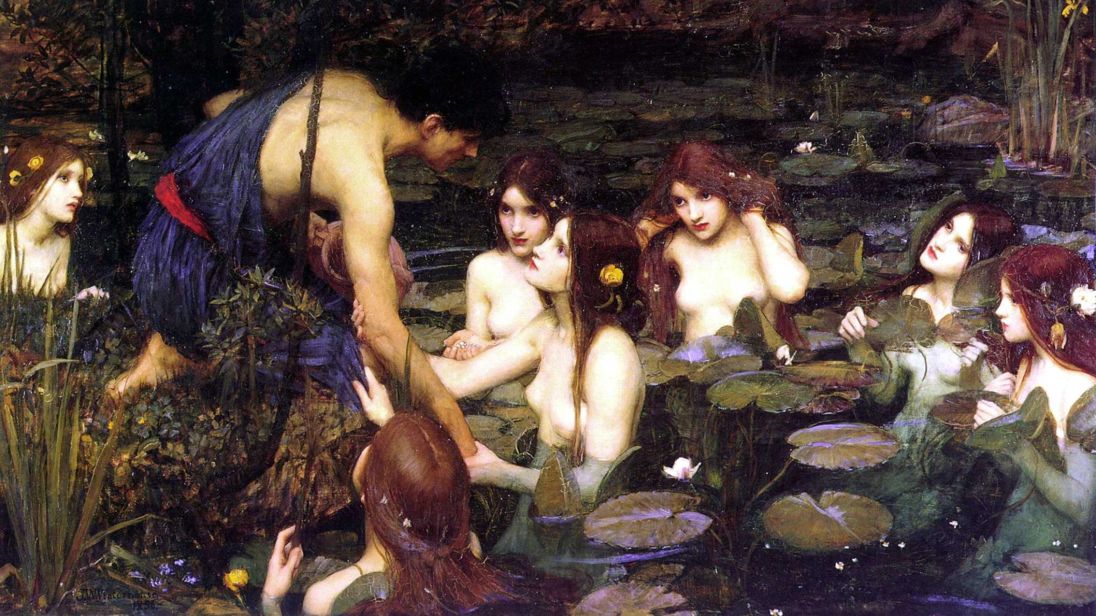 The Manchester Art Gallery announced this week that it has removed from exhibition the painting Hylas and the Nymphs by J.W. Waterhouse, and also the post cards of it in its gift shop. The gallery's stated goal is to "challenge this Victorian fantasy" of "the female body as either a 'passive decorative form' or a 'femme fatale.'"
The move feels hollow to me; a knee-jerk reaction.  Taking down a Waterhouse painting does not protect or empower women.
I've written about Hylas and the Nymphs before; it is a beautiful painting that depicts a scene from the legend of Jason and the Argonauts.  Hylas was the son of King Theiodamas, who was killed in battle by Herakles.  Herakles then raised Hylas as his own. Known for both his striking beauty and his military prowess, Hylas was later taken to the ship called the Argo by Herakles and became an Argonaut.
Waterhouse's 1896 work shows the moment when Hylas encounters a group of water nymphs.  Struck by his attractiveness, the nymphs lure him into the water where he will meet certain death. Let's be clear: the nymphs are not "passive decorative form[s]" – they are predators, luring Hylas to his doom. (He was homosexual, by the way.  The scene is not very #MeToo-ish.)
Censorship does not create a genuine and thoughtful debate.  Claire Gannaway, curator of contemporary art for the gallery, said in this article that TimesUp and #MeToo helped contribute to the decision.  #MeToo is about honest, forthright dialogue, and it's a stretch to associate the movement with a painting of mythical nymphs beguiling the fictional Hylas to his death .
Perhaps the idea of yanking the painting is based solely on its nudity, in which case the actual subject matter is ignored entirely, and Waterhouse's work is being shoved aside based on an anticipated visceral reaction viewers might have in the split-second before they get the chance to digest the work and truly understand it.
The Manchester Art Gallery claims to have removed the painting to facilitate "discussion," and indeed it has – it's all over my Facebook and Twitter feed. It has certainly generated a great deal of publicity and garnered a lot of backlash. Yet the gallery must have known that removing the painting would spark social media activity, and that in itself implies the image would be shared repeatedly.
The commotion hasn't been all bad. Hylas and the Nymphs has been plastered across social media, introducing it to new audiences – and that's something that I can always get behind.
Enlightenment about gender or sex isn't inspired by cloaking them. The #MeToo movement is about stepping forward and sharing your voice; it is about unwaveringly facing truths. Instead of sanctimoniously sacrificing a meaningful work of art, the gallery might have chosen to promote a painting that would highlight issues relevant to harassment or assault.
If the breasts of Waterhouse's nymphs, which have been viewed by art lovers since the late 19th century, are suddenly so objectionable, then why draw such attention to them with this announcement?
Maybe "discussion" isn't the only motive at play here. Is this all an elaborate publicity stunt?  If so, it has worked remarkably well.