If you are looking for Shakespeare inspiration today, you are in luck!  Visit happybirthdayshakespeare.com for a large collective of bloggers sharing posts in honor of the day!
In celebration of the Bard's birthday, here's a post from the archives: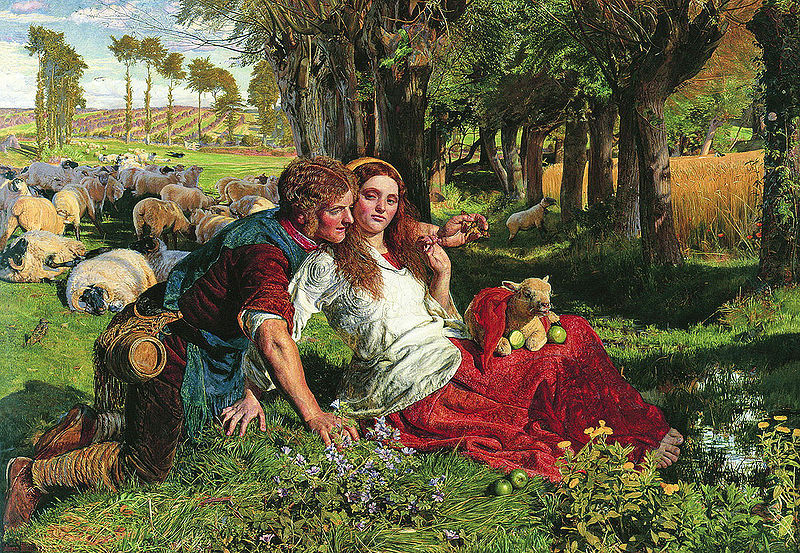 King Lear is a tragic play filled with anger and grief.   It is wrought with suffering and explores issues of old age and family as only Shakespeare could explore them.  William Holman Hunt took inspiration from a quotation of King Lear for his painting The Hireling Shepherd (pictured above).  It is from the lines of the Fool, who says:
Sleepest or wakest thou, jolly shepherd?
Thy sheep be in the corn.
And for one blast of thy minikin mouth,
Thy sheep shall take no harm.
Hunt portrays the shepherd as neglecting his flock, too busy flirting with the shepherdess to see that they are falling ill.  In his hand he holds a death's head moth.  The moth is impressive once you notice it, Hunt captured it in minute detail.   The shepherdess, also distracted and neglectful, has a young lamb in her lap that will also soon fall ill since it is eating a green apple.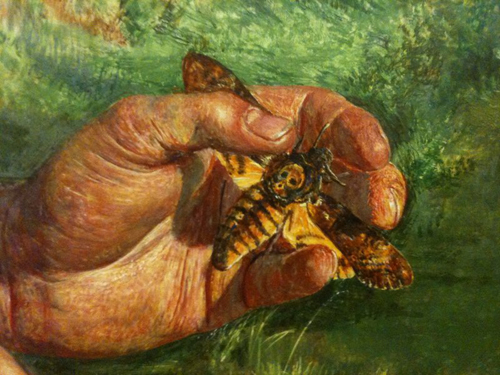 Hunt's painting is striking.  The colors are vivid and the detail is superb.  But it is Ford Madox Brown's paintings of King Lear that excite me, because they were born from the passion of a viewer who was captivated by the performance of the play.  Lucinda Hawksley describes this in Essential Pre-Raphaelites:
"Ford Madox Brown's fascination for Shakespeare's King Lear began in 1843 (reputedly after seeing William Charles Macready playing Lear on the London stage).  Brown began to sketch scenes from the play feverishly — producing 16 in one year.  Henry Irving, who later played Lear to great acclaim, became the owner of several of these."
This is the kind of tale that resonates with me. I can easily imagine an artist being swept away by an outstanding performance, a performance that inspired him to create his own images of the saga. It is a completely different experience for us now. Most of us see movies far more often than a live production. And if we want, we can easily own the movie on dvd for us to watch again and again. But what of Ford Madox Brown? A play is a different animal entirely. Performances can differ from night to night; with each new audience a new experience is created. So I see Ford Madox Brown's work as an attempt to capture what was inspired by that one performance. He may not have painted the exact actors, scenery or costumes from that performance, but he painted the passion for the story of King Lear that the performance inspired.
Ford Madox Brown's painting Cordelia at the Bedside of Lear: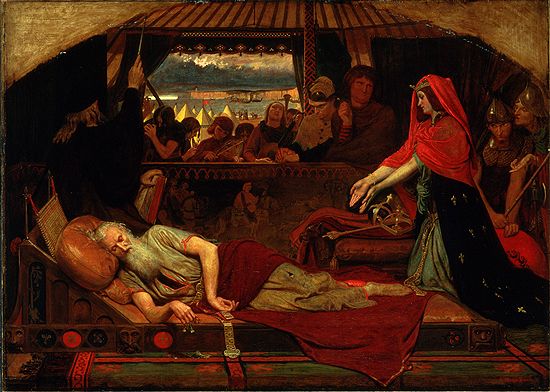 Cordelia is modeled by Brown's wife Emma. The Fool, staring so intently at Lear, was modeled by Dante Gabriel Rossetti.
Later, Brown painted an earlier scene from the play.  Cordelia's Portion: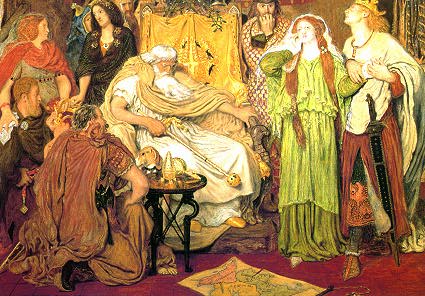 In Will of the World: How Shakespeare Became Shakespeare, author Stephen Greenblatt proposes that Shakespeare was possibly contemplating retirement –and thinking about its perils– when he wrote King Lear.  "The tragedy is his greatest meditation on extreme old age; on the painful necessity of renouncing power;  on the loss of house, land, authority, love, eyesight, and sanity itself."  Greenblatt describes it well.  It is one of the most tumultuous Shakespearean dramas I have ever seen.
When I decided to write this post, I read King Lear in its entirety.  It is a beautiful text to read, but I was left feeling dissatisfied.  This was not the experience I wanted to have.  Shakespeare did not write his plays to be read, he wanted them to be seen!  I wanted to be involved in the story as Ford Madox Brown was.  Searching for an adaptation to watch, I was happy to find a production of King Lear starring Sir Ian McKellen on Netflix.  I highly recommend it. It is a masterful performance with a talented ensemble.   And I'm not alone in my admiration of it — visitor comments on the PBS Great Performances page describes King Lear as a  "life-altering experience, proving, once again, how great art presented intimately and at home, can illuminate the intricacies of a classic play in startling new ways." Reading Shakespeare can be a beautiful experience, but it can never be the same as seeing it performed.  Not just performed, but performed well.
There is a life cycle to art and creativity.  Shakespeare continues to inspire.  As do the Pre-Raphaelites.  Since starting this website, I have been lucky enough to have found talented artisans whose work is often a nod to the Pre-Raphaelites and their associates.  I love Ford Madox Brown's representations of King Lear because it is a perfect example of how someone's creativity will stimulate the inventiveness of others.  In Act 1, Scene1 of King Lear, Shakespeare wrote that "Nothing will come of nothing." And now it is my firm belief that Art will come from Art.