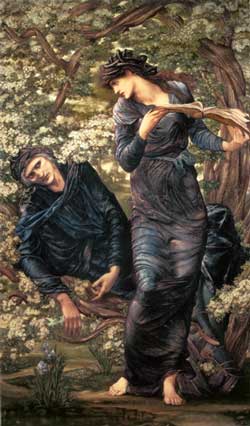 It is the end of the year, traditionally a time to make merry and look back and reflect upon our lives. In the spirit of yearly reflection, I was struck by the fact that what started as a passing interest in Pre-Raphaelite art years ago has grown into something much larger and more important in my life than I could have ever predicted. My websites (this one and LizzieSiddal.com) are important to me, but what is more important to me is what springs out of those websites: making connections with people. Hearing their comments, their own stories or perceptions of art. Thank you all who have taken time out of your own busy lives to post comments and email me.
The Beguiling of Merlin (pictured here) was the first "Pre-Raphaelite" work that I had ever seen. I was 17 years old in 1992 and was shopping in a bookstore in a local mall. Browsing the shelves, I happened upon A.S. Byatt's Possession, which featured The Beguiling of Merlin on the cover. The image just struck me. A sort of gut reaction, for lack of a better phrase. I wanted that book without even flipping through it or reading the back cover (rare for me). I remember being nervous asking my mother if I could buy it, because the price was a bit high.
The book turned out to be one of the most important books of my life. I am a gluttonous and greedy reader.  My interests are broad and I literally read anything I can get my hands on without tying myself down to a favorite genre.  There are quite a few books that I consider important parts of my life. Books that I return to again and again like comfort food, rereading them because even though they are familiar and unchanging, they always seem to show me something new.  I discover myself through them.
Possession when read at 17 seemed to make me think several things at once. Or perhaps it made me feel things that I did not know how to name. It was a confusing time in my life. In fact the next few years were what I would call a muddle of bad decisions and upheaval in which I did not realize or meet up to my full potential. But then, I was young. Much younger than I realized and, really, do many of us come through those years unscathed? At any rate, A.S. Byatt's work marked a transition for me.  It was a change from reading purely for escapism to approaching my reading life as a serious endeavor.  It did not happen overnight with just that one book, but looking back I realize that reading Possession created a subtle shift that changed how I viewed my reading habits and choices.
Possession stayed with me and I returned to it often. It was there at the beginning of marriage and parenthood. It was there during cold winter days or in the summer time heat while my children splashed in their wading pool. Sometimes I would read it all the way through again, happy to be immersed in the tale.  Other times, I would just take a dip into certain passages, allowing them to roll around my head a bit as I savored Byatt's writing.  And one day, I became curious about the cover art and decided to research its origin. Which led to an interest in the Pre-Raphaelites. Which led to a very specific interest in Rossetti. Who led me to Elizabeth Siddal, whom I devoted years to studying. Which then led me to the lives of other Pre-Raphaelite women and the birth of this website. But perhaps all of this is because the root of my interest in the Pre-Raphaelites may in reality be an interest in people's stories.
And now I want to hear yours. Do you remember the first painting (Pre-Raphaelite or not) that captivated you? Did it somehow lead you to other things? Or do you relate to a certain painting or artist in some way? I want to know what resonates with you and why. Post a comment!