Upon the death of Charles Dickens in 1870, the artist John Everett Millais traveled to Gad's Hill Place to make a sketch of the novelist in state.   In The Life and Letters of Sir John Everett Millais, the artist's son states that while he only intended to make a slight outline drawing, he was overcome by how 'calm and beautiful in death'  Dickens' features were and instead drew a much fuller portrait. Later, Dickens' daughter wrote this poignant letter to the artist in thanks:
"My dear Mr. Millais, –C—-has just brought down your drawing.  It is quite impossible to describe the effect it has had upon us.  No one but yourself, I think, could have so perfectly understood the beauty and pathos of his dear face as it lay on that little bed in the dining-room, and no one but a man with genius bright as his own could have so reproduced that face as to make us feel now, when we look at it, that he is still with us in the house.  Thank you, dear Mr. Millais, for giving it to me.  There is nothing in the world I have, or can ever have, that I shall value half as much.  I think you know this, although I can find so few words to tell you how grateful I am."

"Yours most sincerely,

Katie"
"Katie" is Kate Dickens Perugini, daughter of Charles Dickens and wife to the artist Charles Perugini.  She appears in Millais' painting The Black Brunswicker, seen below.  More about this painting can be found in the post Unfinished story of unselfish love.   Lucinda Dickens Hawksley, a direct descendant of  Charles Dickens, has written a fascinating biography of Kate Perugini that may interest you.  She is also the author of Lizzie Siddal: Tragedy of a Pre-Raphaelite Supermodel.   Several years ago, I interviewed Hawksley at LizzieSiddal.com.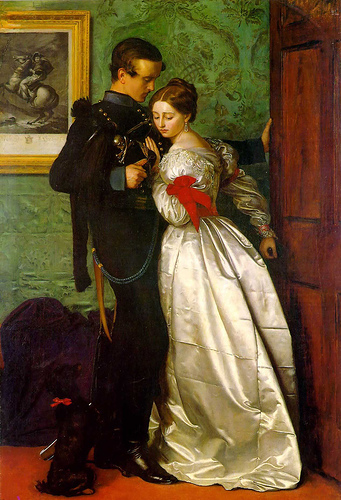 In the early days of the Pre-Raphaelite Brotherhood, Dickens had lambasted Millais' painting Christ in the House of his Parents.  Dickens was offended that the artist would use such an ordinary boy to depict Christ in such a commonplace setting.  Artist Raine Szramski presents a humorous take on Dickens' criticism of Millais' work in her Pre-Raphernalia: Pre-Raphaelite Sketchbook cartoons that I find particularly funny.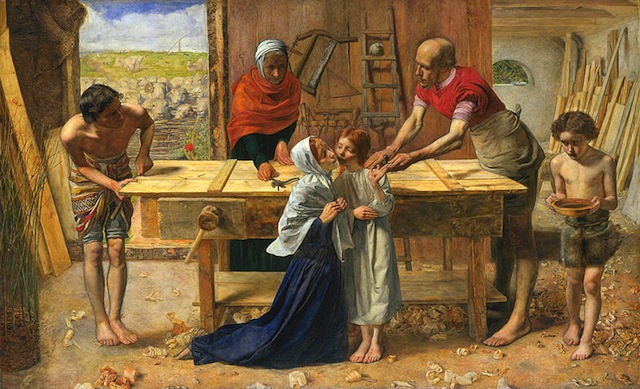 Despite the harsh public criticism, both author and artist eventually developed a friendship.  Millais' touching death-bed portrait and the gift of it to Kate Perugini is a testament to that camaraderie and the fact that we don't necessarily  have to agree on everything in order to be friends.  (Although a little common ground doesn't hurt.)