I am beginning a series of posts that focuses on Pre-Raphaelite representations of Shakespeare's works.  I felt the perfect painting to start with is Walter Howell Deverell's Twelfth Night, as it is one of the earliest Pre-Raphaelite pictures based upon a Shakespearian play and also happens to be the first painting that includes Elizabeth Siddal — an important Pre-Raphaelite model who eventually became an artist herself and later married Dante Gabriel Rossetti.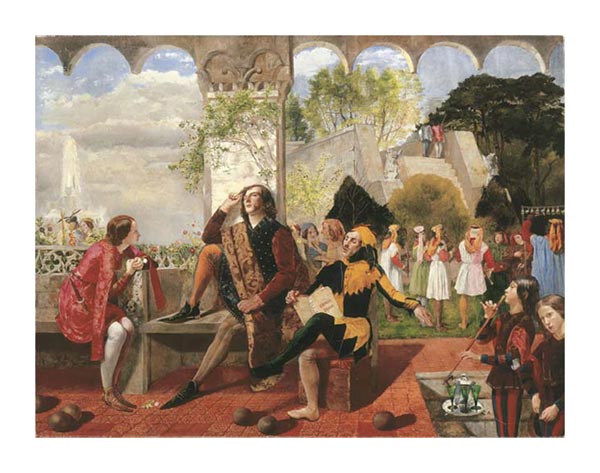 The Painting:
Walter Howell Deverell was in need of a model to portray Viola for his work in progress, Twelfth Night.  It was Elizabeth Siddal who struck his eye while she worked in Mrs. Tozer's hat shop.  Fellow Pre-Raphaelite William Holman Hunt described Lizzie's discovery:
"Rossetti at that date had the habit of coming to me with a drawing folio, and sitting with it designing while I was painting at a further part of the room…Deverell broke in upon our peaceful labours.  He had not been seated many minutes, talking in a somewhat absent manner, when he bounded up, marching, or rather dancing to and fro about the room, and, stopping emphatically, he whispered, "You fellows can't tell what a stupendously beautiful creature I have found.  By Jove!  She's like a queen, magnificently tall, with a lovely figure, a stately neck, and a face of the most delicate and finished modelling: the flow of surface from the temples over the cheek is exactly like the carving of a Phidean goddess…I got my mother to persuade the miraculous creature to sit for me for my Viola in 'Twelfth Night', and to-day I have been trying to paint her; but I have made a mess of my beginning.  To-morrow she's coming  again; you two should come down and see her; she's really a wonder; for while her friends, of course, are quite humble, she behaves like a real lady, by clear commonsense, and without any affectation, knowing perfectly, too, how to keep people respectful at a distance."
Twelfth Night was the painting that thrust Lizzie into the Pre-Raphaelite world.  She sat for many important Pre-Raphaelite works and is perhaps most famous for her portrayal of Ophelia in the painting by Sir John Everett Millais, also a work based on Shakespeare (Hamlet).   In an interesting twist, Dante Gabriel Rossetti also appears in Deverell's painting as the jester.  Rossetti would become an important person in Lizzie's life.  There would come a time when she would model only for him.  He became a tutor and mentor, encouraging her art.  They had a long, tumultuous relationship and married in 1860.  Their story is a sad one.  Lizzie was addicted to Laudanum, they suffered the loss of a stillborn daughter, and Lizzie died of a Laudanum overdose just two years after their marriage.   Rossetti, consumed with guilt and despair, buried his only manuscript of the poems he had been working on with Lizzie in her coffin.  Several years later he had her coffin exhumed to retrieve them.
Twelfth Night is the picture Walter Howell Deverell is mainly remembered for, due to his death at a young age.   He died at 27 due to Bright's disease, which affects the kidneys.
The Play:
Twelfth Night, or What You Will is one of Shakespeare's comedies.   The story is said to have come from a novelette written early in the 16th century.  A brother and sister, twins, are shipwrecked and lose contact.  Viola, dressed like her brother, becomes page to the Duke Orsino.  The duke was in love with Olivia, and, as the lady looks coldly upon his suit, he sent Viola (as his page) to advance it.  But the willful Olivia, instead of melting towards the duke, falls in love with the beautiful page.   Sebastian, the twin brother of Viola, was attacked in a street brawl  before Olivia, who thinks Sebastian is the page and invites him in.  It is a delightful tale of mistaken identity that results in the marriage of Sebastian and Olivia and of the duke to Viola.
You may be familiar with the 1996 film version of Twelfth Night starring Helena Bonham Carter.  The 21st Century Stunner has three gorgeous posts of screencaps from the film that are well worth the visit!  Twelfth Night,  Twelfth Night Part II,  Twelfth Night Part 3.