I'm honored to be a contributor in the latest edition of Enchanted Living magazine. This special Pre-Raphaelite issue is deliciously mesmerizing – just holding a physical copy of this lush work is a delight.
It thrills me to be included in this issue, nestled among several dear friends.
Kirsty Stonell Walker contributes In Search of the Sisterhood: Discovering Pre-Raphaelite Women, and Grace Nuth, an editor of Enchanted Living, offers a captivating piece about Red House, the home of William Morris.
Folklorists Sara Cleto and Brittany Warman, whose work I find riveting, craft a fantastical tale inspired by a book that never was – a story that Lizzie Siddal and Georgiana Burne-Jones intended to write and illustrate together, but it was not to be.
As the spirit of Spring envelops me, Stephanie Stewart-Howard's article on building a Pre-Raphaelite medieval garden inspires me the most, perhaps. It's created ghosts of ideas that tease my floricultural imagination. I'm itching to start researching, digging, plunging my hands in the dirt and cultivating a medieval garden on my own.
Emilie Autumn and Veronica Varlow recreate iconic paintings, masterfully photographed by Steve Parke. It's a Rossetti daydream come to life, in startling detail.
Editor-in-Chief Carolyn Turgeon takes us on a journey to The Cloisters, built in Maryland nearly a century ago as a Gothic manor house, This piece is also photographed by Steve Parke, and together they beautifully capture its otherworldly wonder – a blessing to vicariously behold in this era of limited personal travel.
I was completely immersed in The Seamstress of Rohan and Helena Aguilar Mayans' photo reenactments of Lizzie Siddal's life. Each is more haunting than the last, bearing witness to a poetic life cut too short.
If you enjoy the sheer madness of Ken Russell's Dante Inferno as I do, then you'll find fascination in Madder and Woad: Color and the Victorians by Timothy Schaffert. This is definitely a piece I intend to read more than once. Schaffert explores color in a fascinating way, examining how it was employed in the 19th century. Comparing the vivid, colorful world of the Victorians to the black-and-white romp of Dante's Inferno was a stroke of brilliance.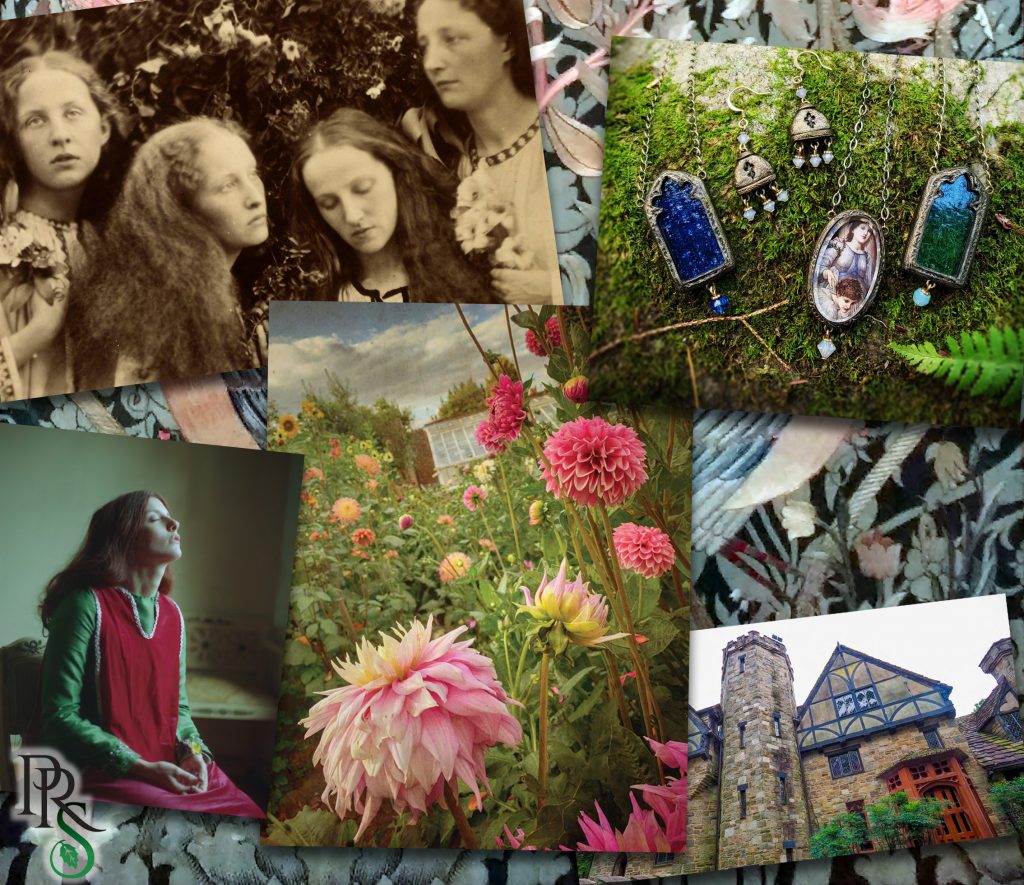 For my contribution, it's a great honor to celebrate the work of Jen Parrish-Hill, the gifted designer behind Parrish Relics. I admire Jen immensely, and her sense of craftsmanship and beauty harmonize in the creation of her uniquely exquisite works. I'm particularly pleased that my words augment ravishing photographs of Jen's work, by The Witching Hour Photography.
In response to to the world's current need for social distancing and self-isolation, Carolyn Turgeon has generously offered several back issues of Enchanted Living downloadable for free. I encourage you to take a moment to indulge; it's healing to seek beauty and solace where we can.
My piece on Parrish Relics was written about two months ago with the belief that sharing and celebrating the artistic endeavors of others is important. I'm on a mission to spread beauty, integrity, and kindness.
I wrote with the same intention that I apply to this website, with a sense of gratitude. Today, with COVID-19 concerns impacting every aspect of our lives, I feel even more strongly that we need to embrace and share goodness. I hope you enjoy the issue and whatever poignant beauty you find, you offer to others.
Subscribe to Enchanted Living here. Order a single print issue or a digital one. I also encourage you to sign up for the enchanting newsletter!