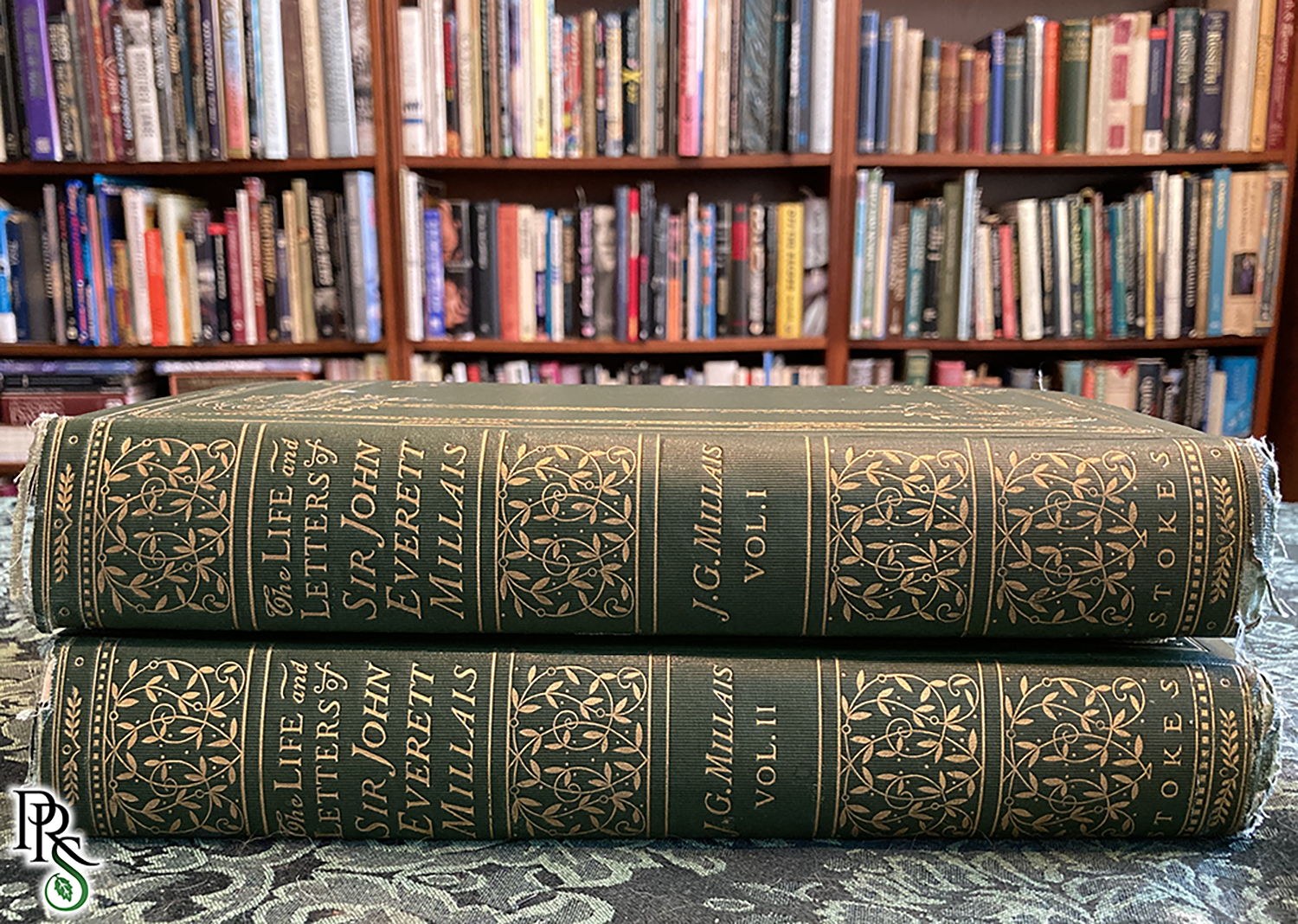 From The Life and Letters of Sir John Everett Millais by his son John Guille Millais.
Chapter II: Pre-Raphaelitism: Its Meaning and Its History
In this chapter I propose to devote myself exclusively to the history and progress of the Pre-Raphaelite movement, with which Millais was so intimately connected in the early years of his life. Those therefore who are not interested in this subject will do well to pass on at once to Chapter III.
In the art history of this century probably no movement has created so great a sensation as that which is commonly known as Pre-Raphaelitism. For years it was on everybody's tongue and in every newspaper of the day, and after the excitement it occasioned had died out numerous pens were engaged in tracing its history according to their lights; but to this day the actual facts are known but to very few. I have them from the best possible authority–the originators themselves, my father and Mr. Holman Hunt.
How these two men first came together was graphically described to me in a long talk I had with Mr. Hunt shortly after my father's death. He said, "The first time I saw Millais was at the prize-giving at the R.A. in 1838. There was much speculation amongst the students as to who would gain the gold medal for a series of drawings from the antique, and it was generally considered that a man, thirty years of age, named Fox, would be the successful competitor. All voices were hushed when Mr. Jones mounted the steps and read out the name of John Everett Millais. Immense cheering followed, and little Millais was lifted up at the back of the auditorium and carried on the shoulders of the students to the receiving desk. Fox, who only got the third prize, refused to get up when his name was called; but the students would not allow this: they made him go up and receive his medal."
Later on Mr. Holman Hunt, who, though he had worked very hard, had failed to get into the Royal Academy, was drawing one day in the East Room by himself. "Suddenly," said he, "the doors opened, and a curly-headed lad came in and began skipping about the room; by-and-by he danced round until he was behind me, looked at my drawing for a minute, and then skipped off again. About a week later I found the same boy drawing from a cast in another room, and returned the compliment by staring at his drawing. Millais, who of course it was, turned round suddenly and said, 'Oh, I say, you're the chap that was working No. 12 the other day. You ought to be in the Academy.'
"This led to a long talk, during which Millais said that he was much struck by the drawing which he had seen me working at, and that there was not the least doubt that if a drawing or two like that were shown for probationership, I would be admitted at once. When I asked what he thought was the best way of doing the drawings, he replied, 'Oh, I always do mine in line and stump, although it isn't conventional.' "
After this the two boys fell into a discussion on the conventionality and pedantry of art as displayed in the minds had sprung up a sense of dissatisfaction and the idea of rejecting what they considered to be false and stunted.
A year went by. Mr. Hunt was admitted to the Royal Academy, and then had frequent opportunities for talking to his friend Millais. One evening, some two years later, it came out in the course of conversation that while Millais was painting the "Pizarro", already referred to, Mr. Hunt was engaged at home on a picture for exhibition.
Another year passed, and the young artists were in the full swing of their work, Mr. Hunt painting hard at his "Porphyro", and Millais at "Cymon and Iphigenia", a picture in which he seems to have been much influenced by Etty, the only man of the old school whom he really admired. After one of their many talks on originality in art, or rather the absence of it at that time, Millais said to Mr. Hunt, "It is quite impossible to get out pictures done in time for the Royal Academy, unless we sit up and work all night in the last week. Let us paint together in my studio, and then we can encourage each other and talk over our ambitions." This was agreed upon, and from that time the two boys began to study side by side. How tremendously in earnest they were may be gathered from the fact that it was no uncommon thing for them to work on far into the night, sometimes even till four or five in the morning; this, too, night after night till the sending-in day.
There are always some parts of a picture that an artist hates doing. After a month or two Millais got quite sick of painting the draperies of the girls in his picture; so one evening he turned to his companion and said, "If you will do some of these beastly draperies for me, I'll paint a head or two in your picture for you" –an offer that was at once accepted. In this way they relieved each other upon occasion, and it is curious to notice how alike their work was in those days; so much so, that when Hunt examined the picture in the Millais Exhibition of 1898 he could not distinguish the parts he had painted.
It was from these evening seances, and the confidence engendered by the free interchange of thought that sprang the determination of these youths to leave the beaten track of art and strike out a new line for themselves. Raphael, the idol of the art world, they dared to think, was not altogether free from imperfections. His Cartoons showed this, and his "Transfiguration" still further betrayed the falsity of his methods. They must go back to earlier times for examples of sound and satisfactory work, and, rejecting the teaching of the day that blindly followed in his footsteps, must take Nature as their only guide. They would go to her, and her alone for inspiration; and hoping that others would be tempted to join in their crusade against conventionality, they selected as their distinctive title the term "Pre-Raphaelites."
"Each for the joy of the working, and each in his separate star, Shall draw the Thing as he sees It for the God of Things as They Are."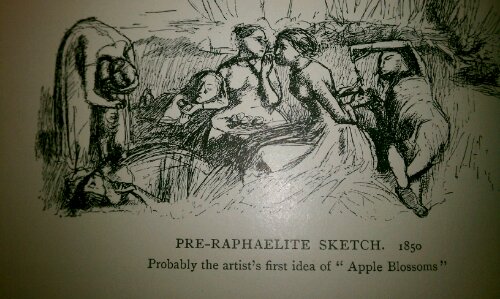 "It was in the beginning of the year 1848," says Mr. Holman Hunt, "that your father and I determined to adopt a style of absolute independence as to art-dogma and convention: this we called 'Pre-Raphaelitism'. D.G. Rossetti was already my pupil, and it seemed certain that he also, in time, would work on the same principles. He had declared his intention of doing so, and there was beginning to be some talk of other artists joining us, although in fact some were only in the most primitive stages of art, such as William Rossetti, who was not even a student.
"Meanwhile, D.G. Rossetti, himself a beginner, had not got over the habit (acquired from Madox Brown) of calling our art 'Early Christian'; so one day, in my studio, some time after our first meeting, I protested, saying that the term would confuse us with the German Quattro Centists. I went on to convince him that our real name was 'Pre-Raphaelites', a name which we had already so far revealed in frequent argument that we had been taunted as holding opinions abominable enough to deserve burning at the stake. He thereupon, with a pet scheme of an extended co-operation still in mind, amended my previous suggestion by adding to our title of 'Pre-Raphaelite' the word 'Brotherhood'."
Hunt, it should be explained, first met Rossetti in the Royal Academy schools, where as fellow-students they occasionally talked together. Rossetti, however, was an intermittent attendant rather than a methodical student, and presently, wearying of the work, he gave it up and took to literature, hoping to make a living by his pen. Here again he was disappointed. His poems, charming as many of them were, did not meet with the wide acceptance he had hoped for, and in a fit of despondency he came to Hunt and begged him to take him into his studio. But Holman Hunt could not do this–he was far too busy working for a livelihood, with little time to spare for the indulgence of his own taste as an artist; but he laid down a plan of work to be followed by Rossetti in his own home, and promised to visit him there and give him all the help he could.
Not satisfied with this, Rossetti betook himself to Madox Brown, whose style of painting he admired, and who, he hoped, would teach him the technicalities of his art, while allowing him free play in all his fancies. Madox Brown, however, had been through the mill himself, and knew there was no short cut to success. So, much to the disgust of Rossetti, he set him to paint studies of still-life, such as pots, jugs, etc. By-and-by this became intolerable to a man of Rossetti's temperament, so he once more returned to Hunt, and begged him to take compassion on him; and at last, moved by his appeal, Hunt consented.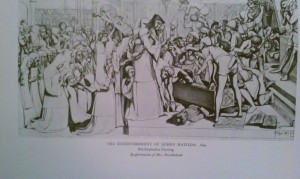 These are Hunt's words in the subject: "When D.G. Rossetti came to me he talked about his hopes and ideals, or rather his despair, at ever being able to paint. I, however, encouraged him, and told him of the compact that Millais and I had made, and the confidence others had in our system. Rossetti was a man who enthusiastically took up an idea, and he went about disseminating our programme as one to be carried out by numbers. He offered himself first, as he knew that Millais had admired his pen-and-ink drawings. He then suggested as converts Collinson, his own brother William, who intended to take up art, and Woolner, the sculptor. Stephens should also be tried, and it struck him that others who had never done anything yet to prove their fitness for art reformation, or even for art at all, were to be taken on trust. Your father then invited us all to spend the evening in his studio, where he showed us engravings from the Campo Santo, and other somewhat archaic designs. These being admired so much by the new candidates, we agreed that it might be safe to accept the additional four members on probation; but, in fact, it really never came to anything."
The first meeting, at which terms of co-operation were seriously discussed, was held on a certain night in 1848, at Millais' home in Gower Street, where the young artist exhibited, as examples of sound work, some volumes of engravings from the frescoes of Benozzo Gozzoli, Orcagna, and others now in the Campo Santo at Pisa.
"Now, look here," said Millais, speaking for himself and Hunt, who were both jealous of others joining them without a distinct understanding of their object, "this is what the Pre-Raphaelite clique should follow." The idea was eagerly taken up, and then, or shortly afterwards, William Rossetti, Woolner. F.G. Stephens (now an Art critic), and James Collinson joined the Brotherhood–the P.-R.B., as it was now called.
Arthur Hughes, Frederic Sandys, Noel Paton, Charles Collins, and Walter Deverell also sympathised with their aims, and were more or less working on the same lines. Coventry Patmore, the poet, although in close association with many of the Brotherhood, was not himself a member, as the association was strictly limited to working artists.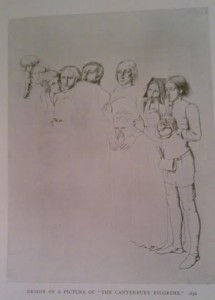 Writing on this subject in the Contemporary Review of May. 1880, Mr. Holman Hunt says: "Outside of the enrolled body [the P.-R.B.] were several artists of real calibre and enthusiasm, who were working diligently with out views guiding them. W.H. Deverell, Charles Collins, and Arthur Hughes may be named. It was a question whether any of them should be elected. It was already evident that to have authority to put the mystic monogram upon their paintings could confer no benefit on men striving to earn a position. We ourselves even determined for a time to discontinue the floating of this red rag before the eyes of infuriated John Bull, and we decided it was better to let our converts be known only by their works, and so nominally Pre-Raphaelitism ceased to be. We agreed to resume the open profession of it later, but the time had not yet come. I often read in print that I am now the only Pre-Raphaelite; yet I can't use the distinguishing letters, for I have no Brotherhood."
And now perhaps, I may as well give my father's version of the matter as gathered from his own lips in 1896, the year when he was elected President of the Royal Academy. At that time the papers, of course, had much to say about his art life; and finding that some of them referred pointedly to D.G. Rossetti's influence on the style and character of his work, I asked him to tell me exactly what were his relations to Rossetti, and how far these comments were correct.
"I doubt very much," he said, "whether any man ever gets the credit of being quite square and above-board about his life and work. The public are like sheep. They follow each other in admiring what they don't understand [Omne ignotum pro magnifico], and rarely take a man at what he is worth. If you affect a mysterious air, and are clever enough to conceal your ignorance, you stand a fair chance of being taken for a wiser man than you are; but if you talk frankly and freely of yourself and your work, as you know I do, the odds are that any silly rumour you may fail to contradict may be accepted as true. That is just what has happened to me. The papers are good enough to speak of me as a typical English artist; but because in my early days I saw a good deal of Rossetti–they assume that my Pre-Raphaelite impulses in pursuit of light and truth were due to him. All nonsense! My pictures would have been exactly the same if I had never seen or heard of Rossetti. I liked him very much when we first met, believing him to be (as perhaps he was) sincere in his desire to further our aims–Hunt's and mine–but I always liked his brother William much better. D.G. Rossetti, you must understand, was a queer fellow, and impossible as a boon companion–so dogmatic and so irritable when opposed. His aims and ideals in art were also widely different from ours, and it was not long before he drifted away from us to follow his own peculiar fancies. What they were may be seen from his subsequent works. They were highly imaginative and original, and not without elements of beauty, but they were not Nature. At last, when he presented for our admiration the young women which have since become the type of Rossettianism, the public opened their eyes in amazement. "And this," they said, "is Pre-Raphaelitism!" It was nothing of the sort. The Pre-Raphaelites had but one idea–to present on canvas what they saw in Nature; and such productions as these were absolutely foreign to the spirit of their work.
"The only one of my pictures that I can think of as showing what is called the influence of Rossetti is the 'Isabella', in which some of the vestments were worked out in accordance with a book of medieval costumes which he was kind enough to lend me. It was Hunt– not Rossetti– whom I habitually consulted in case of doubt. He was my intimate friend and companion; and though, at the time I am speaking of, all my religious subjects were chosen and composed by myself, I was always glad to hear what he had to say about them, and not infrequently to act upon his suggestions. We were working together then, and constantly criticised each other's pictures."
The friendly intercourse between Millais and D.G. Rossetti lasted but four years, from 1848 to 1852. From 1852 to 1854 they met occasionally, but after that they rarely came into contact, and in 1856 even these casual meetings came to an end. One reads then with a smile such observations as this in Mr. Spielmann's Millais and his Works (1898): — "This is no time to examine the principles and the bearings of this oft-discussed mission of eclectics; but it may at least be pointed out how clear a proof of what can be done by co-operation, even in art, are the achievements of the school. Millais' great pictures of that period — in many qualities really great — are certainly the combination of the influence of the others' powers besides his own. His is the wonderful execution, the brilliant drawing; but Dante Rossetti's perfervid imagination was on one side of him and Holman Hunt's powerful intellect and resolution were on the other; while, perhaps, the analytical mind of Mr. William Rossetti and the literary Outlook of Mr. F.G. Stephens were not without influence upon his work. In a few short years these supports were withdrawn from Millais' art, in which we find the execution still, but where–at least in the same degree– the intellect or the imagination?"
The "supports," as Mr. Spielmann calls them, never existed; and as to "intellect" and "imagination", is there nothing of these in "Ferdinand lured by Ariel", "Mariana", "The Blind Girl", "L'Enfant du Regiment", or "The Woodman's Daughter", with none of which Rossetti had any concern? Indeed, as to the three last-named pictures, I think I am right in saying that Rossetti never saw them until they were hung on the Academy walls. The "Huguenot", too, and the "Ophelia" were seen but once by him when the paintings were in process, and that was at Worcester Park Farm, when he and Madox Brown called and expressed their approval. And now I leave it to my readers to say whether the "Isabella" (the only pure medieval subject) surpasses in point of design, execution, or sentiment such of Millais' later works as "The Rescue", "The Order of Release", "The Proscribed Royalist", or fifty others that could be named. My father hated humbug; and if Rossetti had been the guiding spirit of his works, as certain critics represent, he would have been the first to acknowledge it. * It was the poetry of Nature that appealed to him — the love, hope, sweetness, and purity that he found there– and it was the passionate desire to express what he felt so deeply that spurred him on from the beginning to the end of his art life.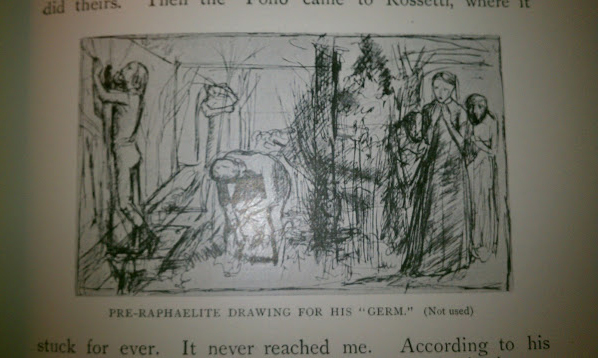 The distinguishing characteristics of Pre-Raphaelite workers are well set forth by Mr. Kennedy in a recent article in that excellent magazine The Artist. He says, "The three chief members of the Pre-Raphaelite Brotherhood — Rossetti, Millais, and Holman Hunt — were men of personalities and endowments that were striking in the extreme — born makers of epochs, men who, whatever the vocation that they had elected to follow, would undoubtedly have left shaping traces of their individualities upon it.
"And, to set themselves to work in triple harness, they were a trio of a singular diversity of aims and of gifts; one may add of destinies. Quite extraordinary was the dissimilarity between the kinds of success attained by each of them. Millais trod swiftly and straightly the path of popular approbation and academic honours, culminating finally in the highest dignity that the Royal Academy has to bestow. Rossetti and Holman Hunt, after the first, held themselves completely aloof from the Academy and all its works. Alike in this, how different were their fames in all else. During the larger portion of his working life Rossetti's achievements in painting were absolutely undreamed of by the larger public, were accessible only sparsely and with difficulty to his admirers even outside of a limited circle of patrons and private friends. To a good many, I fancy, Mr. Swinburne's Notes upon the Academy of 1865, describing, amongst others, Sandys' 'Medea' and Rossetti's 'Lilith', contained the first intimation that Rossetti the poet was also Rossetti the painter. Holman Hunt, upon the other hand, had at one time a popular vogue at least as great as that of Millais, and his painted work excited emotions and enthusiasms of a more decided intensity. Those whose memories can be made to extend back to the period when 'The Finding of our Saviour in the Temple' was being exhibited in the provinces, will recall the vividness of the impression that it made upon the religious public of its day…They found in Holman Hunt's paintings something of a revelation. It's obvious sincerity, its intensity of conviction, its determined realisation of the scene in every minutest detail of its setting, affected profoundly all who were capable of being deeply stirred by the subject depicted.
"Millais was gifted with a sense of sight of crystalline clearness to which Nature made a perpetual and brilliant appeal; he had a hand that, even in childhood, was singularly skilful to record the impressions of the eye. And his hand had been severely trained, first by the prescribed academic methods, and later by the minutely elaborate labour of his Pre-Raphaelite work, until it set down facts almost with the facility with which the eye perceived them. What, then, was Millais the Pre-Raphaelite doing in that particular galere? How came this straightforward depictor of what he saw before him to link himself with idealists and dreamers of dreams? It was probably the earnestness and the devotion to the nature of the movement that attracted the youthful Millais, and also the scope that its conscientious minuteness of finish afforded him for the display of his even then astonishing technical powers."
As to Rossetti, the fact is he was never a Pre-Raphaelite at heart. Himself a man of great originality, and a free-thinker in matters of Art, he was captivated by the independent spirit of the Brotherhood, and readily cast in his lot with them. But it was only for a time. By degrees their methods palled upon his taste, and not caring any longer to uphold them before the public, he broke away from his old associates, determined to follow the peculiar bent of his genius, which taught him not to go to Nature for his inspirations, but to follow the rather the flights of his own fancy. His subsequent career is sufficient evidence of that. Only two years after he first joined the Brotherhood, Mr. Hunt, who taught him all the technique he ever knew, got him to come down to Knole to paint a background straight from Nature whilst he overlooked and helped him. After two days, however, Rossetti was heartily sick of Nature, and bolted back to London and its artificial life.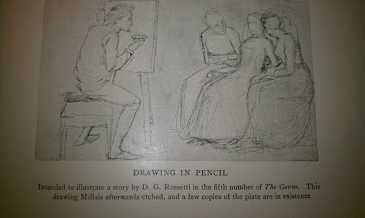 In course of time the instruction he had received from Hunt began to bear fruit–one sees this in his picture called "The Girlhood of the Virgin"–and with further practice his art improved rapidly, and continued to do so as years went on.
The great mistake that nearly all the critics make is in confounding Rossetti's later work, which is imaginative, sincere, and entirely of his own conception, with his Pre-Raphaelite work, of which he really did very little. They call his pictures such as "La Bella mano", "Proserpine", "Venus Verticordia", "Dante and Beatrice", Pre-Raphaelite, which they are not in the very least. They belong to an entirely different school, which he himself founded, and which has since had such able exponents as Mr. Strudwick and Sir Edward Burne-Jones.
A common mistake that critics make is in assuming that the Pre-Raphaelite movement owed its origin to Mr. Ruskin. Amongst other writers on the subject is Max Nordau, and his statements are for the most part entirely wrong. He attributes the origin of the Brotherhood to the teachings of Ruskin, but Holman Hunt and Millais were Pre-Raphaelites before Ruskin ever wrote a line on the subject. At the Academy one of Mr. Ruskin's admirers lent Hunt a copy of Modern Painters, and Hunt read it with enthusiasm, as partially embodying his own preconceived ideal of art. Millais, however, when asked to read the work, resolutely refused to do so, saying he had his own ideas, and, convinced of their absolute soundness, he should carry them out regardless of what any man might say. He would look neither to the right nor to the left, but pursue unflinchingly the course he had marked out for himself. And so he did.
Besides what my father has told me over and over again, I have it from Mr. Holman Hunt, his life-long friend, that he was never for a moment influenced by Ruskin's teachings. Mr. Ruskin, it is true, held Millais up as the shining light of the Pre-Raphaelites, and explained his pictures to the multitude according to his own ideas; but that of course proves no more than that he admired my father's work, and approved what he believed to be the object of his aim.
Probably no artist in England ever read less on art or on his own doings than did Millais. On rare occasions criticisms were forced upon his notice, and he read them; but faith in himself and his own opinions was his only guide in determining what was good or bad in a picture, whether his own or that of another artist. When his work was done he banished all thought of it as far as possible, and when by chance his friend Dr. Urquhart of Perth, called his attention to Max Nordau's statement that Ruskin was the originator and moving spirit of the Pre-Raphaelites in their early days, he indignantly denied it: and, after reading the passages the next day, he wrote to Mrs. Urquhart a letter in which he gave a rough history of Pre-Raphaelitism, and characterised Nordau's remarks as "twaddling rubbish on a subject of which he knows absolutely nothing."
Mr. Ruskin held that Art should be a great moral teacher, with religion as its basis and mainspring; but Millais, while agreeing with much of that critic's writings, was never quite at one with him on this point. He certainly held that Art should have a great and abiding purpose, giving all its strength to beautifying or ennoblement of whatever subject it touched, either sacred or secular; but though himself at heart a truly religious man, he could not harp on one string alone, nor would his impulsive originality, absolutely untrammelled by the opinions of others, allow him to paint pictures in which he had no heart at the dictation of any man, however eminent.
Holman Hunt, too, painted his religious pictures on the Ruskin lines really as the outcome of the high ideals he had set up for himself from the outset. "Truth and the free field of unadulterated Nature" was the motto of these originators. As Pope says, they "looked through Nature up to Nature's God," being sincere in their art, and resolutely determined to pursue it to its highest ends.
In saying this I by no means lose sight of the fact that the Pre-Raphaelites one and all owed much to Mr. Ruskin for his championship of their cause when he came to the knowledge of what they were striving to achieve. With an eloquence to which probably no equal can be found in the annals of art criticism, he explained to an unsympathetic public the aim and objects of the Brotherhood, and it goes without saying that they were highly gratified by his championship. When too, later on, he turned round and abused some of Millais' best works as heartily as he had praised some others, the circumstance was regarded by Millais amongst others as merely one of the inconsistencies into which genius is apt to fall. No one ever doubted the sincerity of his motive. He expressed only what he believed to be right, and in so far as he was wrong he helped rather than injured the painter's fame.
Before the Brotherhood was formally constituted, another association, called "The Cyclographic Club", came into existence, its object being to establish and circulate amongst the members a kind of portfolio of art and criticism. Each member had to contribute once a month a black-and-white drawing, on the back of which the other members were to write critiques. This club, if it may be so called, was founded by N.E. Green, Burchell, and Deverell, and it was afterwards joined by Millais, Hunt, Rossetti, and Arthur Hughes. In a contribution to The Letters of D.G. Rossetti to William Allingham Mr. Hughes says "Mr. Hughes says, "Millais, who was the only man amongst us who had any money, provided a nice green portfolio with a lock in which to keep the drawings. Millais did his drawing, and one or two others did theirs. Then the 'Folio' came to Rossetti, where it stuck forever. It never reached me. According to his wont, he (Rossetti) had at first been most enthusiastic over the scheme, and had so infected Millais with his enthusiasm that he at once ordered the case."
On this subject Mr. Hughes sends me the following note: "In connection with the circulating folio for designs, a few members of the Brotherhood met one evening at Rossetti's rooms at Chatham Place–Rossetti, Deverell, and myself and one other, perhaps, but I cannot remember. When Millais came in he asked if the folio had arrived from him. Yes, there it was. Then if Madox Brown had agreed to join, and Rossetti told him that he resisted all persuasion, and would not. 'What a peevish old chap he is!' cried Millais. A little later he noticed that Deverell was smoking a cigarette, and earnestly exhorted him to give it up. 'Don't, Deverell, don't take to smoking; it is frightfully injurious, it palls the faculties.' He himself succumbed later on!"
The Brotherhood, it may be mentioned, neither smoked, drank, nor swore, and that at a period when, as Thackeray has shown us, all Bohemia was saturated with tobacco, spirits, and quaint oaths. Millais, however, after attaining his "artistic puberty", as he called it, came to regard the pipe of peace as a friend and consoled when (as he sometimes was) well-nigh distraught with his work.
Out of the seven Pre-Raphaelite Brothers five were good men with their pens, and the Brotherhood being eager to defend the position they had taken up, were only too glad when, in 1849, it was proposed to start a magazine in support of their common creed. In the autumn of that year they met together in Hunt's room, in Cleveland Street, to arrange preliminaries with a view to early publication, when various plans and names for the magazine were discussed, and at last, on the suggestion of Mr. William Cave Thomas, it was decided to call it The Germ.
Arrangements were then made with a publisher, pens and pencils were set agoing, and in 1849 the first number of the periodical appeared in print. Millais' share in this seems to have been limited to two or three illustrations, which are now in my possession. He took, however, a great interest in the work, and subsequently wrote a complete story for publication; but alas! before the time for this arrived the magazine came to an end for lack of funds to keep it alive.
Only four members ever appeared, and these are now so scarce that at a recent sale by auction a complete set fetched £100. I give here an illustration that was done by Millais for one of Rossetti's stories in this paper, but it was never published
In the Idler of March, 1898, Mr. Ernest Radford has some interesting notes on The Germ–"the respiratory organ of the Brethren" as he humorously calls it. It was edited, he tells us, by Mr. W.M. Rossetti, and printed by a Mr. G.F. Tupper, on whose suggestion the title was changed in the third number to the more commonplace one of Art and Poetry; and, besides many valuable illustrations, it comprised contributions in prose and poetry by the Rossettis (Christina and her two brothers), Madox Brown, F.G. Stephens, Coventry Patmore, Thomas Woolner, and various smaller lights. Millais, he says, "who never practised an art without mastering it… etched one plate in illustration of a poem by Rossetti, which was to have graced the fifth number," but both etching and poem have disappeared. The drawing for the etching is, I fancy, amongst those in my possession.
He also wrote a story for the paper, which would have appeared in the fifth number had the periodical survived so long. The following is a brief outline of the tale: A knight is in love with the daughter of a king who lived in a moated castle. His affection is returned but the king swears to kill him if he attempts to see his lady-love. The lovers sigh for each other, but there is no opportunity for meeting till the winter comes and the moat is frozen over. The knight passes over the ice, and, scaling the walls of the castle, carries off the lady. As they rush across the ice sounds of alarm are heard within, and at that moment the surface gives way, and they are seen no more in life. The old king is inconsolable. Years pass by, and the moat is drained; the skeletons of the two lovers are then found locked in each other's arms, the water-worn muslin of the lady's dress still clinging to the points of the knight's armour.
It seems from a letter of Rossetti's to W.B. Scott that, after the Cyclographic Club and The Germ had come to an end, Millais tried to found against the Pre-Raphaelite Brothers and their allies a sketching club, which would also include two ladies, namely, the beautiful Marchioness of Waterford and the Honourable Mrs. Boulevard ( then known as E.V.B.), both these ladies being promising artists, above the rank of amateurs; but this scheme fell through.