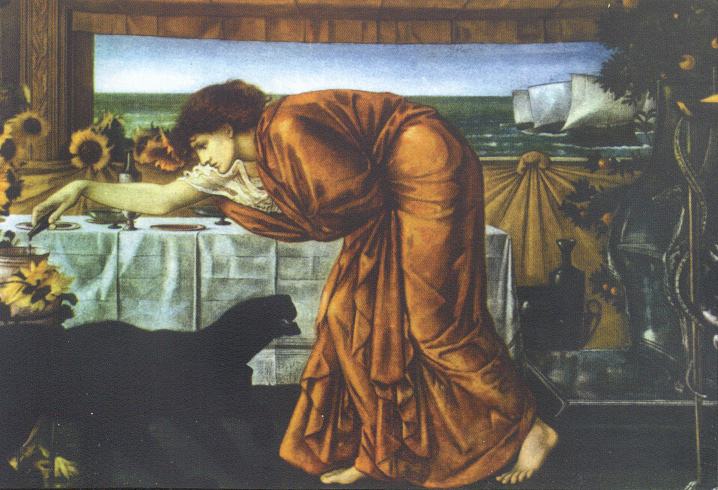 Dante Gabriel Rossetti wrote a sonnet inspired by this painting, which you can read a great deal of background on at The Rossetti Archive:
DGR wrote the sonnet for the express purpose of having "some record of [Burne-Jones'] work in my book [i.e., in the 1870 Poems]," as he told Barbara Bodichon. "I have tried in the first lines to give some notion of the colour, and in the last some impression of the scope of the work,—taking the transformed beasts as images of ruined passion—the torn seaweed of the sea of pleasure. You will remember that in the picture the window shows a view of the sea and the galleys which bear the new lovers and victims of the enchantress" (see DGR's letter of 15 March 1870, Fredeman, Correspondence, 70. 53 ). DGR's interest in the colour dynamics of Burne-Jones' painting reflects his awareness of the problematic character of both beauty and pleasure. That awareness is a constant theme in his work—indeed, is perhaps his predominant theme.
One thing I love about Rossetti's works is that he demonstrated a strong link between poetry and painting. Not only did he write sonnets to accompany many of his own works, he wrote poems for paintings by other artists. Looking through the table of contents of my book of Rossetti's poems I see poems written for Our Lady of the Rocks by Da Vinci, a Venetian Pastoral by Giorgione, an Allegorical Dance of Women by Andrea Mantegna, Ruggiero and Angelica by Ingres and more.

For "The Wine of Circe" By Edward Burne-Jones

DUSK-HAIRED and gold-robed o'er the golden wine
She stoops, wherein, distilled of death and shame,
Sink the black drops; while, lit with fragrant flame,
Round her spread board the golden sunflowers shine.
Doth Helios here with Hecaté combine
(O Circe, thou their votaress!) to proclaim
For these thy guests all rapture in Love's name,
Till pitiless Night give Day the countersign?
Lords of their hour, they come. And by her knee
Those cowering beasts, their equals heretofore,
Wait; who with them in new equality
To-night shall echo back the sea's dull roar
With a vain wail from passion's tide-strown shore
Where the disheveled seaweed hates the sea.
I've also scanned the poem from my own volume of Rossetti's works because it represents my favorite reading experience:  a beautiful hardcover book with gilt edged pages, that certain typeset from yesteryear, and a slightly musty yet welcoming smell.  I'm not sure how old my volume is, but it was published by Hurst & Co. which existed between 1871 and 1919.