Win Three Pre-Raphaelite Blank Journals Designed by Brigid Ashwood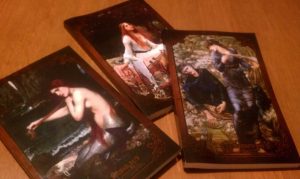 It's my first giveaway!  And what a giveaway it is!  One lucky reader will receive these three gorgeous blank journals.  Designed by Brigid Ashwood, each journal is a 6X9 paperback with 200 pages.  Pages are lined on one side, blank on the other. Journals are available for purchase here.
To enter, simply post a comment below.  It doesn't have to be elaborate, a nice "I want these journals!" or "I like your blog" will do. The winner will be chosen at random on Friday.  Good luck, I know you are going to love these!