Pictured above is  A Lady Holding a Rose by Emma Sandys.  Sadly little is known about  Sandys in comparison to her more famous brother, Frederick.  I recommend Serena Trowbridge's post The Mysterious Emma Sandys.  (If you are unfamiliar with Serena's blog, Culture and Anarchy, I'm just going to go ahead and suggest that you should bookmark or subscribe to it. It is one of my regular reads. )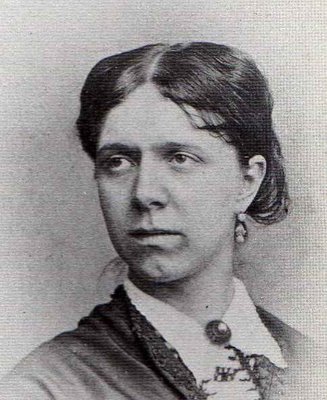 I particularly love her painting Viola and posted it here on Pre-Raphaelite Sisterhood in 2013 during a time when I was focused on sharing 'mirror paintings'.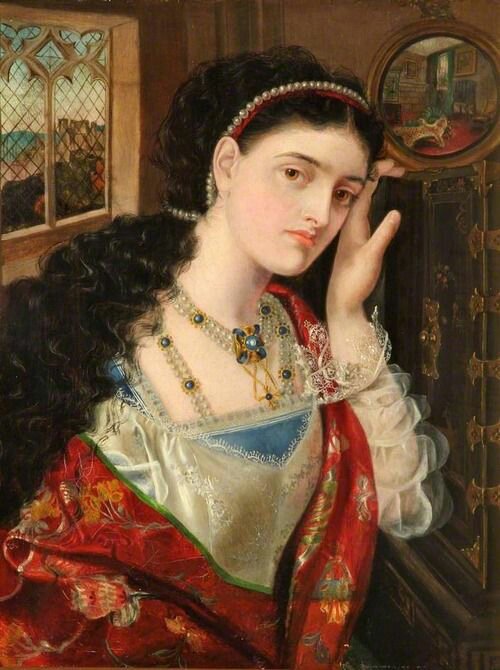 Her painting Preparing for the Ball is perhaps an even better example of a mirror painting.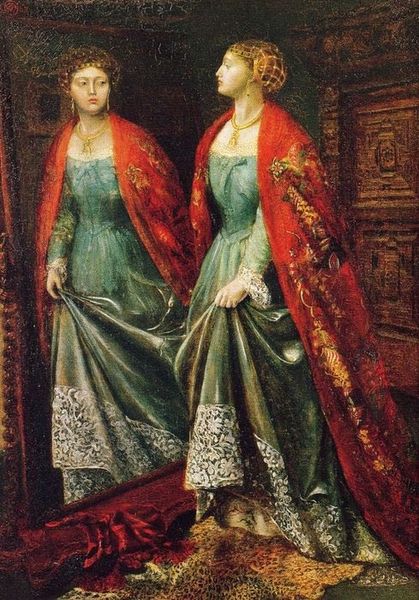 According to Pre-Raphaelite Women Artists by Jan Marsh and Pamela Gerrish Nunn, this painting has been known by more than one title:  Preparing for the Ball, Before the Mirror and The Lady of Shalott.  Does she look as if she's preparing for a ball?  We could craft an entire tale based upon that face. Perhaps it's a ball she has no desire to attend, but is forced to. Or perhaps she is just returning home from a ball that for some reason did not meet expectations. What do you see?
Once again, the fashion details appeal to me. The rich embroidery at the bottom of her velvet gown, the gorgeous red wrap.  She is beautifully coiffed and dressed, lending credence to the theory that she may be preparing for a ball after all.  Still, even in her finery she doesn't seem happy, leading me to believe that beneath the surface, she has an interesting tale to share.  I feel that she's reflecting on more than her appearance.
In addition to the fashion elements in Preparing for the Ball, if we look again at Viola and at Elaine below, we can see that Sandys often included sumptuous details in their clothing and jewelry: pearls in their hair and around their neck, jewel-toned fabrics, laced trimmed edges, etc.
In Elaine, Sandys visits the Arthurian story of the 'lily maid of Astolat' who fell in love with Lancelot. Unfortunately for Elaine, it was an unrequited love. Her heartbreak led to her death, much like the Lady of Shalott. (Tennyson's poem the Lady of Shalott is based on a thirteenth-century Italian novella titled Donna di Scalotta, which was loosely based on the Elaine of Astolat tale.)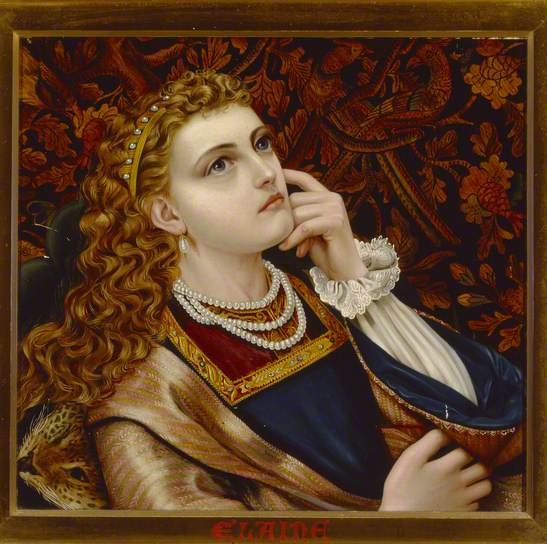 Her work shows a definite Pre-Raphaelite influence and I am drawn to her Medieval style.  Some of her works were previously misidentified as being by her brother, Frederick Sandys, so it seems that we are still learning about her. She is certainly a Pre-Raphaelite artist that I wish we knew more about.