Inspired by artist Dante Gabriel Rossetti's passion for wombats, every Friday is Wombat Friday at Pre-Raphaelite Sisterhood. "The Wombat is a Joy, a Triumph, a Delight, a Madness!" – Dante Gabriel Rossetti
In 2013, on a whim, I started Wombat Friday.  For four years I have faithfully posted photos of toy wombats with Pre-Raphaelite art and I suppose my claim to fame is that, somehow, I encouraged other seemingly sane adults to join in. (Follow along on Facebook  to see all the fabulous weekly #WombatFriday creations.  Cheryl E. Siren is particularly delightful)
This past weekend, at the #RTX convention in Austin, Tx, I lost my favorite wombat.  I was devastated.  I know he was just a toy, but planning and taking #WombatFriday photos for so many years created a bond.  Suddenly he was missing; he'd departed on a new adventure that I could not take part in.
Enter my new friend:  Thaddeus Fern Diogenes Wombat.  He arrived only a few days ago.  So far he has been pretty quiet, but luckily for me we had a special mutual friend who was able to tell me his name and share his backstory (I'll keep that private because Thaddeus, or T-Dub as close friends call him, prefers to remain a wombat of mystery.)
T-Dub has been an eager assistant at Pre-Raphaelite Sisterhood thus far.  He's wild about Dante Gabriel Rossetti, but does not know much about other members of the Pre-Raphaelite Brotherhood.  He's asked me to use Wombat Fridays as a way to further his Pre-Raphaelite education.  Ok, fine, Thad.  Just, catch up quickly, okay?  We have a lot of work to do.
We are going to start with Lorenzo and Isabella.
Isabella is an example of absorbing grief and is based on the narrative poem by John Keats. Isabella, the daughter of an affluent family, is in love with one of their servants, Lorenzo.  Her brothers, having planned for Isabella to make a financially advantageous marriage, decide that swift action must be taken to stop Lorenzo and Isabella.  They murder Lorenzo.  His ghost later appears to Isabella and he leads her to his buried body.  She digs him up, removes his head and buries it in a pot of basil.  She then cares for the pot of basil obsessively, pining away and consumed with grief.
John Everett Millais painted Lorenzo and Isabella  in the early days of the Pre-Raphaelite Brotherhood.  So early, in fact, that the initials PRB were not yet known to the public.  Millais chose not to focus solely on Isabella and the basil, but created a group scene in which she is seen dining with her family prior to the murderous act.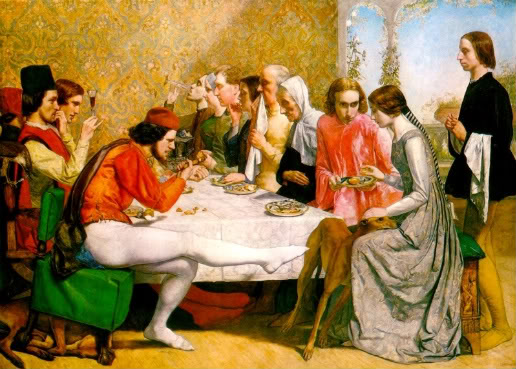 As the Pre-Raphaelites often did, they used each other as models:
Dante Gabriel Rossetti:  man drinking from a glass at the end of the table on the right side
William Michael Rossetti:  Lorenzo
Walter Deverell:  brother
F.G. Stephens:  brother
The brother kicking the dog is said to be a bully from the artist's school days, painted from memory.
f you look closely at Isabella's chair, you'll see that Millais included the initials PRB.  At that time, the Pre-Raphaelite Brotherhood was a secret group.  It has been suggested that the meaning of the PRB was later leaked by Dante Gabriel Rossetti.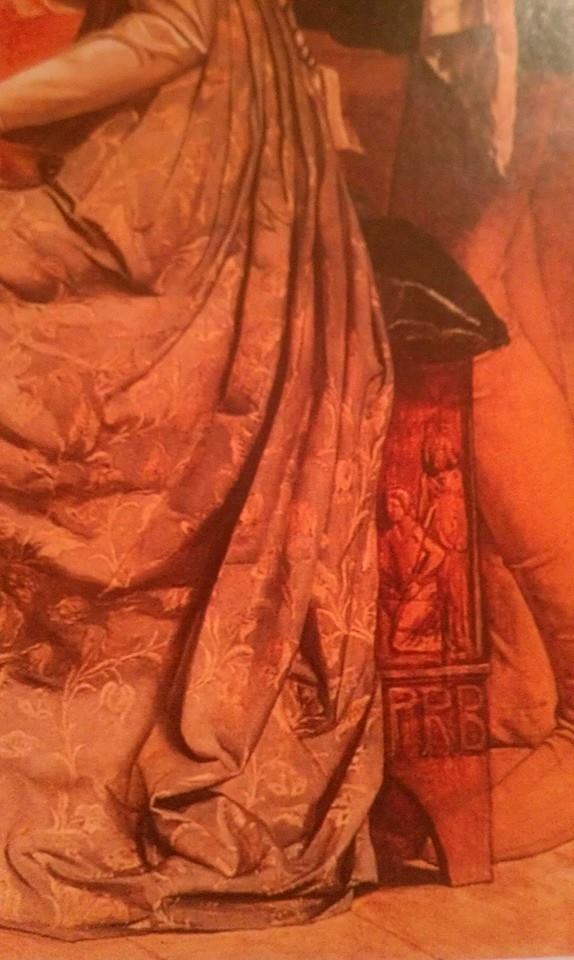 William Holman Hunt painted this version of Isabella and the Pot of Basil and it captivates me completely.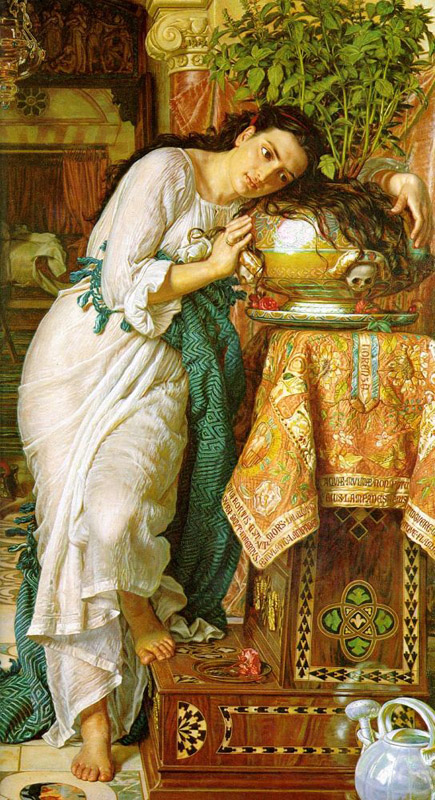 In the art of the Pre-Raphaelites, we see a marriage of visual art and literature. Their early works are filled with scenes from the literary world, taken from authors such as Shakespeare, Tennyson, and Keats.  These works demonstrate the interconnection of artistic expression and the written word in a way that goes far deeper than merely illustrating  the text.  When they painted a depiction based on a Keats poem, they breathed life and brilliant color into the painting making it almost a synthesis of the poem itself.  In William Holman Hunt's Isabella and the Pot of Basil, we don't see the backstory at all.  We aren't shown her lover Lorenzo, or her brothers who murdered him.  But despite what is left out, the painting is a powerful one that my words fail to describe.  In person it is arresting; Isabella is practically life size and she's painted so vividly that I almost had to stop myself from reaching out to touch her face. The room she stands in beckons to you; the tiled floor looks as if it would be cold on your feet.  The majolica pot, symbolically decorated with a skull, almost dares you to lightly touch it.   Her lover's head is buried inside.  She embraces it, her hair mingling with the basil leaves.  It's a painting of all-consuming grief.  It's a painting that encompasses both life and death.  And in this one work, Holman Hunt has touched upon the germ of Keats' poem. In doing so, he keeps the poem alive.  Viewers, having seen the painting, will return to the words.  Readers, gripped by the poem, may seek the painting out.  It's a glorious cycle.
And she forgot the stars, the moon, and sun,
And she forgot the blue above the trees,
And she forgot the dells where waters run,
And she forgot the chilly autumn breeze;
She had no knowledge when the day was done,
And the new morn she saw not: but in peace
Hung over her sweet Basil evermore,
And moisten'd it with tears unto the core — John Keats