"Our sweetest songs are those that tell of the saddest thought" –Percy Bysshe Shelley
At what point in human history did we decide that in music, a slow tempo is sad while upbeat music with a faster beat is happy?  Instinctively we have always known that certain music and art reflects a sense of melancholy.  While many people try to avoid it, there are those of us who embrace the beauty that can only be expressed and understood through melancholy.  It is an emotion often explored by artists inspired by the Pre-Raphaelites.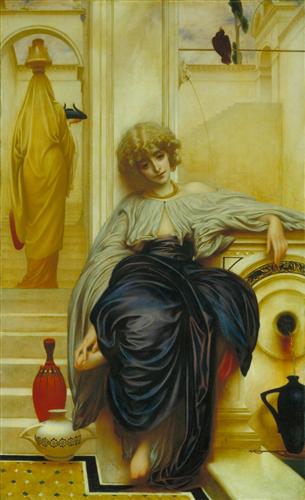 Art allows us to process feelings we may have thought we were successful in avoiding.  Opening yourself up to melancholy can be healing.  Do people avoid it because they are perpetually happy?  Or because they hide from what they are not ready to face?  I would argue that it is for these people that melancholy art exists.  Perhaps they have become so skilled at avoiding their emotions in an honest,forthright way that fictional melancholy allows a safe way to explore these necessary emotions.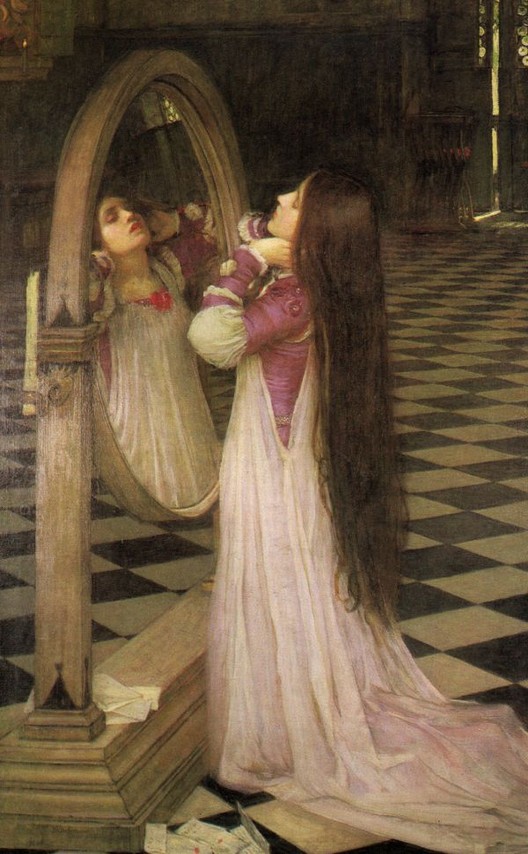 The very creation of it can be cathartic.  Frederic, Lord Leighton was already ill with heart disease when he painted his melancholy painting Lachrymae, the title of which literally translates into tears.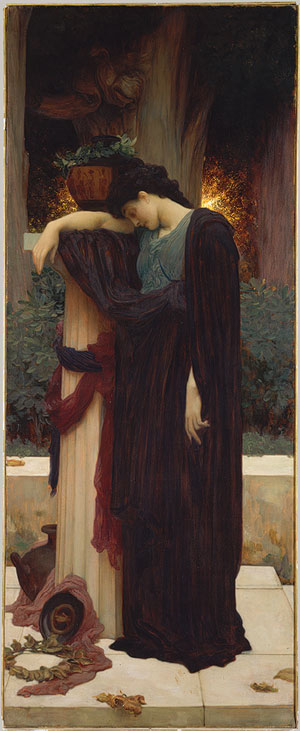 Is melancholy to be avoided?  Can it not be aesthetic? A haunting, captivating image most assuredly captures my attention more than a happy, motivational poster of flowers and rainbows.  Not that I am disparaging sweet and cheerful images.  But it is worth pointing out that some people may gravitate towards saccharine images when the opposite may contain a wealth of emotion to explore. Happiness is simple and while melancholy may be complex, one does not preclude the other.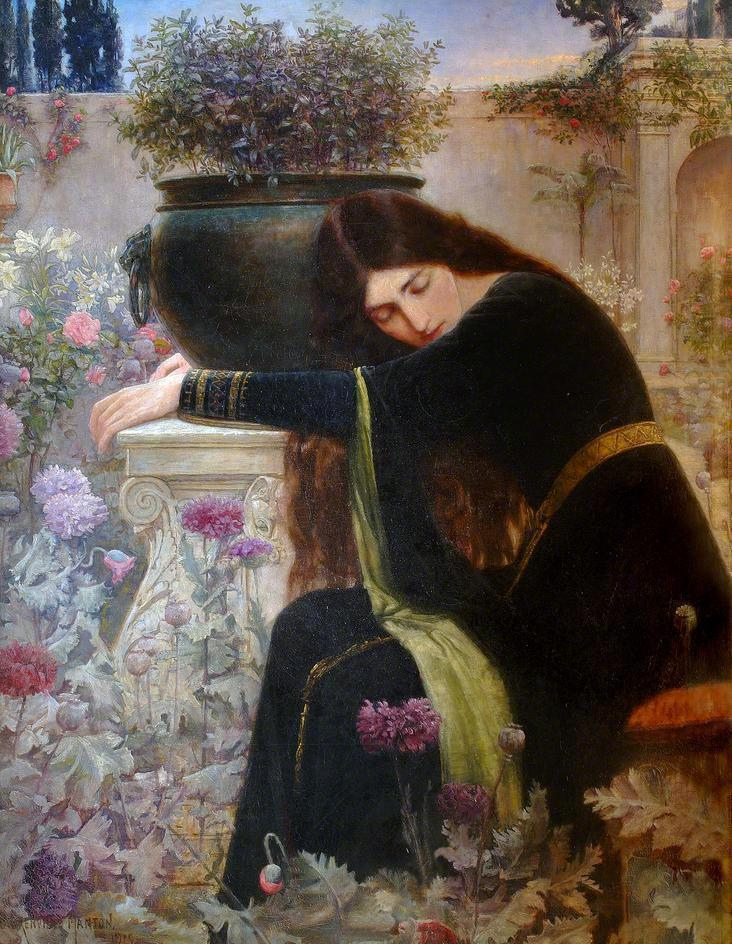 When we are drawn to a melancholy painting, we don't necessarily experience sadness or grief.  It is deeper than that.  It is a slowing down, a stillness.  A sense of calm that allows us to recognize "this is beautiful, this resonates with me." Then, if we desire, we can explore why it spoke to us.  Or not.  Sometimes it is enough to acknowledge its beautiful truth and then walk away secure in the knowledge that we can return to it when needed.  Whenever we want, it is there to nourish, to heal, to attend our soul.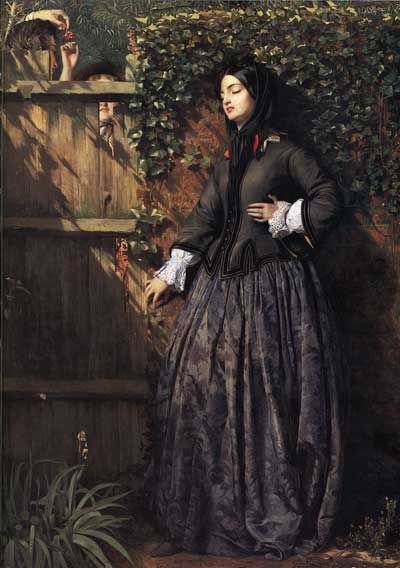 Life has a rhythm.  Sometimes the beat is up, we can ride the wave as it crescendos, not realizing the extent of our happiness until it has passed.  Other times the tempo is slower, we linger in the downbeat wishing things would pick up again.  Don't wallow in it, but don't long for that crescendo again either.  It comes when it comes.  In the meantime, find the beauty that exists in a melancholy tune. Without it, there'd be no Moonlight Sonata, no moving Requiems. Explore it.  Understand it; demand its truths without letting it own you.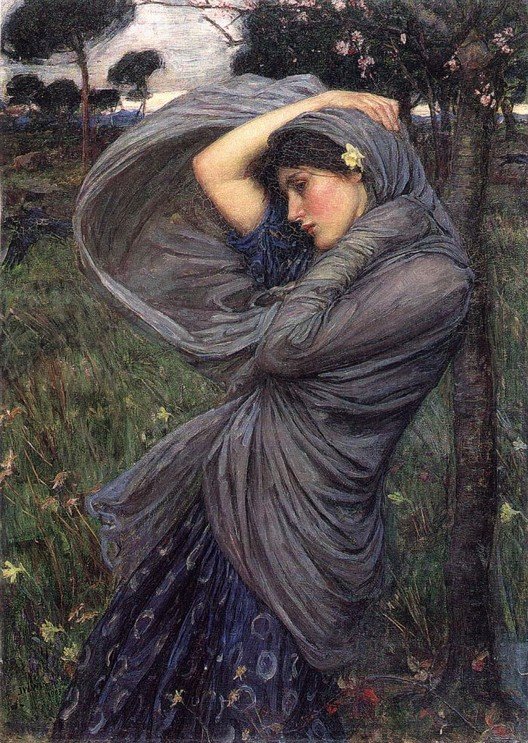 Melancholy deserves to be differentiated from depression.  It is not merely another word for sadness.  I am fully aware that Freud described melancholy as a state of dejection and that elsewhere it has been described as mourning that has failed to be resolved.  My personal definition of melancholy is that it is a contemplative period–a period that may include elements of sadness without being sadness.  It is a necessary decompression of the spirit, an introversion.  It may be darker, but it is a thoughtful time. It is not an abyss.  Neither is it pessimistic.  It is the moment before the phoenix rises again.  A rest, a respite.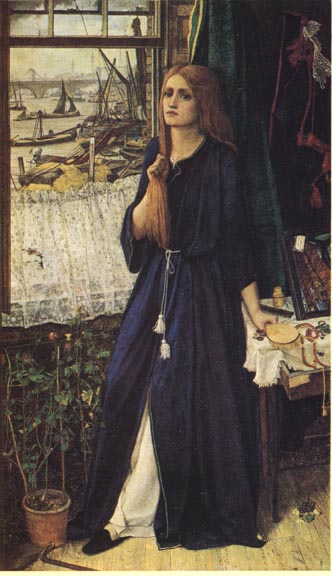 Sometimes a sense of melancholy can surface when you least expect it.  Learn how to use it.  If you experience it when hearing an old love song, for example, that reminds you of a long-gone relationship, do not use it as an excuse to languish in glowing memories or interpret it as a sign to renew what was already gone.  That is an inexcusable waste of melancholy. Do not go backwards in your life. You want to know how to use melancholy?  It is your fuel.  We are all artists, even if you have not yet discovered your medium.  When melancholy knocks at your door, welcome it in, explore and create.