I'm particularly happy to welcome Autumn this year, with its crisp breezes and the promise of adventure.  Autumn Leaves, painted by Sir John Everett Millais, is a wonderful example of the beauty I find in the season.  It is an impressive example of a Pre-Raphaelite twilight and Millais has captured an unmistakable Autumn glow.  His models included his sisters-in-law Alice and Sophie Gray, a Miss Smythe of Methven, and an unidentified local girl.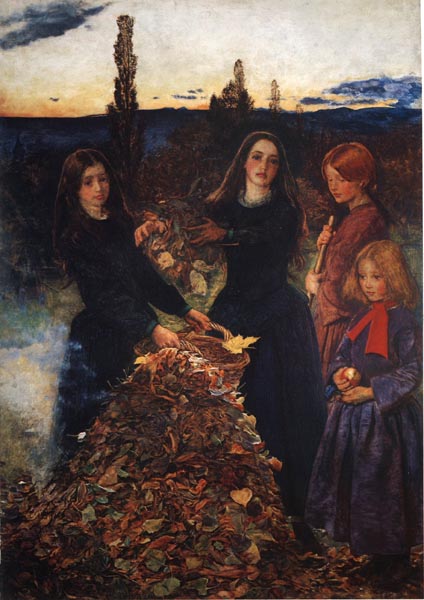 That it was highly appreciated by Mr. Ruskin may be gathered from the Academy Notes, 1856, in which he refers to it as "by much the most poetical work the painter has yet conceived; and also, so far as I know, the first instance of a perfectly painted twilight.  It is easy, as it is common, to give obscurity to twilight, but to give within its darkness is another matter; and though Giorgione might have come nearer the glow, he never gave the valley mist.  Note also the subtle difference between the purple of the long nearer range of hills and the blue of the distant peak."  –The Life and Letters of Sir John Everett Millais
John Ruskin's description of Autumn Leaves dates from 1856, and he should be lauded for writing so objectively about Millais' work considering that it was not too long after Ruskin's wife Effie left their marriage in order to marry Millais.  This dramatic affair is mentioned quite often when discussing scandalous relationships among the Pre-Raphaelites (see Pre-Raphaelite Marriages: Ruskin, Effie and Millais and Playing Ruskin's Advocate).
After a few delays, Emma Thompson's film about the Ruskin/Effie/Millais triangle is slated to be released in the UK in October.  The US release of Effie is reportedly in November.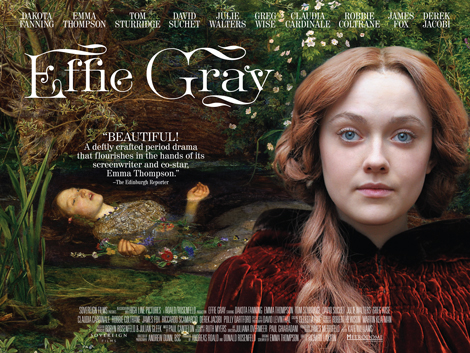 Ophelia, one of Millais' most famous works, is an unexpected addition to the movie poster.  Unexpected in that his model was Elizabeth Siddal, not Effie.  Are Pre-Raphaelite women interchangeable?  Most certainly not. However, Ophelia is an image full of pathos and drama and is instantly recognizable as a Pre-Raphaelite work, so I assume these are the reasons why it was chosen.  By the way, you can read about Elizabeth Siddal's chilling experience posing for Ophelia at LizzieSiddal.com.  Other related posts include Ophelia's Flowers and the lure of water-women.
Pre-Raphaelites on the big screen?  Count me in.  I fully expect a few inaccuracies and mind-boggling dramatic license, but the cast includes many actors I enjoy and admire, so I'm prepared to appreciate the film and will review it here soon.  Don't miss Kirsty Walker's recent post about the film, in which she wonders why situations such as this demand a "victim" and a "culprit".
————————-
Follow Pre-Raphaelite Sisterhood on Facebook and Twitter.