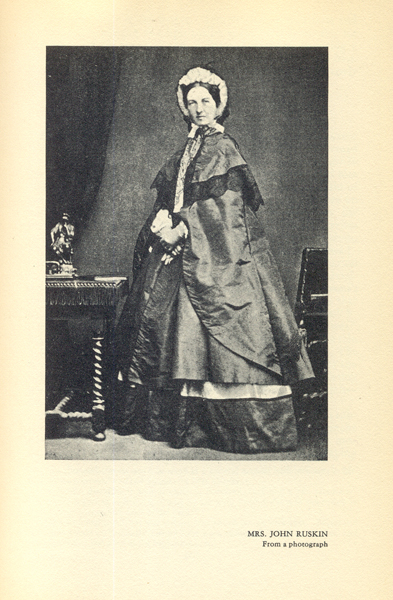 John Ruskin was an an author, art critic, and social reformer who was an early champion of Pre-Raphaelite ideals.  Interestingly, he was also the patron who supported the work of Elizabeth Siddal.
His marriage to  Euphemia Chalmers Gray, known as Effie, is universally described as a disaster.  The story goes that Ruskin rejected Effie on their wedding night on the premise that he was shocked by her appearance. The most pervasive version of the story is that he was shocked by the sight of her pubic hair, an aspect of the female form hitherto unseen by the inexperienced Ruskin.  Though this tale persists, it should be noted that this is an uncorroborated conjecture that has fallen into lore. Kirsty Stonell Walker addresses this in her blog post Playing Ruskin's Advocate at The Kissed Mouth. Their marriage remained loveless and without physical interaction.  Effie wrote to her father, "He alleged various reasons, hatred to children, religious motives, a desire to preserve my beauty, and, finally this last year he told me his true reason… that he had imagined women were quite different to what he saw I was, and that the reason he did not make me his Wife was because he was disgusted with my person the first evening 10th April."   
Ruskin was a supporter of the Pre-Raphaelite Brotherhood and formed a friendship with artist John Millais.  Effie appears in his painting The Order of Release and perhaps it was then that feelings for each other were born.  The trio later traveled to Scotland so that Millais could paint Ruskin's portrait.  In a move that shocked Victorian society, Effie abandoned her travesty of a marriage to pursue happiness with Millais.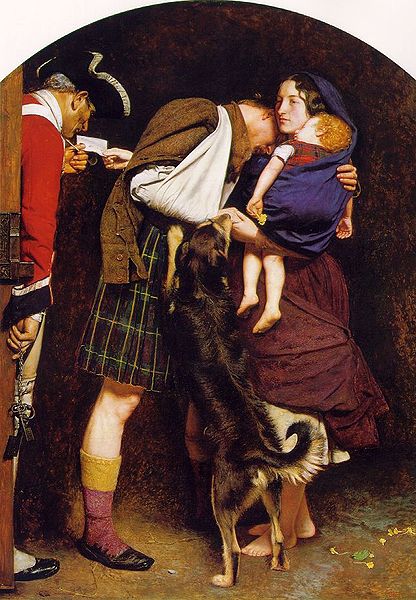 It was a shocking scandal.  All of the details of Effie's marriage were made public and she was even forced into the humiliating experience of having a doctor confirm her virginity.  I think that her later life was a happy one.  She and Millais had eight children and settled into a loving family life.  Sadly, though, her annullment resulted in Effie's becoming socially ostracized and was no longer invited to may social functions.
Effie's saga is being revisited through Emma Thompson's latest film project.  And like Effie's life, it is not without scandal.  Plagiarism accusations have been leveled towards both Thompson and her husband, Greg Wise.  Also surprising is the casting of Effie's role, to be portrayed by American Dakota Fanning instead of the obvious choice of a British actress.  This is not the first time the affairs of Ruskin, Effie and Millais has played out on the big screen.  A silent film, The Love of John Ruskin, was produced in 1912.
The strange relationships of John Ruskin do not end with Effie.  He later had an obsessive relationship with a very young Rose La Touche, whom he met when she was nine.  Nine.  Yes, that is definitely material for a future post.