Inspired by artist Dante Gabriel Rossetti's passion for wombats, every Friday is Wombat Friday at Pre-Raphaelite Sisterhood. "The Wombat is a Joy, a Triumph, a Delight, a Madness!" ~ Dante Gabriel Rossetti
This week our hero the wombat admires Marie Spartali Stillman.  From November 7, 2015 – January 31, 2016 the Delaware Art Museum will be hosting Poetry in Beauty: The Pre-Raphaelite Art of Marie Spartali Stillman,  The image above is a photograph taken by Julia Margaret Cameron.  Stillman poses as Mnemosyne, the goddess of memory and mother of the nine muses.  It was only after I chose the Mnemosyne image for #WombatFriday that I realized that this week it falls on September 11th.  It seems I inadvertently chose a poignant subject for such a day, a day in which our memories cast back to the tragedy of thirteen years ago. It seems so long ago and yet it could have just been yesterday. Memory is a funny thing.
Dante Gabriel Rossetti painted Mnemosyne using his beloved Jane Morris as a model. I believe this painting is also part of the collection at the Delaware Art Museum, so if you visit the Marie Spartali Stillman exhibit you might get a glimpse of this as well.
I digress.  Back to Marie Spartali Stillman. Her work is beautiful and heavily influenced by the Pre-Raphaelite style. I highly recommend reading A Pre-Raphaelite Marriage: The Lives and Works of Marie Spartali Stillman and William James Stillman by David B. Elliott.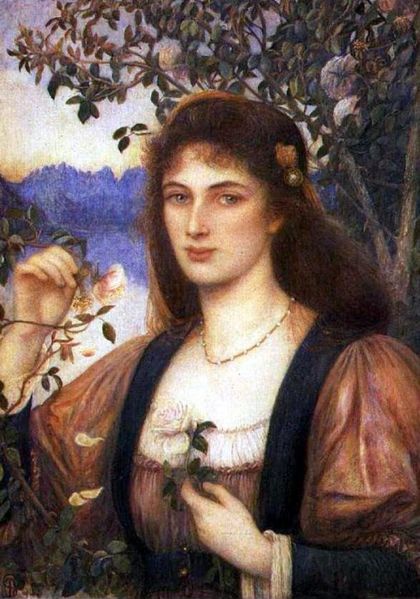 I've recently updated the Unexpected Pre-Raphaelite Sightings with loads of new images, thanks to contributions from my dear friend Alexandrion.
Yesterday, I shared my thoughts on exploring death through art.  
Kirsty Stonell Walker is finishing up her latest novel, We Are Villains All. Even more exciting, she has announced what her next project will be, plus she's shared The Curious Case of the Silver Spoon.    For those of you in the UK, if you find the October issue of Family Tree magazine, it features an article by Kirsty about researching the life of Pre-Raphaelite model Fanny Cornforth.