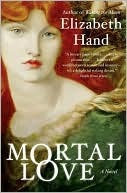 I wanted to write a final post about our October book selection, but I find that my words can not do it justice.  Mortal Love is a complicated book.  I think Elizabeth Hand captured something elusive and beautiful in her work and when I try to write about it, I am struck by how woefully inadequate I am.
Instead, I'd much rather discuss it with you in the comments section.  If you read Mortal Love as part of the Pre-Raphaelite Reading Project, or have read it before, please post a comment and join in.  If you comment via my Facebook page, I do use an app that will import your comments here, but you won't be able to read replies unless you actually visit this page.
Previous Mortal Love posts:  Pre-Raphaelite Reading Project:  Mortal Love and The Green Girl.