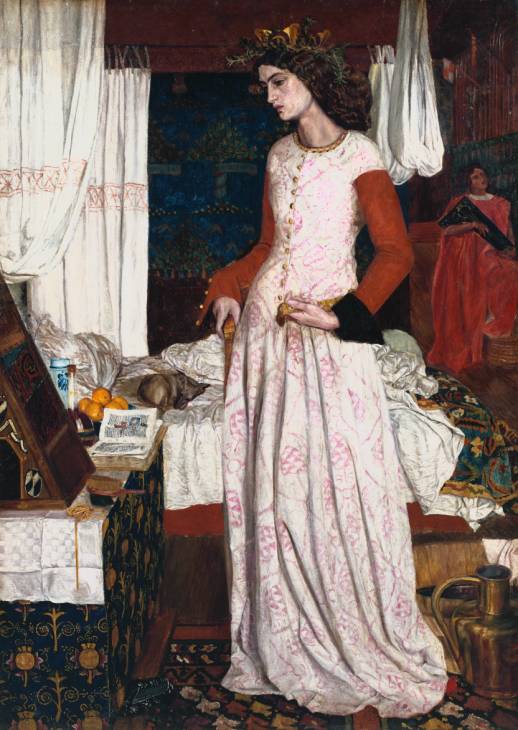 For the next selection of the Pre-Raphaelite Reading Project, I've chosen a work that inspired many Pre-Raphaelite pieces and captured the Victorian imagination:  Thomas Malory's Le Morte d'Arthur.
We all know the Arthurian tales, they are embedded in our culture.  Every few years it seems as if Hollywood gives us a slick new version of Camelot.  Authors return to the legends for inspiration.  Musicians lyrically recant their interpretations of the saga.  It goes on and on.
So, while the stories of King Arthur and his knights are familiar, I propose that we revisit them, study them, and ponder the works that they inspired.  Try to see them with new eyes, from a different perspective.  The Pre-Raphaelites were living on the dawn of a new era, the Industrial Revolution.  They were surrounded by modern advances and yet they hearkened back to the age of chivalry and yearned for the medieval.  Let's immerse ourselves in Le Morte d'Arthur and discuss the Pre-Raphaelite works that stem from it.  Many of those works are already on this site in previous posts, but this will give me a chance to perhaps add new depth and understanding through my reading project.
I will be reading on my Nook, using a free version downloaded from Project Gutenburg.  (Le Morte d'Arthur Vol. I) (Le Morte d'Arthur Vol. II) They have versions compatible for other devices, such as Kindle, or for reading on your computer.
Or, hopefully you can find a decently priced paperback at your local bookstore or second-hand bookshop.  Or eBay. If not, here are a few I've found online:
From Amazon:  Paperback Le Morte D'Arthur: King Arthur and the Legends of the Round Table (Signet Classics)  ($7.95)
From Amazon:  Paperback Le Morte Darthur (Norton Critical Editions) ($17.46)
AbeBooks has the best prices that I've found, but I've never purchased from them.  Le Morte d'Arthur at AbeBooks. 
If anyone knows of another source for a decently priced paperback of Le Morte d'Arthur, please let me know so I can pass it on for everyone else!
You can always participate with the Pre-Raphaelite Reading Project.  Read at your own pace, but please feel free to join in or start discussions by:
If you post about Le Morte d'Arthur on your own blog, please send me an email (stephaniepina @ lizziesiddal.com) so that I can link to it in a future post.