The Arrow Chest by Robert Parry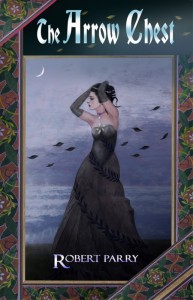 Synopsis:  "London, 1876. The painter Amos Roselli is in love with his life-long friend and model, the beautiful Daphne – and she with him – until one day she is discovered by another man, a powerful and wealthy industrialist. What will happen when Daphne realises she has sacrificed her happiness to a loveless marriage? What will happen when the artist realises he has lost his most cherished source of inspiration? And how will they negotiate the ever-increasing frequency of strange and bizarre events that seem to be driving them inexorably towards self-destruction. Here, amid the extravagant Neo-Gothic culture of Victorian England, the iconic poem 'The Lady of Shalott' blends with mysterious and ghostly glimpses of Tudor history. Romantic, atmospheric and deeply dark."
The Arrow Chest was a fun read.  Anyone interested in the Pre-Raphaelites will see shades of Dante Gabriel Rossetti and Jane Morris in Parry's characters Amos Roselli and his model Daphne.  Parry also incorporates Anne Boleyn and Henry VIII, along with a supernatural element.
Although Amos and Daphne are the main focus, I really enjoyed the character of Amos's young maid, Beth.  Parry created a compelling history for Beth and unlike most maidservants in the Victorian age, she develops an earnest friendship with both her employer and his friend and former model Daphne, now Lady Bowlend.  In fact, I think I'd like to read further adventures featuring Beth.
There are cameo appearances of notable Victorian figures, including Julia Margaret Cameron, Lord Tennyson, and artist G.F. Watts.  Also interlaced throughout the book is poetry, which is not always easy to incorporate into a narrative seamlessly, but Parry does it well.  As someone who enjoys poetry, I like passages where the characters discuss and mull over certain lines, especially Tennyson's The Lady of Shalott and Thomas Wyatt's Request to Cupid for Revenge for His Unkind Love.
Having this blog and my other site LizzieSiddal.com, I've spent a great deal of time thinking about what it must have been like to pose for an artist.  So when I read this passage from The Arrow Chest, spoken by Daphne, I appreciated a glimpse into a model's mindset.  Of course, her view is a forward-thinking one and is most probably not what most Victorian era models experienced.  But I do hope that, at least somehow, they would have experienced at least a portion of this liberating feeling:
"Do you have any idea, Amos, what it is like to be naked and to model for an artist?  I can tell you it has been the most liberating of all experiences.  To have a man look without judgement upon all those parts that I as a woman must hide from the world.  How lovely it has been over the years!"
For more on The Arrow Chest:
Robert Parry's Blog:  Endymion at Night
The Arrow Chest at Kimberly Eve Musings of a Writer
The Arrow Chest at The Anne Boleyn Files
U.S. Residents:  Purchase via Amazon
U.K. Residents:  Purchase via Amazon.co.uk
The Arrow Chest at Historical-Fiction.com