Pre-Raphaelite Reading Project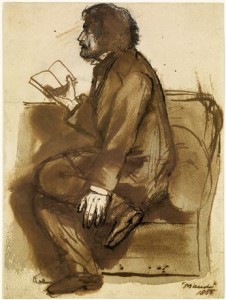 The Pre-Raphaelite Reading Project will focus on works that inspired Pre-Raphaelite art and/or modern works that have elements of Pre-Raphaelitism.  This is quite personal for me, which is why I'm so grateful and overwhelmed by all the positive responses I've received so far.  Thank you all for your many emails.  I'm thrilled that I'm not the only one who wants to use a reading project as a medium for exploring the Pre-Raphaelites.  I hope we can keep this going and it will grow into something fun and informative.  And if you're reading this page months after we've read a certain book, don't let that stop you!  Read and comment, because a good book discussion can always be revived!  If you would like to suggest a book, please send an email to stephaniepina@lizziesiddal.com.
Anyone can join!  Just read!  Post comments on this site, on the Pre-Raphaelite Sisterhood Facebook page or use Twitter.  If you tweet about the book,  send me an @ message. I'm @beguilingmerlin. If you blog about a book we're reading, let me know so I can share it!
October 2, 2011:  October book selection Mortal Love by Elizabeth Hand.   A post inspired by Mortal Love:  The Green Girl.  Mortal Love Discussion.  And the final post:  Apparently I can't stop talking about Mortal Love.
September 2, 2011: Let's extend our Le Morte d'Arthur reading, shall we?  Le Morte d'Arthur has been extended for another month.  You can all slow down and breathe a sigh of relief, especially those of you wading through two volumes.
More Morte d'Arthur posts:  William Morris and Le Morte d'Arthur  Morris had a keen interest in all things medieval and Arthurian since childhood.
August 2, 2011:  Le Morte d'Arthur by Sir Thomas Malory. Here's my post announcing the selection and why it was chosen:  Pre-Raphaelite Reading: La Morte d'Arthur
July 1, 2011: The Arrow Chest by Robert Parry.  Announcing the July book selection:  The Arrow Chest,  Apollo and Daphne, and the final post on The Arrow Chest.  While reading The Arrow Chest, Kirsty Stonell Walker shared some brilliant posts of art and history.  Here's a quote, because I simply adore both Kirsty and her blog:    "Over the next three days we will be looking at the Victorian response to tragic figures in British history: The Princes in the Tower, Lady Jane Grey and Mary Queen of Scots.  Hopefully you will also be reading along with the Pre-Raphaelite Sisterhood's book of the month, The Arrow Chest by Robert Parry, whose central character is an artist who finds his life is echoing past events with harrowing consequences. "  The Painted Past:  Princes in the Tower, The Painted Past:  MQS! (Mary Queen of Scots), The Painted Past:  Unforgettable and so Behead-able.
May 20, 2011: Sidonia, the Sorceress.   Sidonia was published by William Morris's Kelmscott Press.  Reportedly Morris considered the tale of Sidonia a "masterpiece of its kind." Download from Project Gutenburg.
The first post about Pre-Raphaelite reading:  Pre-Raphaelite Inspired Reading:  Sidonia the Sorceress.  Subsequent posts about Sidonia:    Immersed in Sidonia, Sidonia the Sorceress