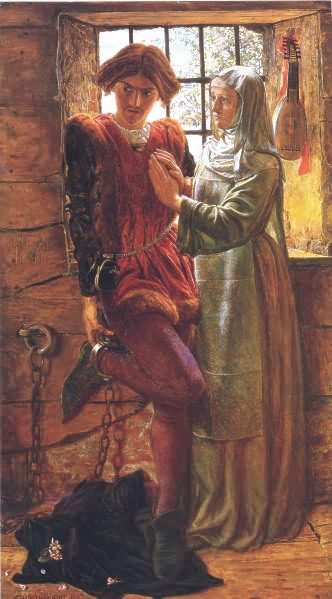 Claudio and Isabella, painted by William Holman Hunt, is based on Shakespeare's play Measure for Measure.
"The choice of such a scene is typical of Hunt's preoccupation with sin and guilt and his intensely moralistic approach to art." Christopher Wood, The Pre-Raphaelites.

The title of the play stems from the biblical book of Matthew:  With what measure you mete, it shall be measured to you again (Matt: 7: 2-3). There was a law in Vienna that made it death for a man to live with a woman not his wife, but the law was so little enforced that the mothers of Vienna complained to the duke of its neglect.  So the duke had Angelo act as his deputy to enforce the law.  The duke, dressed as a friar, went into hiding to watch the results.
Claudio deeply loves Juliet, but has been unable to marry her due to financial reasons.   Juliet is now pregnant with his child.  Scarcely was the duke gone, when Claudio was sentenced to death for violating the law.  His sister Isabel went to intercede on his behalf, and Angelo told her that he would spare her brother if she gives up her virginity to Angelo. Isabel, an aspiring nun, is devastated by this proposition.   She lives a life of piety, even to the point of believing that the strict rules of her convent are not strict enough.  How can she possibly commit this sinful act ?  Angelo has condemned Claudio to death for immorality, yet Angelo has just proved his own hypocrisy by demanding that Isabel sleep with him in order to spare Claudio's life.  Isabel told her brother that he must prepare to die, as she was unwilling to meet this condition.  The duke (still disguised as a friar) heard the whole story and tells Isabel to "assent in words," but to send Mariana, the divorced wife of Angelo , to take her place.  This was done, but Angelo sent the provost to behead Claudio, a crime which "the friar" tried to avert.  Next day, the duke returns to the city and Isabel told her tale.  The duke marries Isabel, Angelo took back his wife, and Claudio is finally able to marry his love, Juliet.