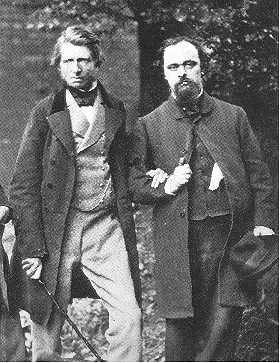 In two previous posts, I talked about the marriages of Dante Gabriel Rossetti and John Ruskin.
Here's a photograph of both men, courtesy of George P. Landow and the Victorian web.  Ruskin looks absolutely frightening with that stick!
June 29, 1863

Albumen Print

Downey made made this double portrait during the same session at Rossetti's house (16 Cheyne Walk) on June 29, 1863 he photographed Ruskin in Rossetti's painting chair. The photographe posed his subjects in Rossetti's garden (which Beerbohm so delightful caricatures). Maas comments: "Rossetti's handkerchief hangs out sloppily and he stands awkwardly; and, furthermore, Downey objected to the menacing way Ruskin held his stick. He also wanted him seated. "'Sit in the presence of Rossetti? Never!' the critic replied." (Ruskin and His Circle, 24). Downey prevailed for the single photograph of Ruskin by himself.
(Via the Victorian Web)
In the upcoming film Effie, Ruskin will be portrayed by actor Greg Wise with Dakota Fanning as Effie.  Wise definitely looks the part: