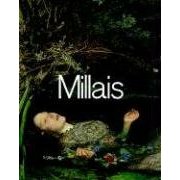 Millais, written by Jason Rosenfield and Alison Smith
From the Publisher:
As a founding member of the Pre-Raphaelite Brotherhood, John Everett Millais (1829-1896) spearheaded one of the most radically modern artistic groups in the history of British art. Later in his career, Millais was considered an establishment figure who swapped artistic innovation for commercial gain. For the first time, this book allows us to see Millais in the context of his whole career, arguing that his late works, especially his landscapes, are as dramatic in their freshness of vision as those of his Pre-Raphaelite period. He is revealed as a complex artist with significant links to Manet, Whistler, and Sargent; and one who helped to spark a renewed interest in British eighteenth-century art.
About the Authors
Jason Rosenfeld is Assistant Professor of Art History at Marymount Manhattan College, New York. Alison Smith is a curator at Tate Britain specializing in nineteenth century British art.
Browse the Millais category here at Pre-Raphaelite Sisterhood
Or visit the Millais category at ArtMagick where you can learn about his works and send images as e-cards, free of charge.