Kirsty Stonell Walker made an excellent point in Endless Digressions on Evelyn De Morgan:  she's such a fascinating artist that it feels impossible to keep a post about her short.  Her work is large, vivid in color, and often depicts a spiritual theme or an allegory.  And if there's anything I love, it's an allegorical work.
In my previous post, I compared Burne-Jones' painting Sponsa de Libano with Botticelli's The Birth of Venus and Primavera.   To further explore Botticelli influences on Pre-Raphaelite works, Evelyn De Morgan's Flora (1894) is a fine example indeed.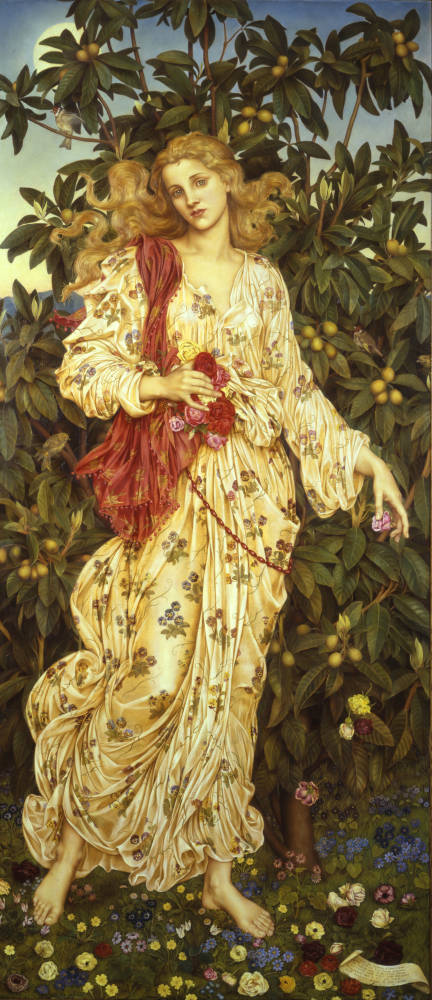 De Morgan's Flora is inspired by both Botticelli's Primavera and The Birth of Venus, which makes sense as both of these Botticelli pieces are so similar to each other while each being iconic in their own right.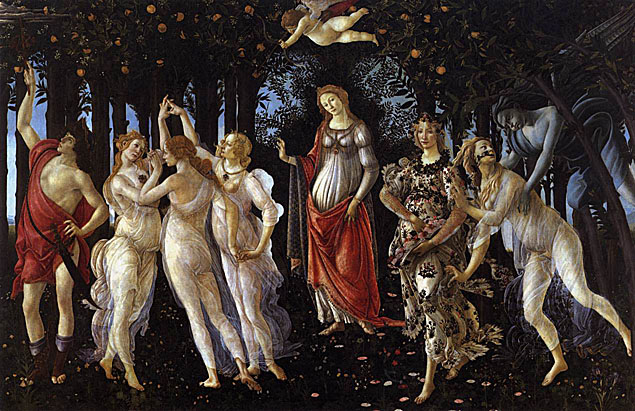 The stance in De Morgan's Flora seems straight from Venus in her shell.  Her gown is also similar to Flora's gown in Primavera.
So apparently Flora is an amalgam. Yet she still seems original and fresh as a completely De Morgan piece.  Unlike Botticelli's works, De Morgan shows Flora without any figures surrounding her. Flora stands alone, allowing her to be the sole focus of the painting.
De Morgan and her husband, the ceramicist William De Morgan, spent a great deal of time in Florence and there she developed a love for Italian art that shines through her works.  Her paintings are often compared to those of Sir Edward Burne-Jones, which is an apt comparison.  They both excel at drapery and creating uniquely beautiful women.  Art was in her blood, it seems. Her uncle was the artist John Roddam Spencer Stanhope, who also served as her teacher.  It is important to note that while she studied under Stanhope and is compared to Burne-Jones, De Morgan's work is not derivative.  She has a unique and definitive style.
Flora was recently in the news when it was loaned to Wightwick Manor; visitors were able to view it until this past August.  It is currently part of a Botticelli-themed exhibit in Berlin  from  September 2015 to January 2016, after which the exhibit will be at the Victoria and Albert Museum in London. See Botticelli Reimagined.