In 1858, artist Dante Gabriel Rossetti met Fanny Cornforth and she was unlike any model he had ever used.  I don't think that it is a coincidence that after meeting Fanny, his work developed a new and startling style. There is no denying that it is her face that appears in the first work that ushered in a radical new style for him, a style that set the tone for the type of work that is now synonymous with the name Rossetti.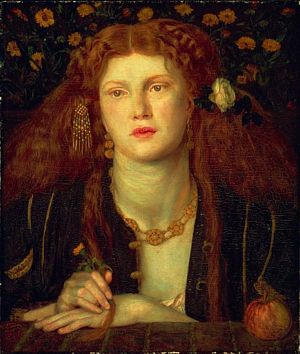 Fanny remained in the artist's life for many years and their friendship seems to have been an important one for both of them.  Devastated when Rossetti married Elizabeth Siddal in 1860, Cornforth married a man named Timothy Hughes.  After Siddal's death of a laudanum overdose, Fanny reentered Rossetti's life and remained until his death.  She is seen in much of his work and is often described as serving as the housekeeper in Rossetti's home.  I highly recommend reading Stunner: The Fall and Rise of Fanny Cornforth  by Kirsty Stonell Walker which, thus far, is the only full-length biography of Cornforth.  The buxom model was not without her detractors, though, as mentioned in my previous post The Bias Against Fanny Cornforth.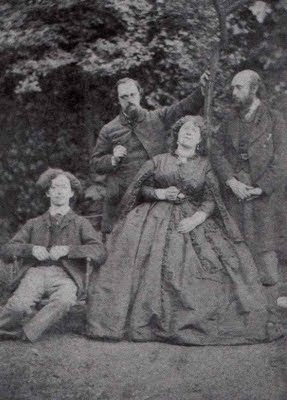 Studying Fanny's life has always reached an abrupt halt around 1901. She seemingly disappeared and nothing was known about her later years.  Enter Kirsty Stonell Walker.  Kirsty's diligent research led her to Graylingwell Asylum, where a woman who was once Pre-Raphaelite stunner lived in a precarious mental state.  I hope you will read Kirsty's post about Fanny's lost years.  It is emotional and raw, to see a woman we knew as Rossetti's spirited companion now living a much different life compared to the one at Cheyne Walk.
One of my favorite William Morris quotes is "History has remembered the kings and warriors, because they destroyed; art has remembered the people, because they created."  Sadly, Fanny hasn't always been remembered well. Yet she helped Rossetti create.  She was ridiculed for her faults of speech, her size, her background, and was labeled a thief.
We now know that Fanny died in Graylingwell on February 24, 1909 and was buried in an unmarked paupers grave in Chichester Cemetery.   Her face graces masterpieces that visitors from all over the world seek out in museums. Through the works of Rossetti, her beauty has been admired by millions.  She deserves to be commemorated.
You can help fund a tribute to Fanny.  We hope to commission a memorial to be installed with a commemoration ceremony in Chichester Cemetery on April 9, 2017.  Any additional funds raised will be used to commission a memorial to her at Graylingwell Chapel.  Please visit the GoFundMe account for this project and share it as much as you can.  Spread the word on social media using the hashtag #RememberFanny.
GoFundMe:  Fanny Cornforth Remembered  created by Sarah Rance-Riley
#RememberFanny post at The Kissed Mouth