Sir Edward Burne-Jones' painting King Cophetua and the Beggar Maid is based on the story of an African King who had never felt any attraction towards women until he spotted a beggar woman. In this tale of love at first sight, King Cophetua declares that despite her low social standing, she will be his queen.  Burne-Jones' work is likely based on Tennyson's poem The Beggar Maid.
Her arms across her breast she laid;
She was more fair than words can say;
Barefooted came the beggar maid
Before the king Cophetua.
In robe and crown the king stept down,
To meet and greet her on her way;
'It is no wonder,' said the lords,
'She is more beautiful than day.'
As shines the moon in clouded skies,
She in her poor attire was seen;
One praised her ankles, one her eyes,
One her dark hair and lovesome mien.
So sweet a face, such angel grace,
In all that land had never been.
Cophetua sware a royal oath:
'This beggar maid shall be my queen!' (Alfred, Lord Tennyson)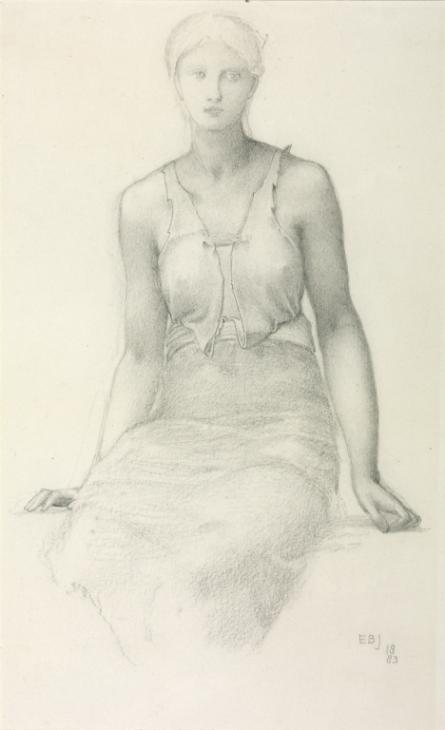 The Beggar Maid shows that your soul mate and ideal love can come in a surprising form. This is strikingly similar to the lives of many Pre-Raphaelite artists, who fell in love with women of a lower social class.  William Morris married the extremely poor and uneducated Jane Burden, giving her the chance to 'better herself'.  Prior to Morris, William Holman Hunt attempted to improve the life and conditions of model Annie Miller, but the relationship did not end well.
In November 1883, Burne-Jones mentions the Beggar Maid in his writing as he discussed his recent projects.
"I have been busy over my Roman mosaic chiefly, an unthankful task that no one will ever care for, but for the sake of many ancient loves I am doing it; for love of Venice and Ravenna and the seven impenetrable centuries between them, and for love of many old studies and odds and ends of things I like–Talmud and Aquinas, and I don't know what.  All this has eaten up much time: also to put on the Beggar Maid a sufficiently beggarly coat, that will not look unappetizing to King Cophetua, –that I hope has been achieved, so that she shall look as if she deserved to have it made of cloth of gold and set with pearls.  I hope the king kept the old one and looked at it now and then. "
Burne-Jones never seemed satisfied with his work on the Beggar Maid and struggled with it for years.
"I work daily at Cophetua and his Maid. I torment myself every day–I never learn how to paint.  No former work ever helps me–every new picture is a new puzzle and I lose myself and am bewildered–and it's all as it was at the beginning years ago.  But I will kill myself or else Cophetua will look like a King and the beggar like a Queen, such as Kings and Queens ought to be"
He continued to wrestled with it, until finishing  in April 1884.  On April 23, he wrote:
"This very hour I have ended my work on my picture. I am very tired of it–I can see nothing any more in it, I have stared it out of all countenance and it has no word for me.  It is like a child that one watches without ceasing till it grows up and lo! it is a stranger."
While the artist seems displeased with the completed work, his wife wrote well of it in Memorials of Burne-Jones.
"I have always thought this picture contained more of Edward's own distinctive qualities than any other that he did, and for that reason am glad that it has been placed as a memorial of him in our National Collection.  It is noteworthy that he designed and carried it out during the divergence of opinion between himself and Morris on the subject of Socialism, bringing it to an end soon after Morris joined the Democratic Federation.  The thought of the King and the Beggar Maid lay deep in both their minds, and the reception of "Cophetua" in Paris by some who saw it there in 1889 proves how strongly it impressed on them a deep meaning."
According to Georgiana Burne-Jones' Memorials, WAS Benson designed and made the King's crown. Benson also designed some of the pieces seen in Burne-Jones' Briar Rose series.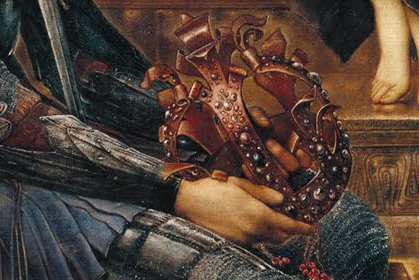 Other Victorian art works inspired by the story of the beggar maid include this photograph by Lewis Carroll.  Carroll used the young Alice Lidell, who also served as inspiration for Alice in Wonderland.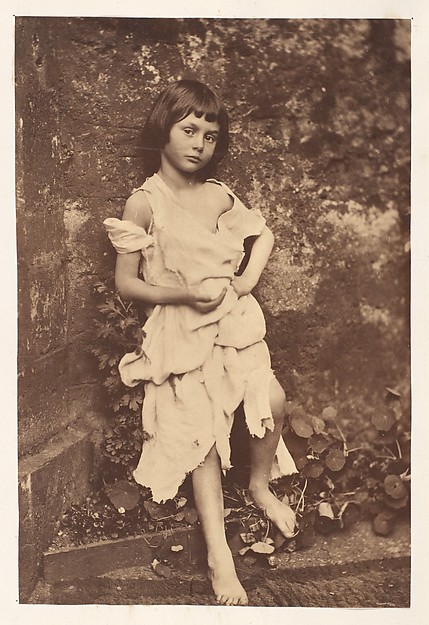 Julia Margaret Cameron also created a photograph of the tale.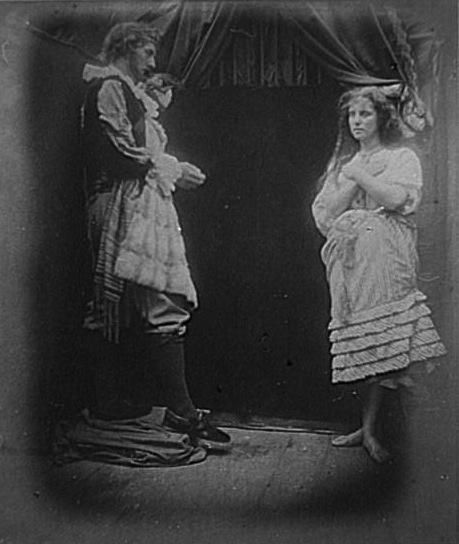 Artist Edmund Blair Leighton also painted the Beggar Maid.  No disrespect to Leighton , but I feel that it doesn't come close to the pathos captures in Burne-Jones' work.