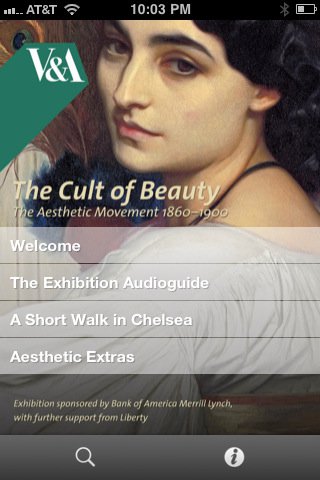 The Cult of Beauty is the V&A Museum's lavish spring 2011 Exhibition. It showcases beautiful Victorian objects and art from around the world. Use the included audioguide to discover more about the wonderful exhibits on display. Use it when you visit the Exhibit. Or listen at home and enjoy the images of beautiful 19th century paintings, sculptures and design taken from the show.
Also available on the App:
-10 Aesthetic objects with short audio commentaries from the V&A's collection.
-12 poems by Rossetti, Swinburne and Yeats and others specially recorded for the show by Performance Group, LiveCanon.
– 3 biographies of important Aesthetic models: Jane Morris, Lizzie Siddal, actress Ellen Terry.
Voiced by Rupert Everett!
Available for iPhone or iPod Touch