The infamous Borgia clan is once again generating interest thanks to a new series on Showtime. One of my favorite art history blogs, Three Pipe Problem, has an excellent post about the Borgia family and the new series.   I missed last night's debut, so I cannot offer an opinion on the production yet, but I wanted to revisit a Pre-Raphaelite depiction of Lucrezia Borgia from an archived post.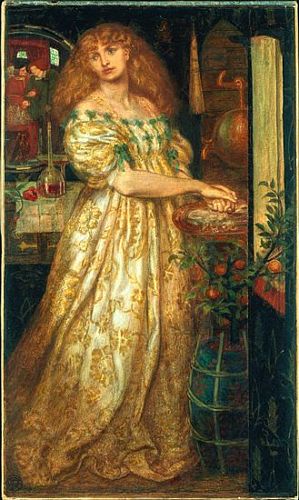 Lucrezia Borgia painted by Dante Gabriel Rossetti 1860-1. I believe the model to be Fanny Cornforth. According to the Tate, Rossetti repainted her face several years after completing the painting.
The tale of the Borgias captivated Rossetti. Lucrezia Borgia (1480-1519) was the member of a ruthless political family. Her father Rodrigo Borgia eventually became Pope Alexander VI. We see her in Rossetti's painting washing her hands after the poisoning of her husband, Duke Alfonso Bisceglie. Rossetti had a tendency to paint women's arms and necks as more muscular in several of his paintings, but it seems quite symbolic in this work. Lucrezia displays manly arms, perhaps synonymous with the primal, savage act of murder. In the background, Rossetti included a mirror where we can see the reflection of her poisoned husband with Lucrezia's father Rodrigo. Rodrigo cruelly helps the Duke to walk, circulating the poison throughout his body and hastening death. Talk about having issues with your in-laws!
Read More About Lucrezia Borgia
The Borgia's via the Crime Library at TruTV
Lucrezia Borgia, infamous murderess or political pawn?
The Borgia TV Series:
Hollywood Reporter review:  'The Borgias' Bow Solid Show for Primetime