When the artist Thomas Kinkade rose to fame, I could net help but be irritated when he styled himself as the "Painter of Light" and then proceeded to trademark it as his title.  Because there are artists among the Pre-Raphaelite circle that captured light.  And they did it better.
William Holman Hunt painted The Light of The World in 1853, not too long after the founding of the Pre-Raphaelite Brotherhood in 1848.  He used model Elizabeth Siddal to paint Christ's hair; Christina Rossetti was the model for the head.  It was at this point that we see that Siddal was no ordinary model, for as Jan Marsh tells us in Pre-Raphaelite Sisterhood (no relation to this blog), "That she interested herself in the work in progress is shown by Hunt's recollection of how, on one occasion, she went all the way to his studio in Chelsea on her own initiative, to tell him that she had seen in a religious bookshop a print that exactly resembled his picture.  Originality of composition was a great concern of professional painters but, happily for Hunt, his own visit to the bookshop revealed only slight similarities between print and painting.  He believed that Lizzie's imagination had transposed his lantern and crown accessories on to a conventional image of the Saviour.  However it is clear from the anecdote that she took a personal interest in his work."  That is perhaps one of my favorite stories of Elizabeth Siddal, it perfectly illustrates that she cared more about art than the average artist's model, she was concerned about Hunt's work and made an effort to make sure that his work was not too similar to something else.  So, my reaction to this story is the same as my reaction to her posing in freezing water as Ophelia:  Bravo Lizzie!  The painting has become an iconic symbol of Christianity; Christ stands knocking at a door with no handle.  Standing in twilight, the only sources of light being his seven-sided lantern (from the seven churches mentioned in Revelation) and his halo.
I think that the lantern and the rays captured on Christ's robe are one of the finest examples of painted light that exist: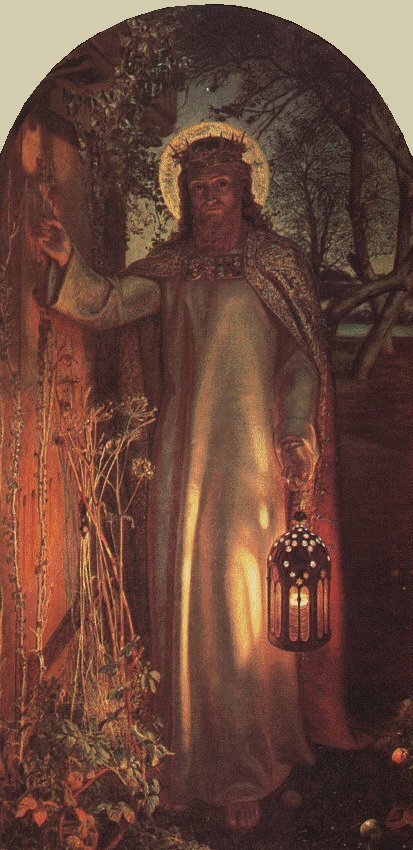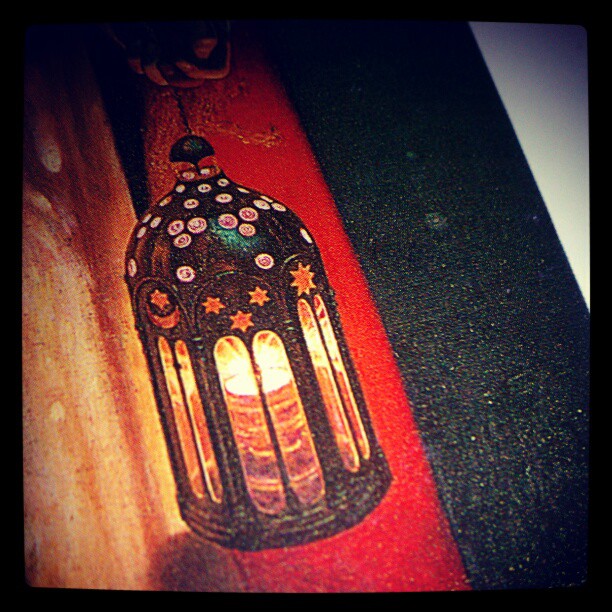 Another example of light I find beautiful is The Vale of Rest by John Everett Millais: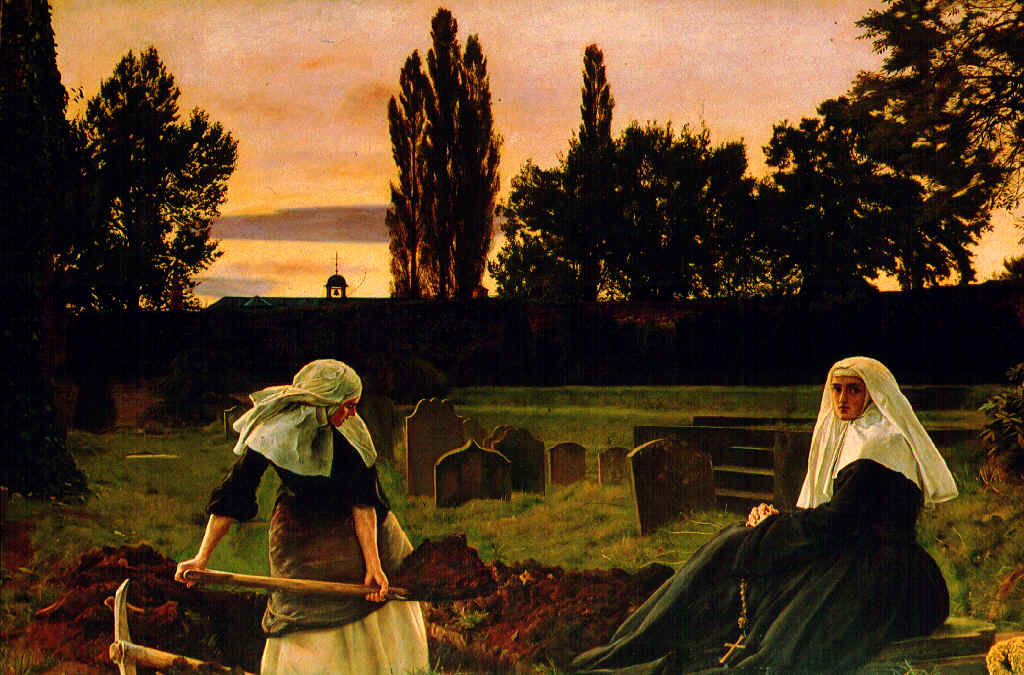 It is not the same intense, concentrated glow as The Light of the World, but it is a stunning example of the light at dusk.  In the midst of sunset, two nuns appear.  The subject matter is mysterious and foreboding.  I find the image compelling, partly because I am not entirely sure what is going on, apart from one nun digging a grave and the other seems to be just watching.  But I know that it is beautiful and sad.
The light in this next painting is subtle.  The Awakening Conscience by William Holman Hunt is an effort to explore the theme of a fallen woman and I've written about this painting before.  Look at the back wall and we can see a brilliant example of daylight as the mirror shows us the window's reflection.  On the floor, right hand corner, we can see the sunlight shining through that window on the floor: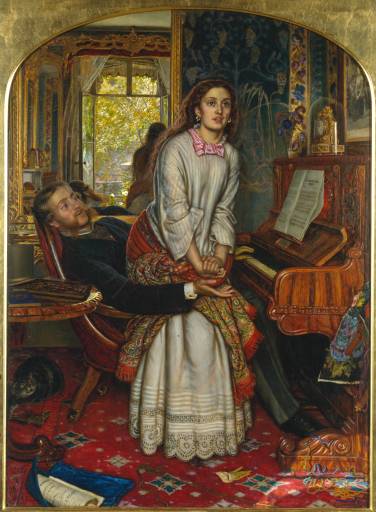 Artist Arthur Hughes painted the next two paintings by lantern light in order to achieve the right lighting:
L'enfant Perdu: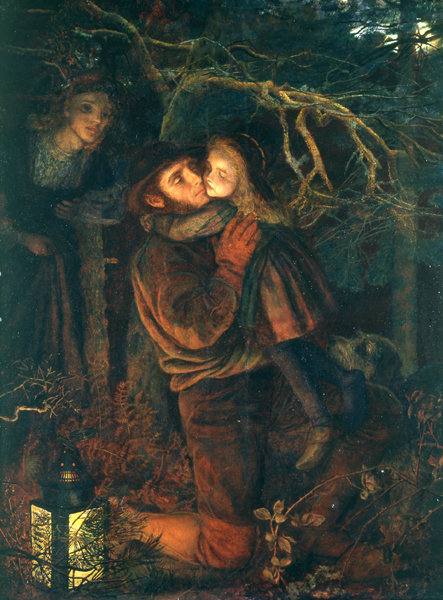 Jack O'Lantern: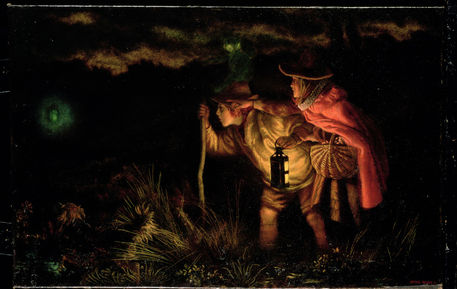 I saved my favorite for last.  Here in America, I think that most people have forgotten that the original tales of Jack O'Lantern were tales of the will o'the wisp, airy fairy will o'the wisp to lure us and enchant us, perhaps even entrap us.  I was thrilled this summer to see my precious will o'the wisp in the Disney/Pixar movie Brave: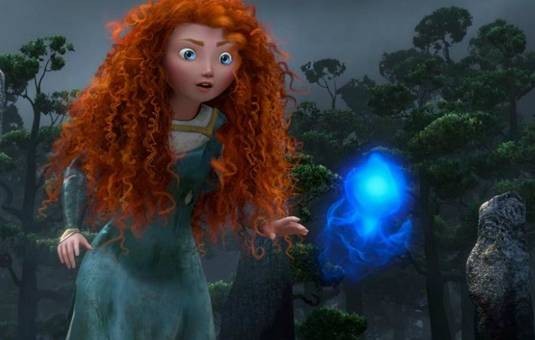 I
I predict that you will see a will o'the wisp this week.  And if you are bold enough to pursue it, it will be a nice one, a kind one, and it will lead you to the road you didn't even realize you were searching for.  The road less traveled.  A dirty, brambly, beautiful Pre-Raphaelite road.  I will be there too.