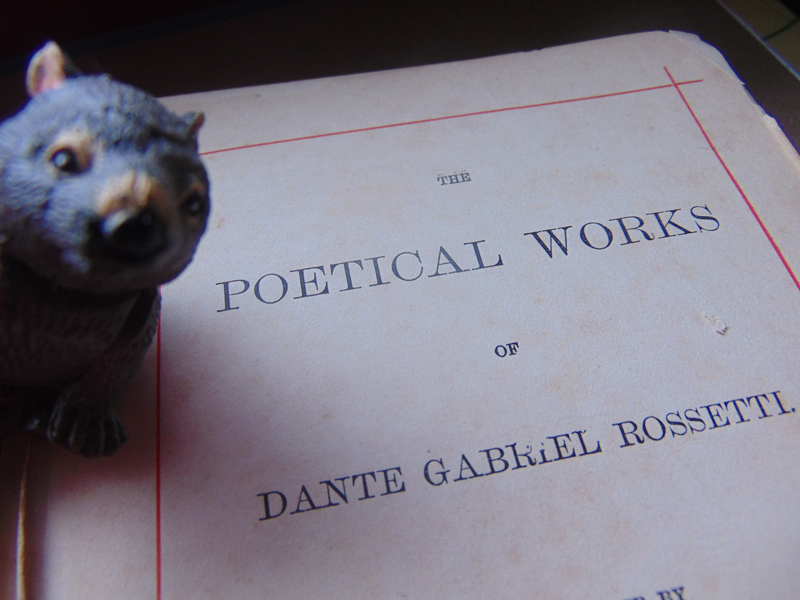 Happy #WombatFriday! You can follow Pre-Raphaelite Sisterhood on Facebook or Twitter.
Posts at Pre-Raphaelite Sisterhood this week included Veronica Veronese and Aspecta Medusa, both by Dante Gabriel Rossetti.
Kirsty Stonell Walker reviewed the catalogue for Art & Soul: Victorians and the Gothic.  And took a look at Selfies and self portraits.
The William Morris Gallery is conducting audience research.  Learn more and apply to be a part of the audience that will provide feedback on events, displays, and exhibitions.
Dr. Jan Marsh and Margaretta Frederick are preparing an exhibition of the work of Marie Spartali Stillman at the Delaware Art Museum, which will appear at the end of 2015.  See Dr. Marsh's posts: Marie Spartali 1 and Marie Spartali 2.
The Pre-Raphaelite Society has posted about the Pussell-Cotes Art Gallery and Museum exhibition, Dangerous Women! From Kauffman to Emin.
Interested in a Pre-Raphaelite themed walk in central London? Madeleine Anne Pearce is planning one for the London and Southern Group.
If you have ideas, are knowledgeable about PR landmarks or would like to help, please get in touch before March 1st. nouveaudigital@gmail.com