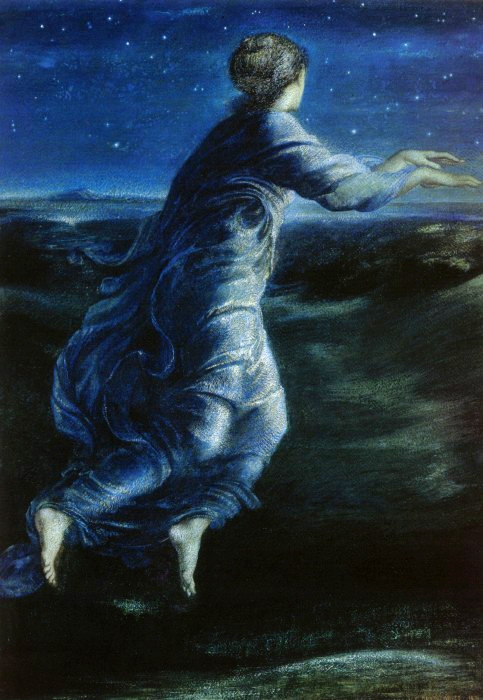 The day has its own bright beauty. Morning may bring the possibility of a new beginning, but at night, everything slows down and the world takes on a different mood.  Night wears a deeper hue, things become varying shades of blues and purples.  It's a slower form of beauty.  Introspective and melancholy.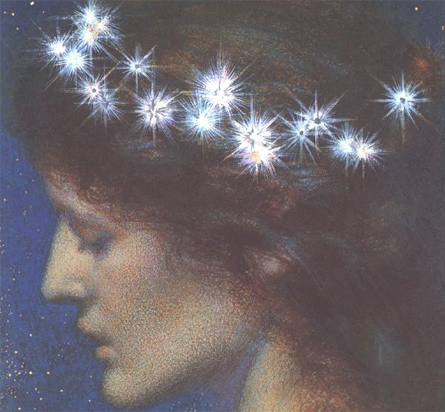 Is it any wonder that some of our greatest tales are adventures of night?  Wilkie Collins' book The Woman in White would not have been so dramatic had the seemingly spectral woman been encountered on a sunlit road instead of a moonlit one.  No ghost worth his salt appears in a ghost story that is set mainly in daytime.  Night is when the magic happens.  The secrets, the indulgence, the dreams. There is an added depth to that dark midnight sky and it holds something tempting for us.
It is no coincidence that insane behavior, lunacy,  is named for our sole source of light at night.  Does the lunar pull tug our senses as it does the tides?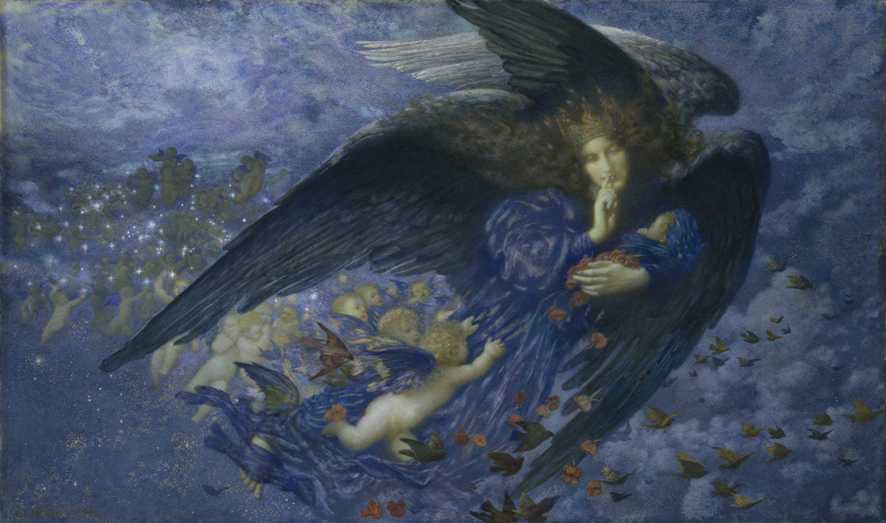 From an early age, we are taught how special night is, from Twinkle Twinkle Little Star to Goodnight, Moon.  That magic stays with us, but it appeals to some of us more than others.  Like  Scheherazade, some of us spin our tales at night.  The moon feeds us, the stars become inspirations.  No need to wish on them, the power of intent is all your own.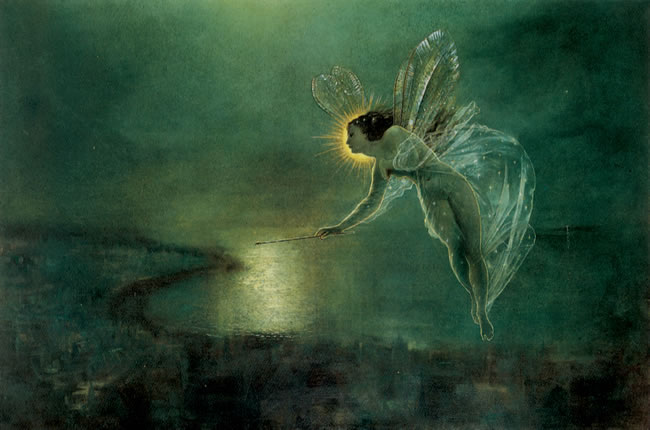 John Atkinson Grimshaw created some of the most breathtaking and realistic paintings of night.  View his works at JohnAtkinsGrimshaw.org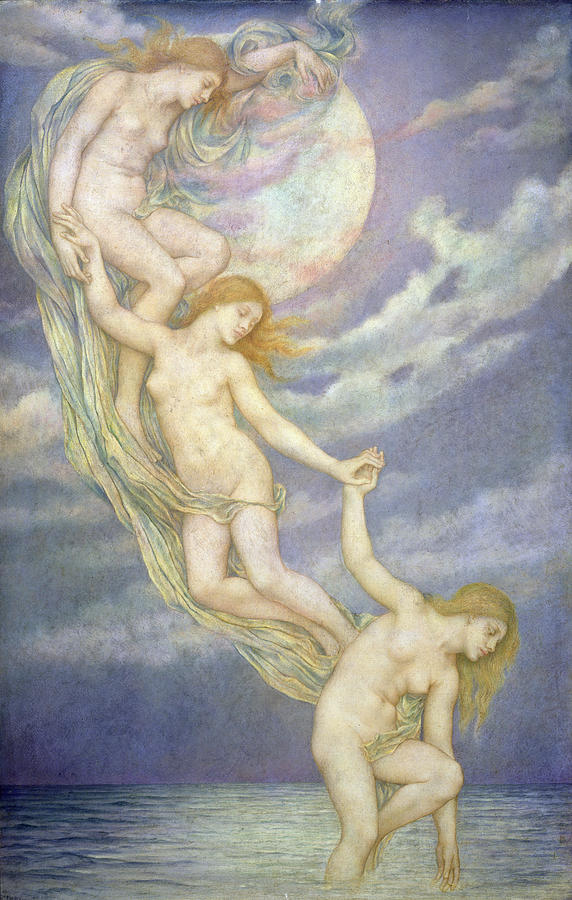 Evelyn De Morgan depicts moonbeams as feminine.  Their mystique is undeniable, their beauty is the very essence of Pre-Raphaelite.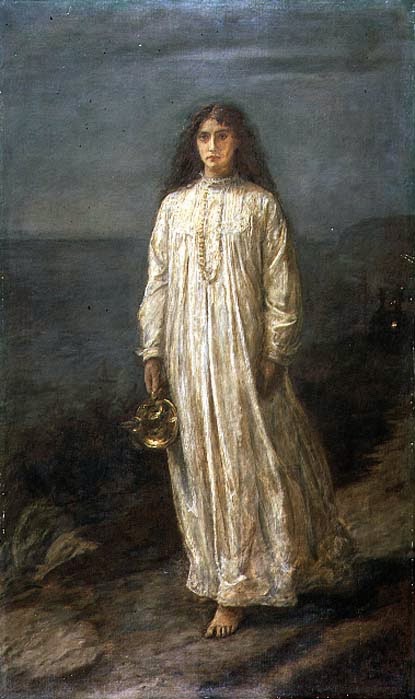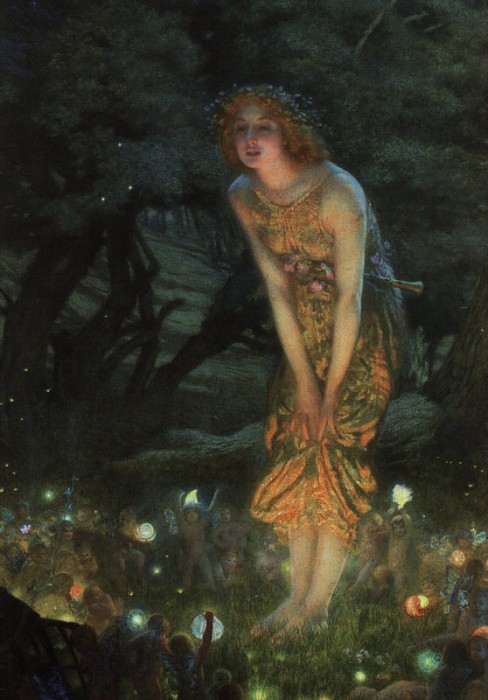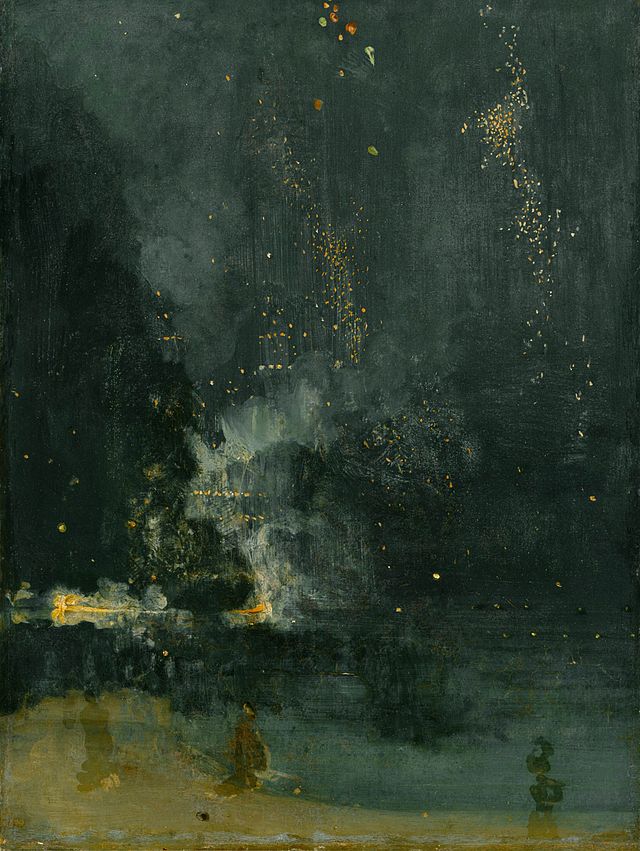 Whistler was not a Pre-Raphaelite, but his work is worth sharing in this post.  He understood the beauty of night.  He coined the term Nocturne paintings to describe works that are evocative of night. Often he paired his works with musically themes title, such as harmony, arrangement, or symphony.  Over a hundred years later, Pre-Raphaelite collector Sir Andrew Lloyd Webber would compose Music of the Night for The Phantom of the Opera.  I think the lyrics would resonate with Whistler and his love of Nocturnes.
Night time sharpens, heightens each sensation
Darkness stirs and wakes imagination
Silently the senses abandon their defenses
Slowly, gently night unfurls its splendor
Grasp it, sense it tremulous and tender
Turn your face away from the garish light of day
Turn your thoughts away from cold, unfeeling light
And listen to the music of the night
Close your eyes and surrender to your darkest dreams
Purge your thoughts of the life you knew before
Close your eyes, let your spirit start to soar
And you'll live as you've never lived before
Softly, deftly music shall caress you
Hear it, feel it secretly possess you
Open up your mind, let your fantasies unwind
In this darkness that you know you cannot fight
The darkness of the music of the night
Let your mind start a journey through a strange new world
Leave all thoughts of the life you knew before
Let your soul take you where you long to be
Only then can you belong to me
Floating, falling sweet intoxication
Touch me, trust me, savor each sensation
Let the dream begin, let your darker side give in
To the power of the music that I write
The power of the music of the night
You alone can make my song take flight
Help me make the music of the night
(Copyright Sir Andrew Lloyd Webber, EMI Music Publishing, Sony/ATV Music Publishing LLC, Warner/Chappell Music, Inc., Universal Music Publishing Group, Kobalt Music Publishing Ltd.
Read more: Andrew Lloyd Webber – Music Of The Night Lyrics | MetroLyrics