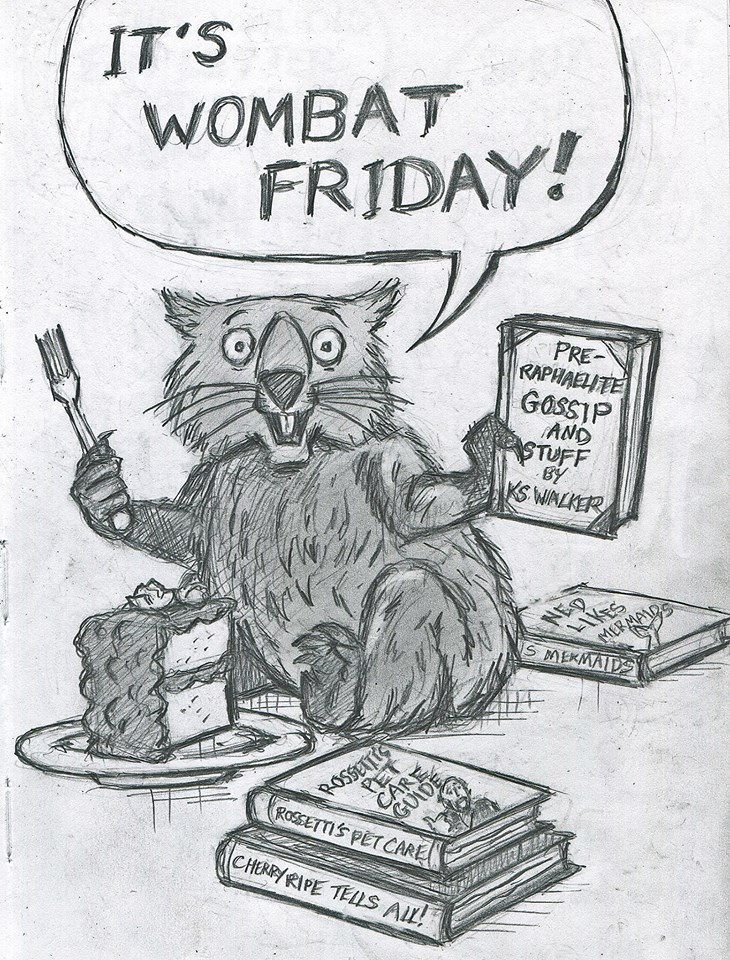 Wombat Friday was born out of a casual conversation among friends.  Yes, I realize Wombat Wednesday probably sounds better, but it was a spontaneous act of frivolity and I hope it stays that way.  Previous posts: Why Wombat Friday?, and Brief Explanation of Wombat Friday. Kirsty Stonell Walker wrote an excellent post explaining Rossetti and wombats. She also wrote this post defending Wombat Friday.
This page is limited to 2013 only and if I neglected to share your Wombat Friday contribution, please let me know. It was not intentional; gathering together everyone's images was painstaking. Only original images are shared. 2014 images will be added to a separate archive as they appear.
Don't miss On Top, Sarah Doyle's wombat poem at the Pre-Raphaelite Society.
Red House National Trust  This was an exciting year for Red House and it is a happy coincidence that it is the same year that Wombat Friday was born.  A long forgotten mural was discovered at Red House and in the mural, a sleepy Pre-Raphaelite wombat is clearly seen.  Wombat Friday was incorporated into Red House summer activities with the creation of their Wombat Trail.
Wightwick Manor is a Victorian manor house located on Wightwick Bank, Wolverhampton, West Midlands, England. It is one of only a few surviving examples of a house built and furnished under the influence of the Arts and Crafts movement.
#WombatFriday contributions from How We Might Live.  'How We Might Live' is a University of Maryland Special Collections exhibit exploring the life of William Morris. Twitter Feed, Website.
 "Do you know the wombat at the zoo?" asked Rossetti; "a delightful creature–the most comical little beast." (Memorials of Burne-Jones)