I've written about Dante Gabriel Rossetti's painting 
Astarte Syriaca
(1877) more than once on this blog, saying in
Those Rossetti Lips
: 
She could totally crush you.  It's a powerful painting, one of my favorites. I realize that it may not be to everyone's taste. Especially if you are not already a Rossetti fan, it could come across as strange and not particularly pretty.  But this is the Rossetti goddess for me.  He bestows upon her strong arms that are capable of anything, a steady gaze that could cause enemies to wither, a countenance that tells me that this Goddess fears nothing. She is calm and resolute. She is in control. I would like to draw upon that strength.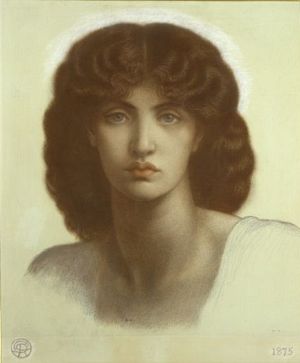 Scholar JB Bullen describes her as a 'primal version of the goddess of love' in his insightful work
Rossetti: Painter and Poet.
 He goes on to say,
 "Her hard stare compels our attention as she moves forward.   Botticelli's Venus rising from the waves, and the heavy, almost masculine proportions of Michelangelo's Delphic Sybil combine to create a figure that transcends sex.  Yet at the same
time she is all sex."
 –Rossetti: Painter and Poet, JB Bullen, p. 245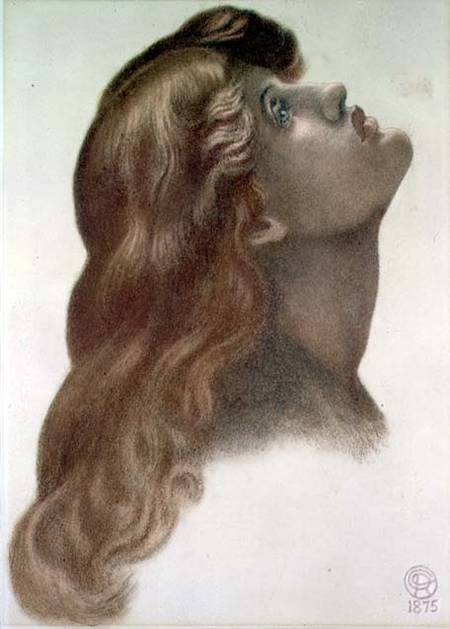 Maybe I was predisposed to love this work.  I'm a lifelong
Agatha Christie
fan and around age twelve, I bought the audio book of
The Tuesday Club Murders
.  Joan Hickson, who
portrayed Miss Marple
to perfection in the 80s,  narrated this collection of short stories and I usually listened to them when going to bed.   The story
The Idol House of Astarte
was a strange one.  Joan Hickson's comforting voice unfolded it into my subconscious and it was probably my first introduction to the word
Astarte.  
Perhaps the word lingered there, waiting for the right moment.
 *
Astarte:  [a-

stahr

-tee] noun, an ancient Semitic deity, goddess of fertility and reproduction worshiped by the Phoenicians and Canaanites.
As far as Rossetti's painting goes, I felt an actual physical reaction to the work when I saw it in person.  I had seen it reproduced in books many times, but in print form, it was his Proserpine or his many images of Elizabeth Siddal that captivated me.  In person, though, Astarte Syriaca had command of the room.  She drew me to her fiercely as if this painted image of Jane Morris truly was imbued with some sort of mesmerizing power.  It is a painting you find hard to walk away from.  Ever since that moment,  this has been an image that inspires me. One that I turn to again and again.
The fact that Rossetti seems to bestow masculine features upon the women in his paintings is commented on a great deal, often with derision.  I receive comments almost daily on this blog by people who prefer not to understand Rossetti's works and would much rather post their opinions on why this type of art could never be seen as beautiful.  But he's certainly not the first artist to do so. A quick glance at the works of
Michelangelo
will reveal the same sort of physical power where musculature takes priority over stereotypical femininity.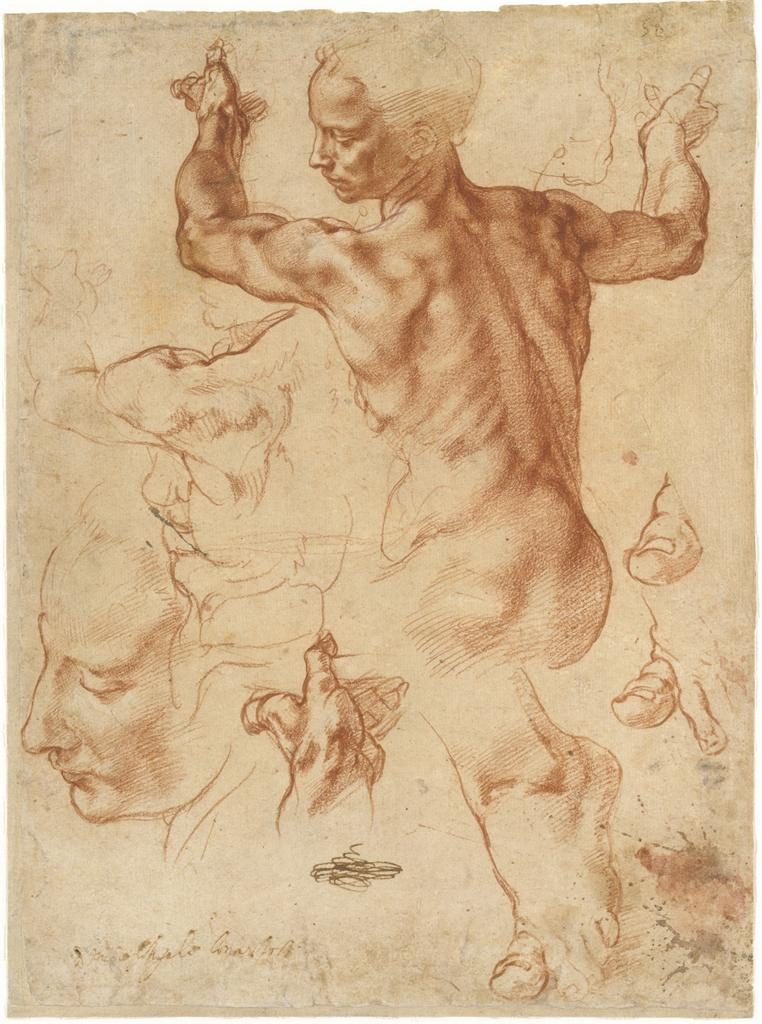 There is an undeniable similarity between the pose of
Astarte Syriaca
and
Botticelli's
The Birth of Venus
. This similarity is seen in positioning yet not in attitude.  Botticelli's Venus stands on her shell in a graceful, maybe timid, pose.  She's aware of her own vulnerability and exposure, shielding her nudity in an almost awkward way.  She is an unmistakable figure of divinity.  The Goddess of Love, waiting to be covered, stands delicately and tenderly.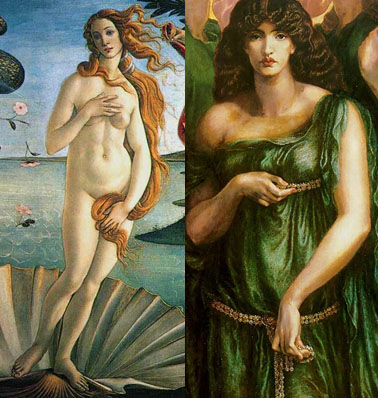 While Botticelli's Venus is a full-frontal nude that sways lightly to the side with her head delicately tilted, Rossetti's primordial goddess faces us head on. This is an unwavering being.  She's powerful and direct without any of the tenderness we see in Botticelli's work.  Rossetti's goddess is no ingenue.  She reigns supreme.
This  pose, known as a 'pudica pose',  isn't limited to the works of Botticelli.  He had certainly studied the Venus de Medici and the pose can be found in several examples of classical art.

When Rossetti used the pudica pose in Astarte Syriaca, it seems to me that he transformed it from a pose of fragile feminity to a stance of strength.  Historically, the strength conveyed here was not the type of woman that girls were encouraged to emulate.  Generations of women were (many still are) raised on a steady diet of damsel-in-distress tales.  Long before the Barbie doll was a career gal, her existence was limited to a beauty of unattainable physical proportions and sparkly clothes.  Before Brave gave us Merida, most animated movies gave us stories where the princess is never the adventurer. Merida shows girls that we can be both.  Rossetti may have been attempting to tap into a darker, more primal version of a goddess, but in doing so I think he was unintentionally ahead of his time.  In Astarte Syriaca he created a goddess that transcends traditional stereotypes.  He gave us an example of primal feminine strength.
Pre-Raphaelite artists are  responsible for giving us innumerable images of beautiful women. This is not without its detractors.  Often described as languid or lifeless, many have dismissed Pre-Raphaelite representations of women as created solely for the male gaze.  I champion the idea that at times,  we can reclaim and reinterpret these works.  As women, our enjoyment certainly carries weight as well, no matter what the original intent.  We can and should draw inspiration from Pre-Raphaelite art if that's how we feel about them. Astarte Syriaca, for me, is one such source of inspiration.
I have said that the goddess in Astarte Syriaca draws upon a beauty that is more powerful than delicate.  Does this mean that I eschew the traditional ideas of feminine beauty?  Not in the least.   There are many aspects to our feminine nature and we should explore them all.  Women are complex beings. The problem with stereotypes is that they fail to present a full picture and if we fall for them, we limit ourselves and miss a richer and deeper experience.  Instead of choosing between damsel-in-distress mode or warrior mode, perhaps we should recognize that throughout our lives we have probably been both.  Sometimes we need saving.  Sometimes we are the savior.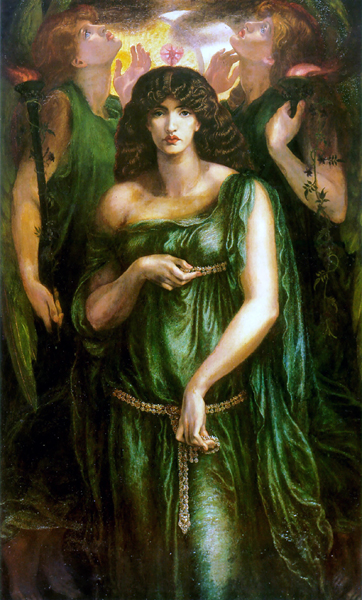 Astarte Syriaca, Dante Gabriel Rossetti
Mystery: lo! betwixt the sun and moon
Astarte of the Syrians: Venus Queen
Ere Aphrodite was. In silver sheen
Her twofold girdle clasps the infinite boon
Of bliss whereof the heaven and earth commune:
And from her neck's inclining flower-stem lean
Love-freighted lips and absolute eyes that wean
The pulse of hearts to the spheres' dominant tune.
Torch-bearing, her sweet ministers compel
All thrones of light beyond the sky and sea
The witnesses of Beauty's face to be:
That face, of Love's all-penetrative spell
Amulet, talisman, and oracle, —
Betwixt the sun and moon a mystery.