Once again, it's #WombatFriday! This week, I am sharing a story with you because for Pre-Raphaelite enthusiasts, this is a profound discovery.
Fanny Cornforth was a frequent model for for Dante Gabriel Rossetti. Historically, biographers have written more about his models Elizabeth Siddal and Jane Morris, leaving Fanny to the sidelines. Her past as a prostitute and her years spent as Rossetti's housekeeper makes her place in his life difficult to write about in any other way than sexually. But there is no denying that it is her face that appears in the first work that ushered in a radical new style for him, a style that set the tone for type of work that is now synonymous with the name Rossetti. Read about this work, Bocca Baciata, in the post Regina Cordium.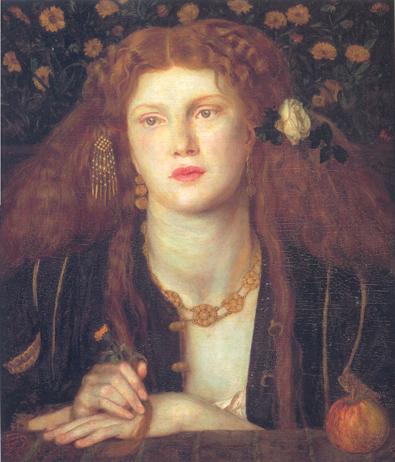 Kirsty Stonell Walker has dedicated her life to researching Fanny Cornforth. She is the author of Stunner, the first biography dedicated to the life of the model. In her work, it is obvious she admires Fanny yet she never crosses the line and idealizes her. She presents Fanny honestly and in an unbiased way, which is something many biographers in the past were unable to do. Previously, Fanny was often written about in a comical, dismissive way, always beginning with the anecdote of her as a prostitute who spit nut-shells at Rossetti on the street. Walker helps us to look at Fanny as a person, not a Cockney trope. If we're going to study the life of Rossetti, his relationships are important. His friendship with Fanny was one of the longest and most affectionate female friendships of his life.
Studying Fanny's life has always reached an abrupt halt around 1901. She seemingly disappeared and nothing was known about her later years.
Until now.
Kirsty's diligent research led her to Graylingwell Asylum, where a woman who was once Pre-Raphaelite stunner lived in a precarious mental state. I share this with you today, hoping that you will read Kirsty's post. It is emotional and raw, to see a woman we knew as Rossetti's spirited companion now living a much different life compared to the one at Cheyne Walk.
One of my favorite William Morris quotes is "History has remembered the kings and warriors, because they destroyed; art has remembered the people, because they created." Sadly, Fanny hasn't always been remembered well. Yet she helped Rossetti create. She was ridiculed for her faults of speech, her size, her background, and was labeled a thief. Kirsty's discovery haunts me. It's heartbreaking. The face of Bocca Baciata, lost to dementia and destitution. Please, read it with kindness and spare a thought for the memory of Fanny Cornforth.
This is a piece I have wanted to write for the last 20 years. This is also one of the most difficult pieces I have ever had to write. This is where I tell you about how Fanny Cornforth died. –Kirsty Stonell Walker