This morning I shared on the Pre-Raphaelite Sisterhood Facebook page  Edward Poynter's portrait of Georgiana Burne-Jones, wife of Sir Edward Burne-Jones who was an important figure in the second wave of Pre-Raphaelitism.   In 'The Last Pre-Raphaelite' biographer Fiona MacCarthy describes the watch Georgie's wearing on a chain as a "ball-shaped gold watch studded with chrysolites bought for her by Burne-Jones in the early years of her marriage". The heart pendant she wears captures my attention as well. I've owned several hearts of a similar shape over the years.   For fellow aficionados of historic jewelry, read 'What is a Witch's Heart and How Did It Influence Heart Jewelry Today?' Via JewelryNerd.org (such a fascinating site!) After sharing the portrait, it occurred to me that it might be fun to collect images that have such a heart in one blog post.  If you know of any others, please contact me so I can add them (contact details are at the end of this post).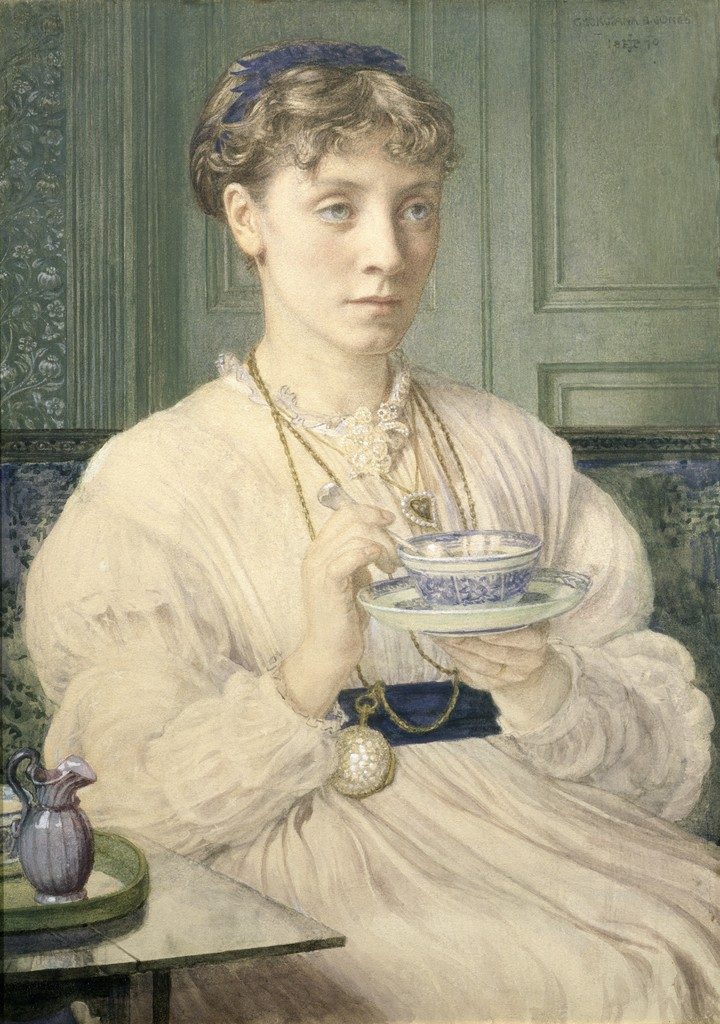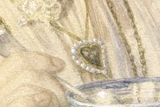 This kind of swooping heart is a frequently used design in jewelry.  I've had these earrings since the early 90s and from 1992-1995 I practically wore them nonstop. In fact, I still wear them every now and then because I'm irrepressibly nostalgic, but since they are probably plated I try not to wear them too much to protect them from chipping. Honestly, I am amazed they've lasted this long.  I have them on as I type this, though.  It seems fitting.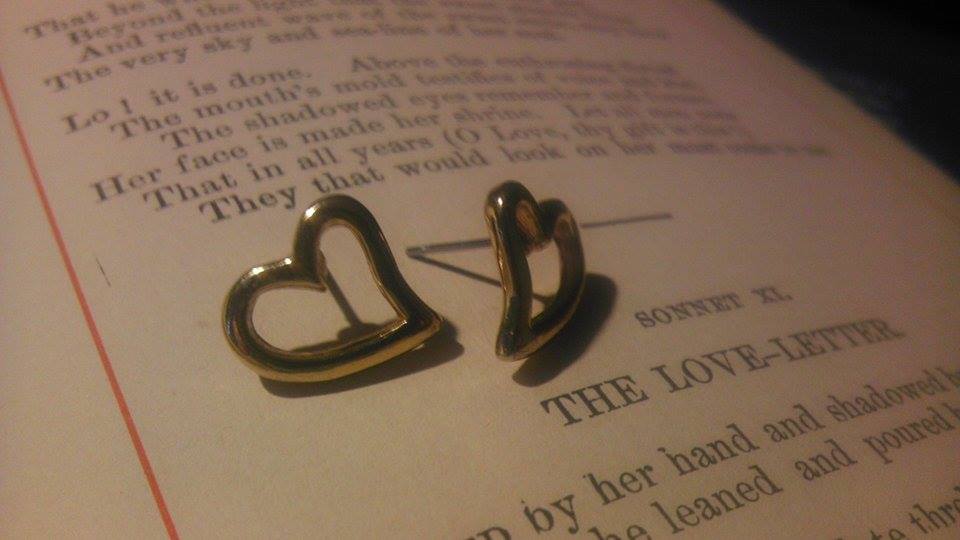 According to this site, the "tail of a witch's heart twists to one side (almost always the right side) and is a shape that has been in use since the 15th century."
Prior to the popularity of the witch's heart, the Georgian heart followed a more anatomically accurate design.  Is the clear pendant in Rossetti's painting Monna Vanna  a Georgian heart? Or is it just a generic design?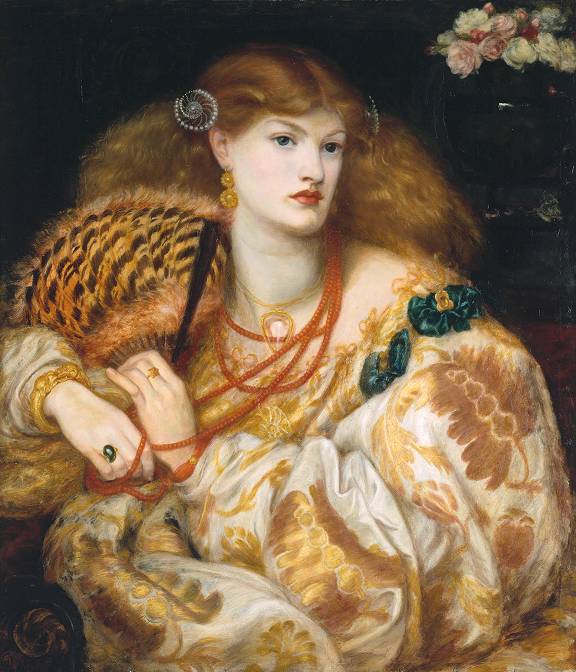 The pendant is seen along with stands of coral beads, a popular jewelry item at the time that is frequently seen in Pre-Raphaelite art.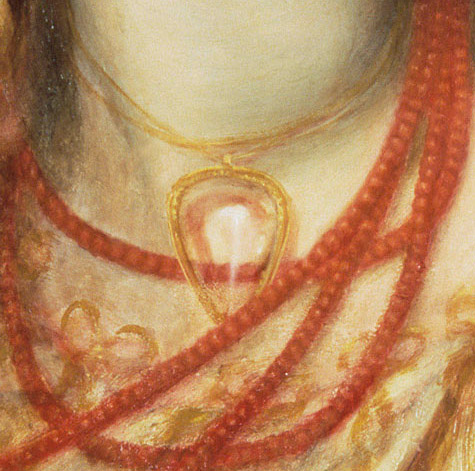 Dante Gabriel Rossetti, especially in the latter years of his career, frequently included jewelry in his work.   There are quite a few examples of hearts, although the following are without the distinctive swoop of the witch's heart.
I believe Joli Coeur may have the same pendant seen in Monna Vanna.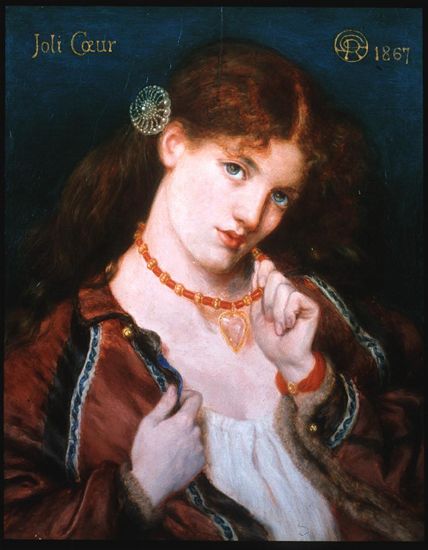 And,of course, a heart would have to be included on Regina Cordium (Queen of Hearts). This particular work was started by Rossetti on his honeymoon with Elizabeth Siddal and along with Bocca Baciata, it marks a significant change seen in his work.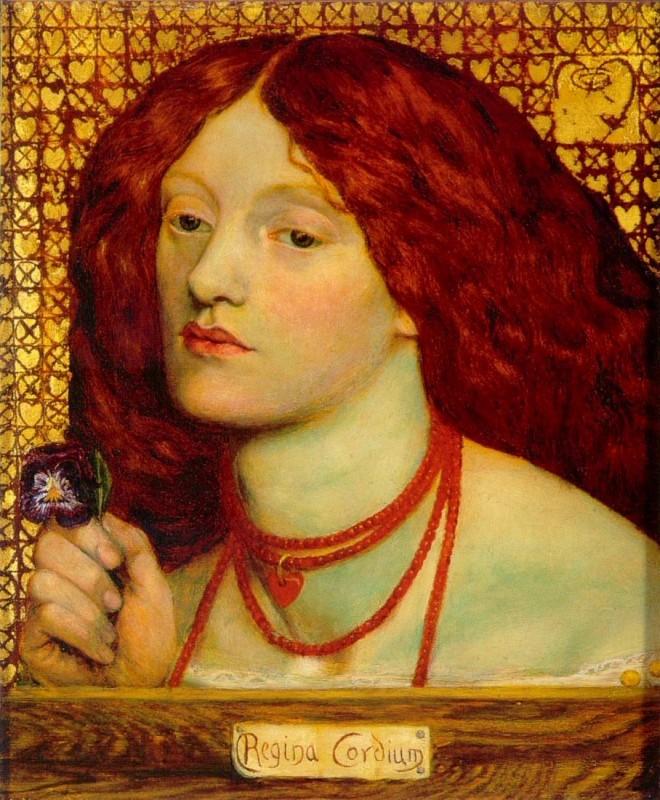 A later version of Regina Cordium features model Alexa Wilding with a gold heart and arrows pendant.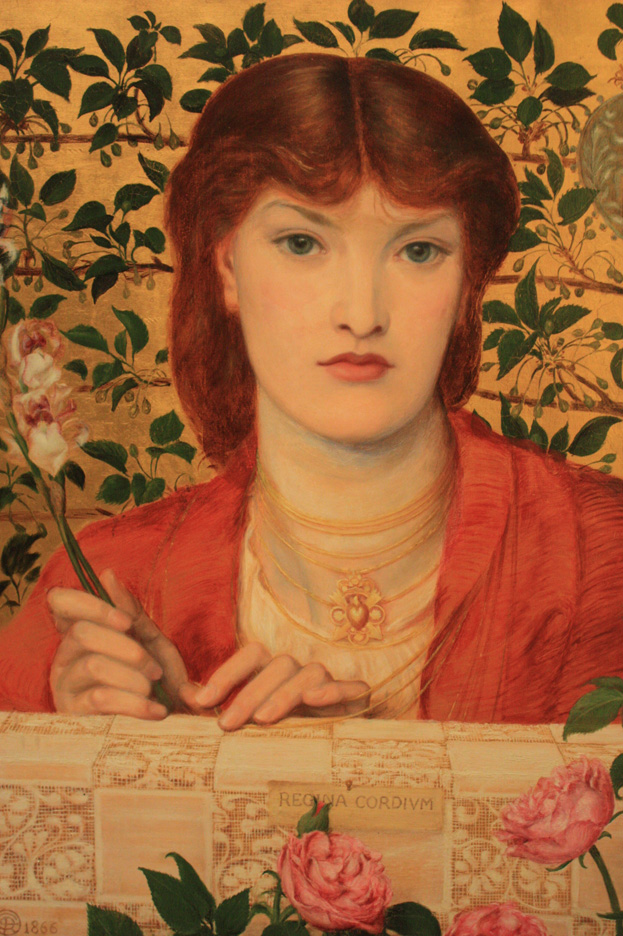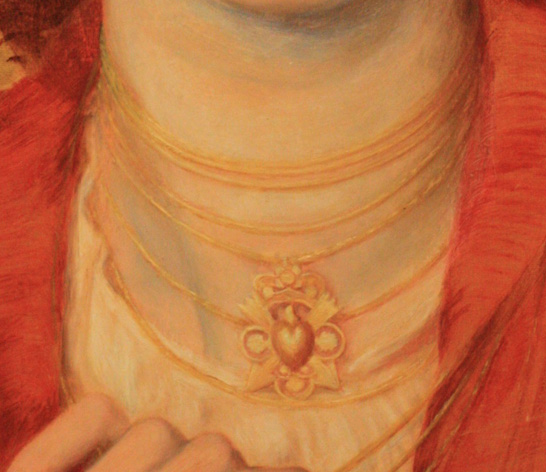 Keomi Gray, a model I've posted about here and here, wears a heart in The Beloved. The necklace itself looks to be the same one seen in Joli Coeur with a different pendant. You see this often in Rossetti works; he collected jewelry for models to wear and he obviously mixed pieces in new and inventive ways.  He did rely on his favorites, though, like the oft-noted spiral hair pin.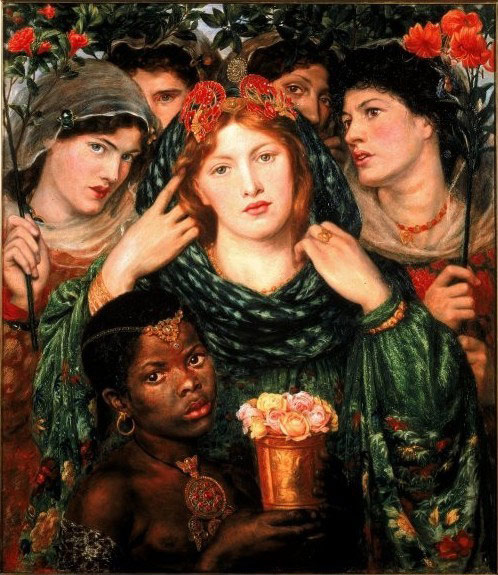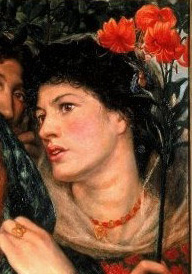 In his painting of La Belle Dame sans Merci, John William Waterhouse added an embroidered heart to la belle dame's sleeve, a nice touch I think.  For more on different depictions of La Belle Dame sans Merci, see Alone and palely loitering.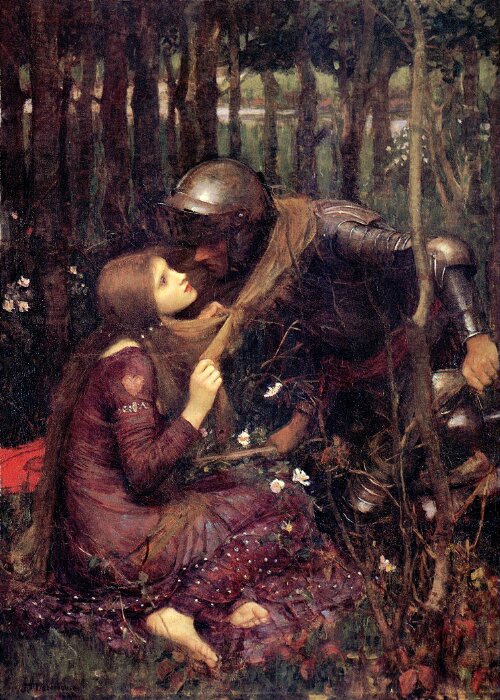 I'd specifically like to find more examples of the witch's heart design in Pre-Raphaelite and Victorian art, so if you know of a painting or drawing that has such a detail please post a comment here or on the Pre-Raphaelite Sisterhood Facebook or Twitter and I'll add it to this post.  I can also be reached at stephaniepina [at] lizziesiddal.com, but I am horribly and unforgivably behind on my email at the moment so social media may be your best bet.