I find Autumn to be healing.  Life takes on a distinctive flavor and the speed may be different, but the possibilities are endless.  It's an inspiring season that delights the senses with colors and smells in a way I find comforting.  It's no wonder that many artists and poets have paid homage to it in their works. James Tissot's 1877 painting October (above) is a beautiful example of Autumn in art.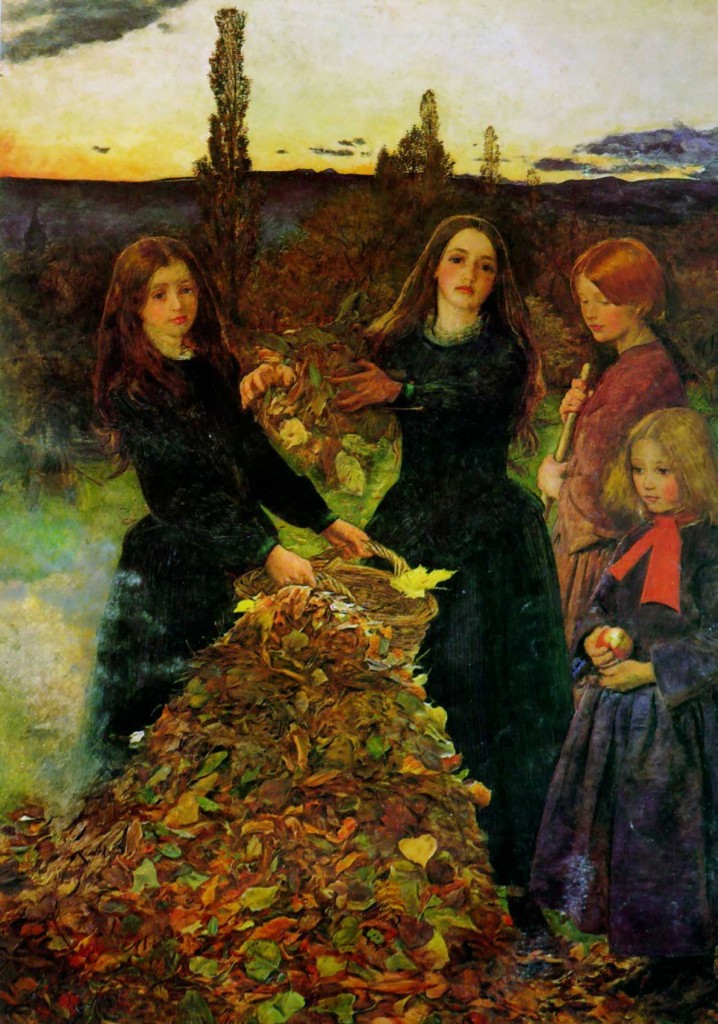 Autumn Leaves, painted by Sir John Everett Millais, captures the beauty I find in the season.  This is a perfect example Pre-Raphaelite twilight and Millais has captured an unmistakable Autumn glow.  His models included his sisters-in-law Alice and Sophie Gray, a Miss Smythe of Methven, and an unidentified local girl.
That it was highly appreciated by Mr. Ruskin may be gathered from the Academy Notes, 1856, in which he refers to it as "by much the most poetical work the painter has yet conceived; and also, so far as I know, the first instance of a perfectly painted twilight.  It is easy, as it is common, to give obscurity to twilight, but to give within its darkness is another matter; and though Giorgione might have come nearer the glow, he never gave the valley mist.  Note also the subtle difference between the purple of the long nearer range of hills and the blue of the distant peak."  –The Life and Letters of Sir John Everett Millais
John Ruskin's description of Autumn Leaves above dates from 1856, and he should be lauded for writing so objectively about Millais' work considering that it was not too long after Ruskin's wife Effie left their marriage in order to marry Millais.  This dramatic affair is mentioned quite often when discussing scandalous relationships among the Pre-Raphaelites (see Pre-Raphaelite Marriages: Ruskin, Effie and Millais and Playing Ruskin's Advocate).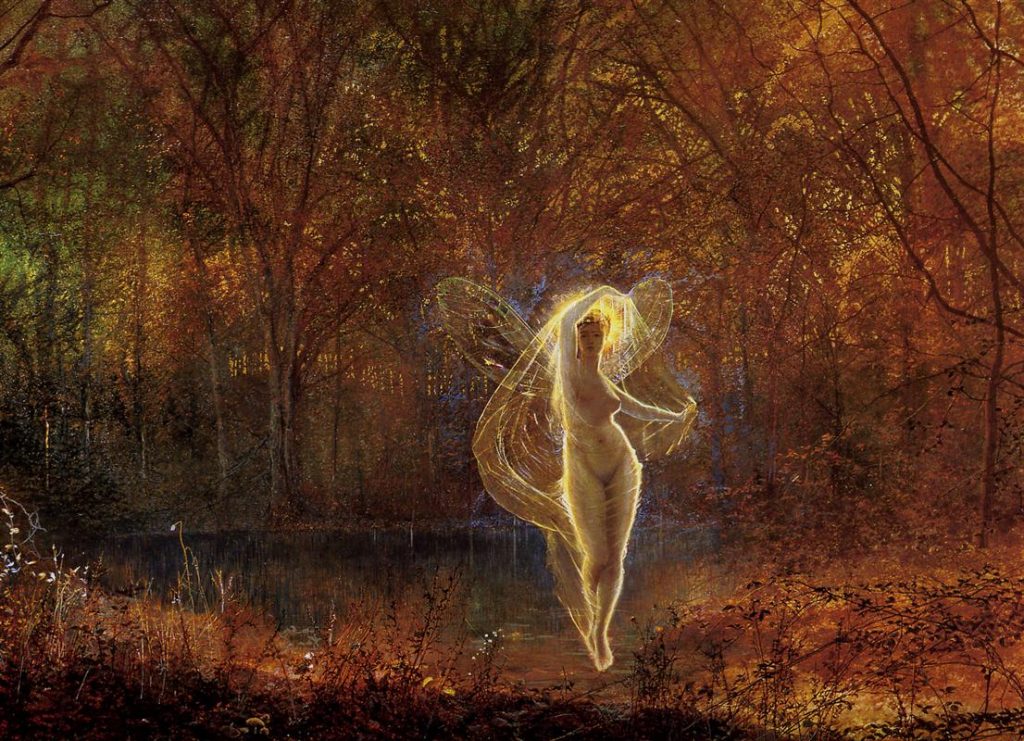 Autumn is a time of transition and transformation.  Grimshaw's painting evokes this palpable feeling that's in the air when Autumn comes, that crisp and sharp quality in the wind that, for me, holds excitement.  Spring is a time of new beginnings and growth but Fall is when I feel immersed in nature's beauty–a beauty that is mixed with a hint of delicious melancholy.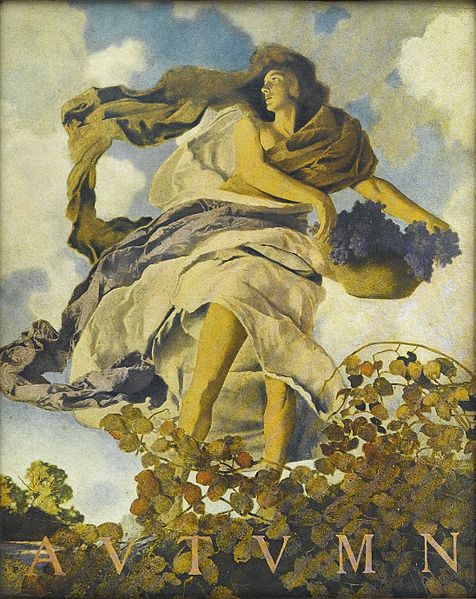 In 1905, Maxfield Parrish illustrated To Autumn by poet John Keats.  The ode was written after a walk Keats took one evening when the season was in full swing. /Where are the songs of Spring? Ay, where are they?/Think not of them, thou hast thy music too,/ (Full poem here)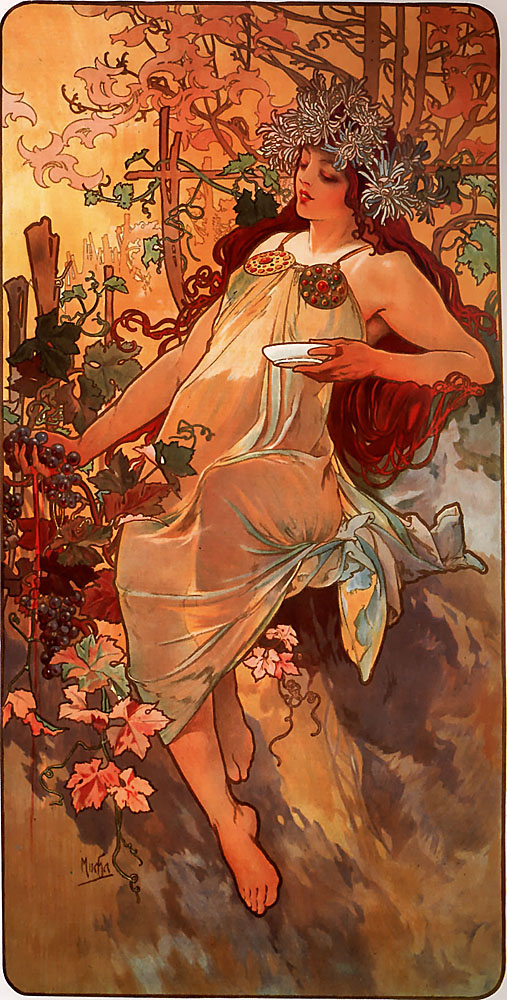 In Greek and Roman Mythology,  Autumn is when Persephone/Proserpine begins her descent into the underworld, her home for half of the year.  In Spring she will return and we will rejoice in the new growth and the possibilities of new beginnings. Dante Gabriel Rossetti's painting of Proserpine is one of those works I never tire of writing about. See Katabasis: Descend into Hell,  Those Rossetti Lips, Forbidden Fruit, and Proserpine and Blogging About Art.  In both Autumn and Spring it is this myth I think of and there is what I call a 'Persephone spirit' in the air that is brisk, magical, and inviting.  We mustn't ignore Persephone's mother in all this either.  It is the goddess Demeter who caused this seasonal shift when her daughter was lost.  It's a thought-provoking myth for me that can be continually deconstructed and reinterpreted.
I welcome Autumn this year and am open to accepting its abundant beauty and gifts. It's an exciting time that I think we should use for renewal and introspection.
Autumn Idleness by Dante Gabriel Rossetti
This sunlight shames November where he grieves
In dead red leaves, and will not let him shun
The day, though bough with bough be over-run.
But with a blessing every glade receives
High salutation; while from hillock-eaves
The deer gaze calling, dappled white and dun,
As if, being foresters of old, the sun
Had marked them with the shade of forest-leaves.
Here dawn to-day unveiled her magic glass;
Here noon now gives the thirst and takes the dew;
Till eve bring rest when other good things pass.
And here the lost hours the lost hours renew
While I still lead my shadow o'er the grass,
Nor know, for longing, that which I should do.