La  Ghirlandata was painted at Kelmscott Manor after a period of great difficulty for Rossetti — he had attempted suicide earlier that year. Despite his paranoia and mental troubles, his work during this period is vibrant and beautiful.  This painting,in particular, is appealing to me with its stunning contrast of glorious red hair and verdant green which made it an ideal choice to grace the cover of Red: A History of the Redhead.  It also appears on Mortal Love by Elizabeth Hand, a swirling epic that I highly recommend.   The main figure in this piece is Alexa Wilding, a model Rossetti used frequently in his later years. The angels were modeled by May, the ten-year-old daughter of Jane and William Morris. Both models have been recreated in the ideal Rossetti physical form, those distinctive lips alone tell you that this piece sprung from the soul of Dante Gabriel Rossetti.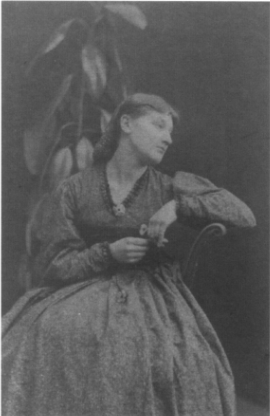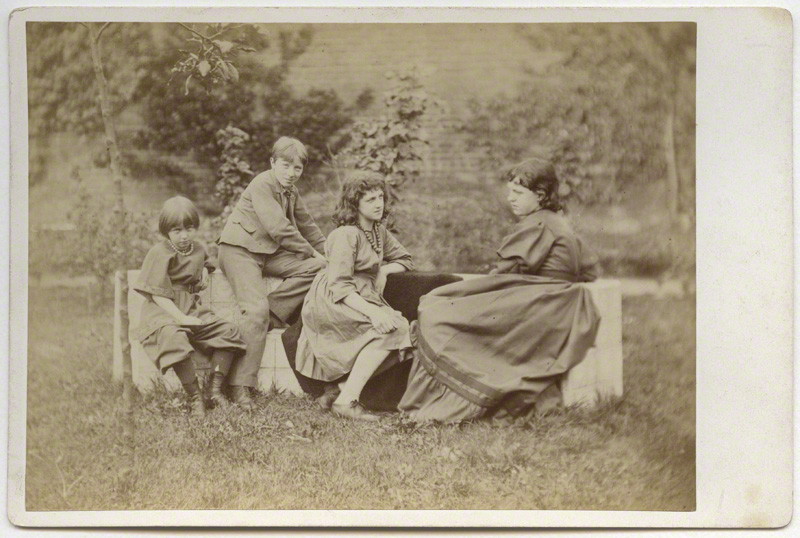 Little is known about Alexa Wilding, but you may enjoy  A Curl of Copper and Pearl by Kirsty Stonell Walker. Kirsty has assembled the bare bones of Alexa's life and fleshed them out into a fascinating and compelling work of fiction. Much like Rossetti did when he exaggerated her features on canvas, Kirsty skillfully paints a picture of young Alice (later Alexa) Wilding as Rossetti discovered her on the street and transforms her life of drudgery into one of art and beauty.
Here's a brief synopsis of the painting, courtesy of City of London:
"Rossetti painted this picture while he was staying at Kelmscott Manor, the Oxfordshire house he part-owned with his friend William Morris, following his breakdown and suicide attempt in 1872. Morris stayed away, but his wife Jane – with whom Rossetti was in love – was there. The honeysuckle and roses around the top of the harp in this picture indicate sexual attraction, while the harp itself represents music – a common metaphor for love and lovemaking. However the model for the picture was not Jane Morris but a model, Alexa Wilding, 'a really good-natured creature', who arrived at Kelmscott in June 1873.

The angel heads at the top were painted from Jane's ten-year-old daughter May, who was said to dislike Alexa intensely. La Ghirlandata is one of several paintings of women playing musical instruments which Rossetti painted between 1871 and 1874. His intense use of colour creates a brooding, melancholy mood, while the picture's symbolism – though unclear – may reflect his emotional condition at this time."
 La Ghirlandata translates into The Lady of the Wreath or Garland, a fitting title as she is surrounded by foliage. The artist's brother, William Michael Rossetti, mentions that the flowers in the painting may have been a mistake:
The flowers which are prominent in the picture were intended by my brother for the poisonous monkshood: I believe he made a mistake, and depicted larkspur instead. I never heard him explain the underlying significance of this picture: I suppose he purposed to indicate, more or less, youth, beauty, and the faculty for art worthy of a celestial audience, all shadowed by mortal doom.
Rossetti's chalk version of La Ghirlandata was given to Charles Augustus Howell for payment of a debt. The drawing is currently owned by Lord Andrew Lloyd-Webber, familiar to most of us as the composer of Phantom of the Opera, Cats, Evita and more. Lloyd-Webber owns a great deal of Pre-Raphaelite art and in 2003, the Royal Academy  held an exhibition featuring his collection in Pre-Raphaelite and Other Masters – The Andrew Lloyd Webber Collection.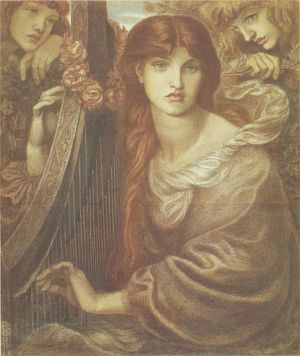 Dante Gabriel Rossetti declared that La Ghirlandata should be 'the greenest picture in the world'.  And who's to say it isn't?  Rossetti gave us a sea of velvety green to swim in and his bevy of green-clad women are just a part of the reason I love Pre-Raphaelite art so deeply. Perhaps I am the green girl, inspired by the depth of that particular hue.
More posts with luxuriant Rossetti greens: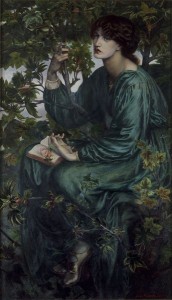 Proserpine can be seen in the following posts: Forbidden Fruit, Katabasis (descend into Hell)