According to Georgiana Burne-Jones' memorials of her husband, the model for Astrologia was Miss Augusta Jones.  I love the reflection seen on the crystal ball; if you are a regular reader of this blog, you know that mirrored images are favorite details of mine. (Seeking out mirrors, Viola, Circe, The Impossible Mirror of Lady Lilith, Photo of Fanny Cornforth, Preparing for the Ball,)
Burne-Jones also used the crystal ball in his portrait Baronne Madeleine Deslandes, although the use here is more subtle.  It sits unused in her lap.  Again, there is that delightful reflection that allows to glimpse windows in the room.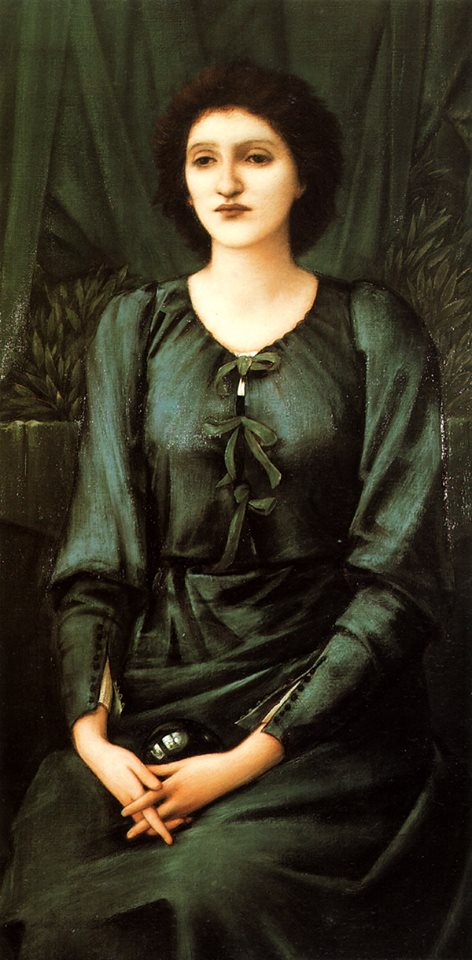 Crystal balls are an interesting theme.  Their use dates back centuries  and were famously used by consultant to Queen Elizabeth I,  Dr. John Dee.  Seeing them here indicates a sort of primitive magic, a conduit of clairvoyance.  What does Astrologia see?  The look on Baronne Madeleine Deslandes' face is enigmatic.  Does she ponder on her visions? 
I'm also quite fond of Crystal Ball by Robert Anning Bell.  Her face is partially obscured in shadow, forcing us to peer in closer in an attempt to read her.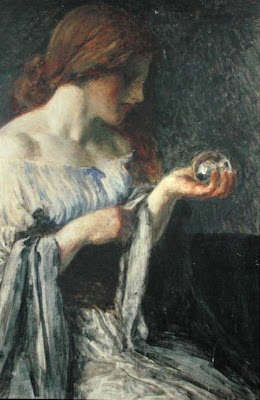 Perhaps the most famous example is Waterhouse's The Crystal Ball: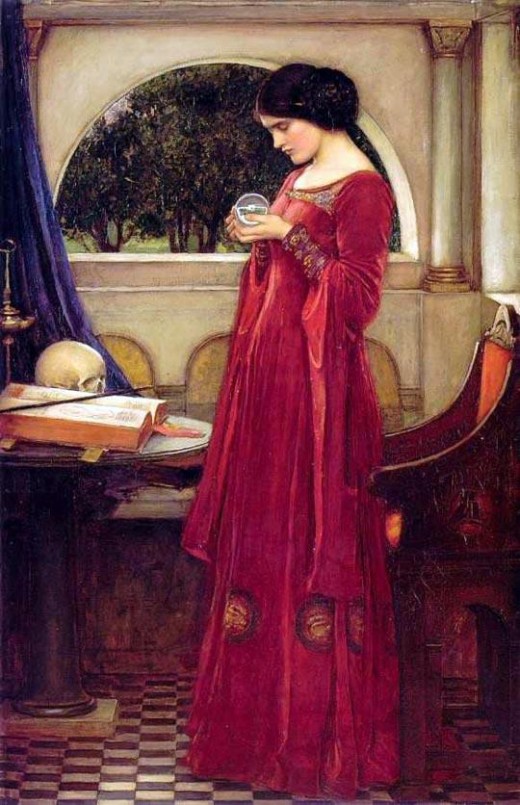 Waterhouse's crystal ball painting remains popular and was recently seen in the background of The Following (also see Unexpected Pre-Raphaelite Sightings)
Also see Kirsty Stonell Walker's post on Fortune Tellers