Above is Sir John Everett Millais' painting Mariana, which I've blogged about before in this post. Her dress is bluer than blue, the stained glass is exquisite, but let us have a moment of silence for the little mouse who died for Millais to include him in the work.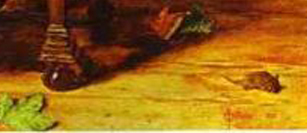 "But where was the mouse to paint from? Millais' father, who had just come in, thought of scouring the country in search of one, but at that moment on obliging mouse ran across the floor and hid behind a portfolio.  Quick as lightning Millais gave the portfolio a kick, and on removing it the poor mouse was found quite dead in the best possible position for drawing it."–Life and Letters of Sir John Everett Millais
When Millais first exhibited this painting at the Royal Academy, he displayed it with these lines of Tennyson:
She only said, 'My life is dreary-
He cometh not' she said
She said 'I am aweary, aweary –
I would that I were dead.'
–From Tennyson's poem Mariana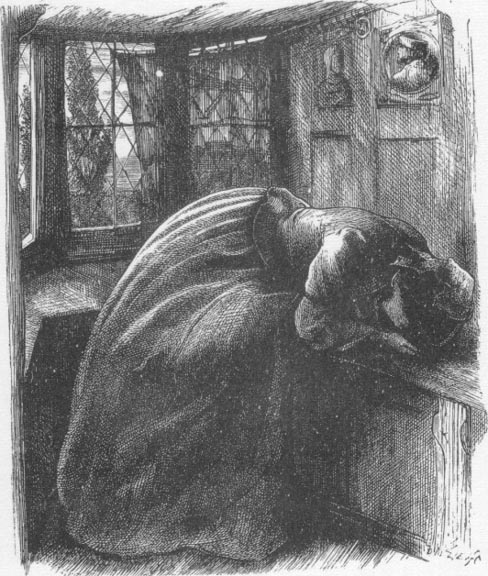 The subject of Mariana was visited twice by Tennyson, in his 1830 poem 'Mariana' and again in 'Mariana in the South'. Both poems are inspired by Shakespeare's character Mariana from Measure for Measure. Poor rejected Mariana. When her dowry was lost at sea, she was abandoned by her fiance Angelo. See my previous post To live forgotten, to die forlorn. 
Once abandoned, does she forge ahead and try to assemble a new life without Angelo in her secluded world?
No.
She pines.
She weeps.
She clasps his love letters to her bosom and pores over them repeatedly.  She gazes at her reflection and wonders what good her beauty is without him.
Dreaming, she knew it was a dream:
She felt he was and was not there,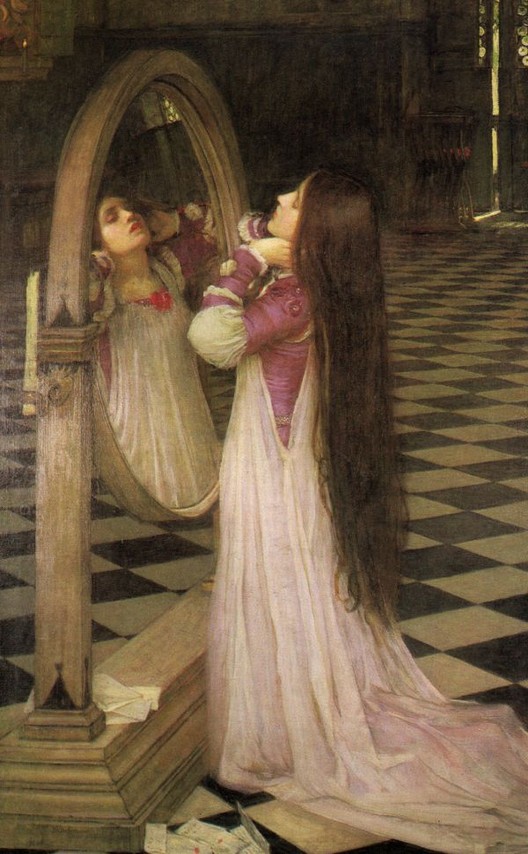 In Waterhouse's painting above, he shows Mariana as she looks in the mirror. Her love letters have been dropped on the base of the mirror and the floor.
And rising, from her bosom drew
Old letters, breathing of her worth,
Letters breathe her worth. Sadly this means that she determines her own worth solely through his words.
There's one soul that's able to determine your value and, ironically, given Waterhouse's painting, that person can only be seen in a mirror. It is literally upon reflection that you decide your own worth.
Like the Lady of Shalott, Mariana lives a secluded existence. Her isolation and sense of despair lends itself well to that certain Pre-Raphaelite aesthetic. Among the many Isabellas, Ophelias, and endless Ladies of Shalott,  Mariana fits right in with the tragic female stories told on the canvasses of the Pre-Raphaelite circle.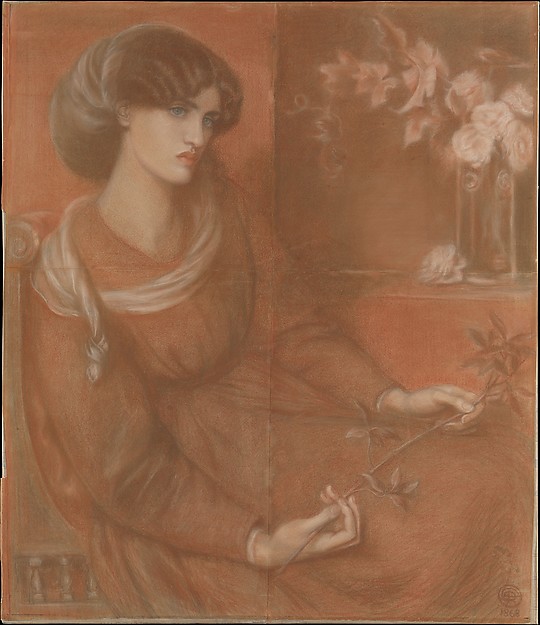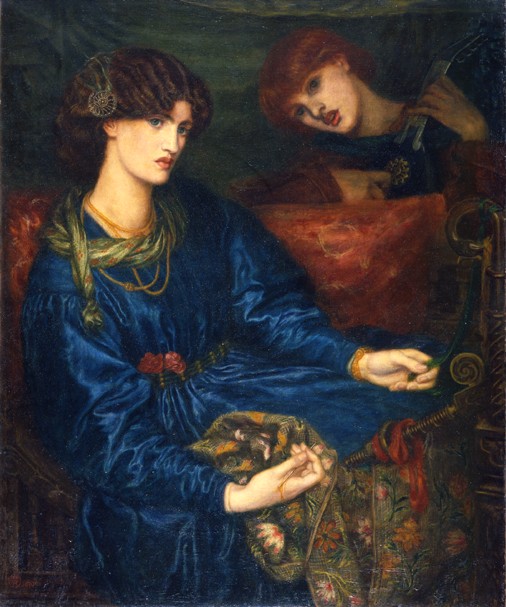 When Dante Gabriel Rossetti completed his painting of Mariana, he added these lines from Measure for Measure in the frame:
Take, O Take those lips away
That so sweetly were forsworn
And those eyes, the break of day
Lights that do mislean the morn.
But my kisses bring again, bring again
Seals of love, but sealed in vain, sealed in vain.
Rossetti's illustration was fo
r Moxon's Tennyson.
Later in 1862, he painted another version known as The
Heart of the Night
.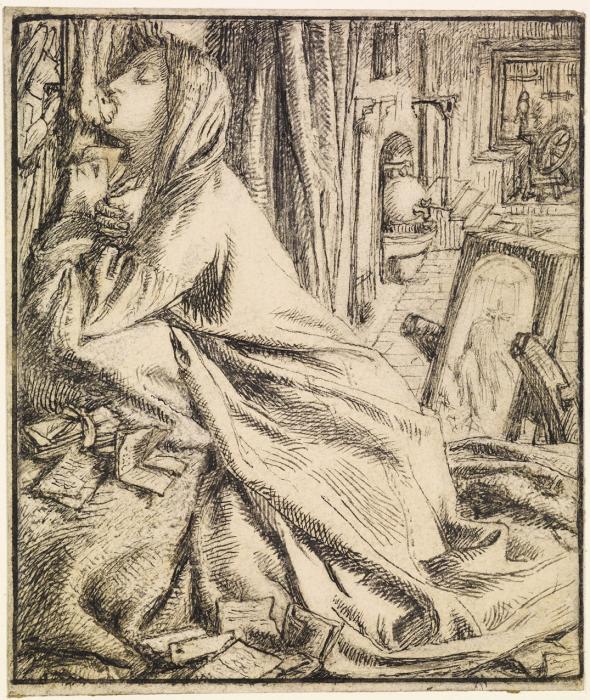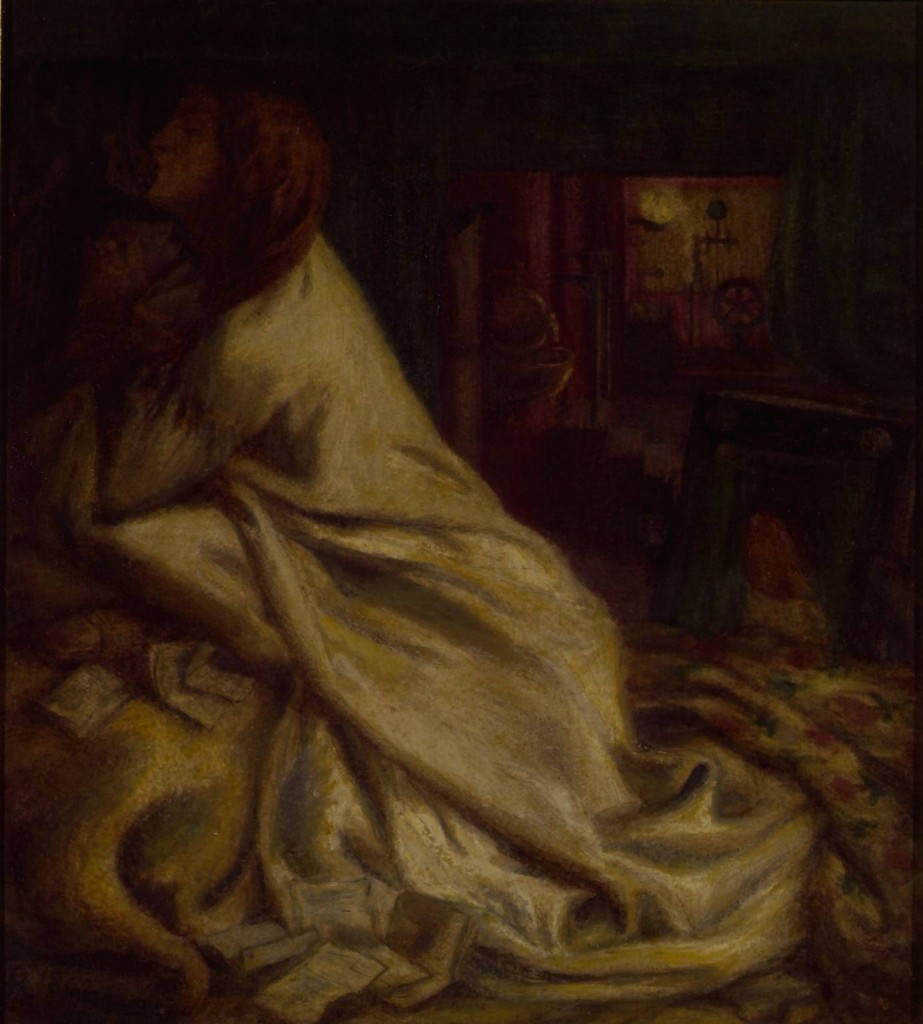 I prefer the darkness of the painting. Instead of the usual vivid Pre-Raphaelite hues, Mariana is captured mostly in shadow and the lack of light intensifies her despair.  Her love letters are scattered around her and, like the previous drawing, a mirror is behind her. If you happen to be a regular reader of this blog, you know that I have a deep love for mirror paintings: The Impossible Mirror of Lady Lilith, Seeking out Mirrors, Viola, Preparing for the Ball, Photograph of Fanny Cornforth, Circe Offering the Cup to Odysseus, Margaret Burne-Jones, and Lewis Carroll and the Pre-Raphaelites. 
Victorian photographer Julia Margaret Cameron created an image of Mariana as well.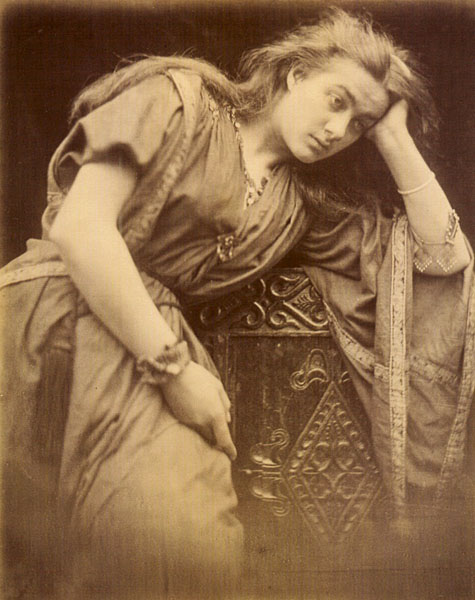 Millais chose to show his Mariana stretching before a window.  Valentine Cameron Prinsep places his Mariana before a window as well, except his Mariana gazes longingly out of it as she awaits her love. In Tennyson's poem, she draws back her curtains when 'thickest dark did trance the sky'.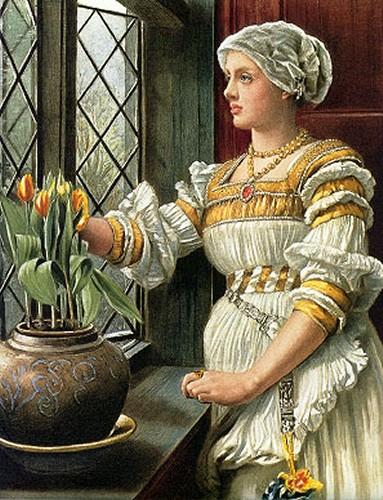 Perhaps my favorite Mariana is by a female Pre-Raphaelite artist, Maria Spartali Stillman.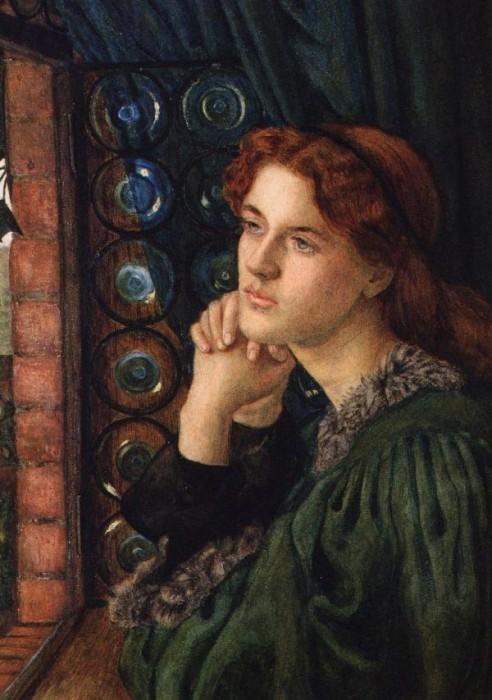 Again we see Mariana waiting at her window. This is a delightfully repetitive theme, as seen in the following works: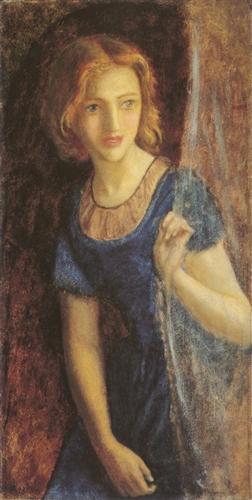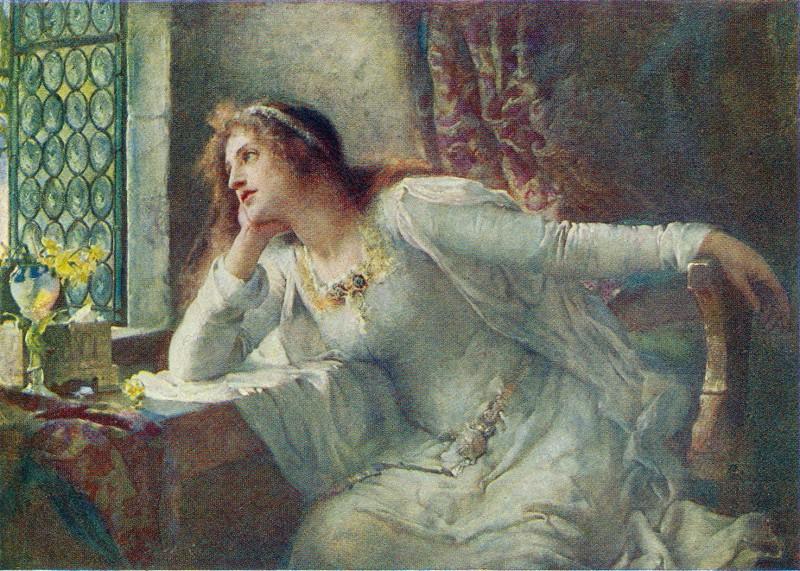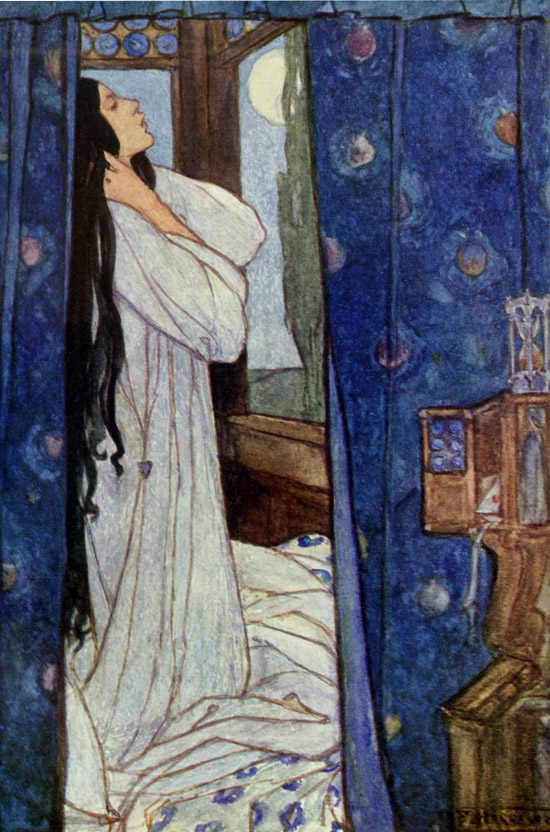 Despite all of these lush and gorgeous images of Mariana, I think that today the public at large may not be familiar with Tennyson's Mariana poems at all. In fact many people may not recognize Mariana in the Moated Grange at all until you say the first lines.
Then My Fair Lady springs to mind.
/With blackest moss the flower-plots/Were thickly crusted, one and all/ are the lines Henry Higgins has Eliza Doolittle recite with marbles in her mouth.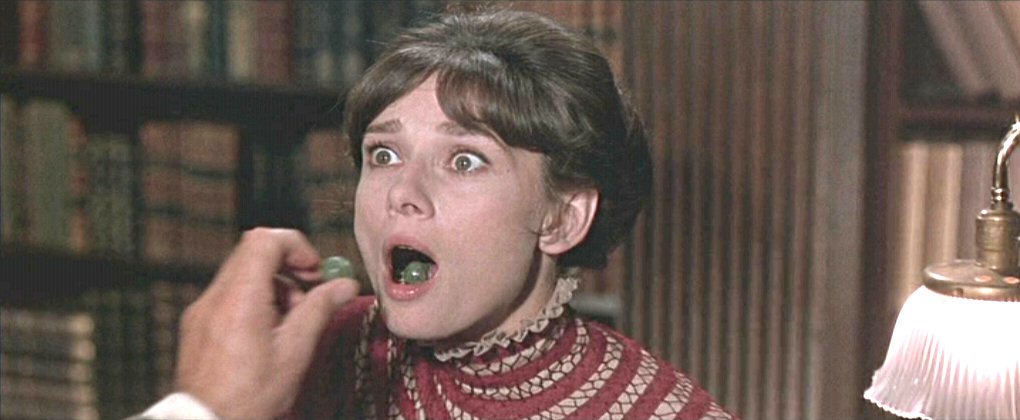 Such is life. The masses become immune to the classics, often only meeting them through pop culture. Lines of Tennyson in My Fair Lady. The opera of Wagner in Bugs Bunny. Mythology in The Matrix. Pre-Raphaelite art glimpsed in a few frames of a movie. Everyone may not notice it all.
But you and I do.